About Fresh Roast SR700 Roaster
The SR700 has been discontinued effective October 2019. It brought programming and computer control to the existing SR500. Capacity remains the same as the previous models, but the SR 700 comes equipped with fully programmable computer software that allows you to view, save, and duplicate roast profiles for all preferences of coffee roasting. The program works with Windows® only and does not work with Apple products or other OS at this time.
While adding $90 to the price of the SR500 for this model we think the roasting experience is much enhanced. The roaster, which now has a USB input port, comes with a USB sync cord along with the program for you to simply plug in and begin. The program enables the user to adjust all variables such as time, temperature, and fan speed at any time during the roast. Once a profile has been perfected you can save it and replicate it. You can also make changes to the roast profile even after the profile has been saved, allowing the user to tweak a profile if they so desire.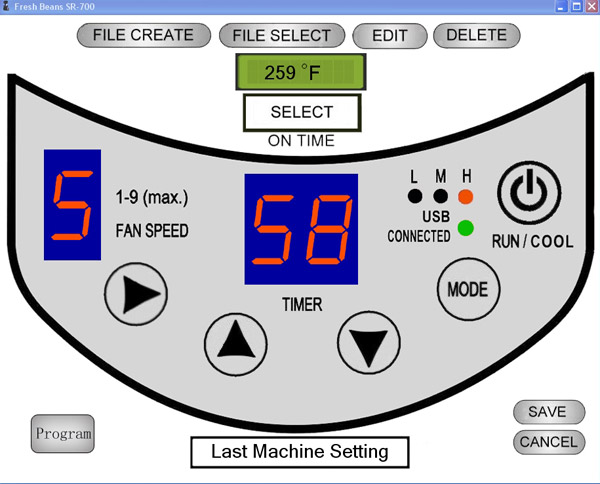 While the roaster and software are designed as a pair you can still roast without being attached to a computer. The "mode" switch on the panel toggles between computer and physical controls, with one mimicking the other. You will enjoy this roaster best if you intend to use it connected to a computer most or all of the time. If not, select the SR500.
Like the other models in the Fresh Roast lineup, each can roast coffee dark, desirable for those into that style, however, these roasters do not offer smoke suppression. If you roast dark expect to roast under an oven exhaust hood, near an open window or outdoors if the weather is warm enough to not reduce thermal efficiency. Roasting outside in the cold will negatively affect your roast.
Roasting capacity is about 4.5 ounces or 130 grams of green coffee, enough to yield 18 to 20 cups. You may find better roasting results and control of roast using 3 scoops instead, particularly on the SR300 which does not have variable fan speed.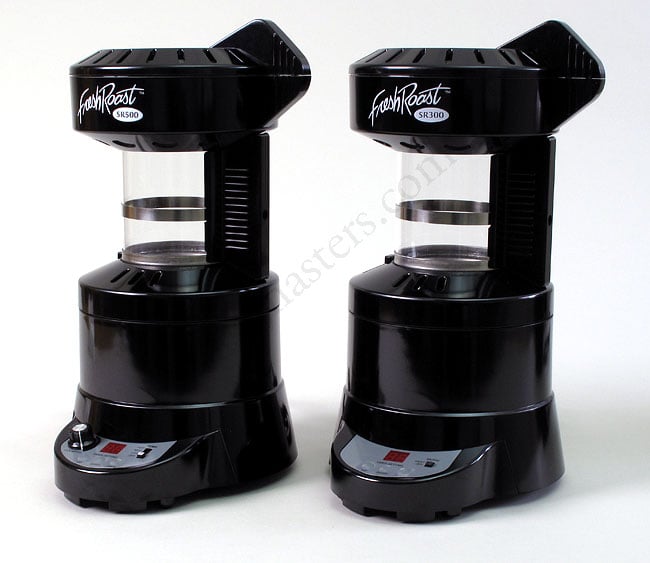 Other models from Fresh Roast - SR500 (left) and SR300
Dimensions: Height 12 7/8", Width 6 3/4", Depth 8 1/8"
Model SR300:

Twice the roasting capacity as before, 120 grams, roughly 1/4 pound.
Digital display. Maximum time on the control is 9.9 minutes.
Has three buttons: Up, Down, Cool.
At any point during the roast 6 seconds can be added for every tap of the Up button; likewise, the Down button takes away time in 6 second increments.
Tapping the Cool button overrides the timer and places the roast into a 3 minute cooling cycle.
Model SR500 - All of the above features plus:

Three temperature settings that can be adjusted any time during the roast.
-- High temp is 490 degrees
-- Medium 455 degrees
-- Low 390 degrees
A separate Fan Speed Control has been added that allows fine tuning of the roast. Generally, you would want the highest speed at the start of the roast when beans are heaviest and have yet to lose moisture. This would help keep beans moving. Later in the roast lower speeds would be desirable.
In addition to the three buttons Up, Down and Cool are fan speeds Low, Medium, High, and, a variable fan speed control knob.
Model SR700 - All of the above features plus:
Run program from Windows computer (see requirements).
Save roast profiles. Open, edit, save additional profiles whenever you want.
Roaster can operate without connection to computer.
Fan speed control knob on the SR500 is not on this model; fan speed is now digitally controlled from the roaster panel or computer.
Switch for temperature settings also on the SR500 is likewise replaced with digital control.
Mode switch toggles between USB and physical keypad controls.
Both models share the same physical body and dimensions. What is different is functionality, which can be seen clearly by looking at the plainly laid out controls.
| | | | |
| --- | --- | --- | --- |
| FEATURE | SR700 | SR500 | SR300 |
| Variable convection fan control | | | |
| Temperature control - 3 settings for roast control | | | |
| Time control - precise digital time display | | | |
| Adjust temperature and time without interrupting roasting cycle | | | |
| Heat override switch to fine tune your roast without interrupting roasting cycle | | | |
| Roast beans enough for 20 cups in under 10 minutes | | | |
| Easy to use for novice and experienced roasters | | | |
| Speed Roast fluid motion system ensures fast, even roasting | | | |
| Control roast from computer (Windows only) | | | |
| Save, edit, recall roast profiles | | | |
| | $259 | $179 | $129 |
Latest SR models roast roughly twice the amount as previous Plus 8, however, the footprint is not much different. The roasting chamber, really a glass cup fitted within a handle and base, has twice the capacity. Heated air is forced up from a fan in the base, past a heating element, through the coffee bed and out through holes in the lid. Chaff, or the skin that comes off beans during roasting, gets trapped inside the two-part lid and can be easily disposed. Both models are very effective at trapping chaff and users should be certain to empty the collector after each roast.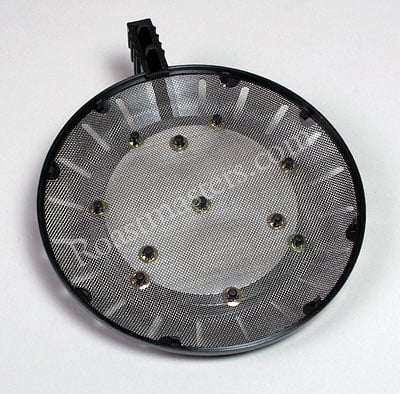 Inside view of lid. Screen captures chaff.
Conclusion: This latest programmable SR model from Fresh Roast offers more experienced or interested home roasters additional features and enjoyment. It takes the SR500 model to a more controllable and customizable level.
Specifications
Height: 12 7/8"
Width: 6 3/4"
Depth: 6.75"
Weight: 4 pounds
Power Supply: 120V
Watts: 1600
Software: included on mini CD
USB cord included
Warranty: 1 year warranty on the Base Unit; 6 month warranty on the Chaff Collector, Top Cap and Basket.
Download the instruction manual.
System Requirements: Pentium IV min., Windows® XP to Windows® 8, (Windows® is a registered trademark of Microsoft)