About Fresh Roast SR540 Roaster
The SR540 is the latest model from Fresh Roast, replacing the SR500. This new model has a larger roasting chamber for improved air flow, however, roasting capacity has not changed. Roast capacity is 120 grams, about a quarter pound which should yield between 18 and 20 cups. All of the SR models can roast coffee dark, desirable for those into that style, however, these roasters do not offer smoke suppression. If you roast dark expect to roast under an oven exhaust hood, near an open window or outdoors if the weather is warm enough to not reduce thermal efficiency. Roasting outside in the cold will increase roast time but cooling will be quicker.
Includes 3 pounds coffee - $15 Gift Certificate - Roast Log

Free shipping through Christmas!*
The SR540 now uses a control knob to control all its functions: Fan speed, temperature and time. The single control knob located on the main panel rotates, clockwise increasing values, counter clockwise decreasing them. Settings are shown on the digital display which is substantially larger than the previous model. A fast clockwise turn will provide a real time temperature reading too. With the prior SR500 model there were just 3 levels of heat (low, medium, high) but this new SR540 provides 9 heat levels, from 1 to 9, via the control knob.
Build quality is sturdy and clean, operation is very quiet and controls are easy to read and understand. Fresh Roast machines have been on the market for year, beginning with smaller Plus 8 models. The SR series has been around for quite a few years and has proven to be very reliable. The roasting technology here is hot air, so the coffee roasts on a bed of heated air; heating coils are in the base and heat is pushed upward via the variable speed fan. Fan speed can also be adjusted during the cooling cycle.
The default setting are Fan 9, Heat 5 (of 9) and Timer 6 minutes. The Run/Cool button begins the roast or cooling cycles. To make an adjustment during the roast, press the "Adjust" button, and the digit for Fan, Power, and Timer each flashes in sequence. Press the control knob to make your selection and then adjust up or down by turning the know.
These recent changes add more features and reliability to an already established and valued coffee roaster.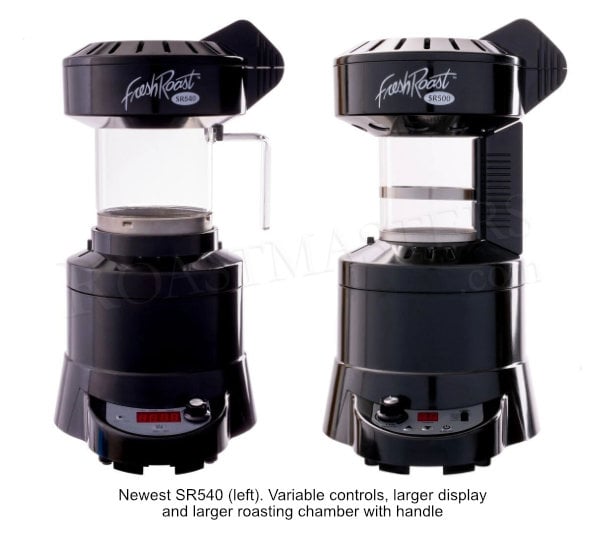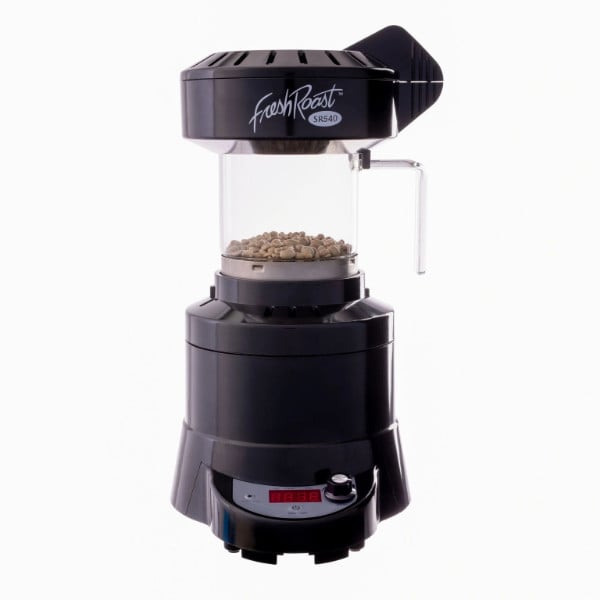 Model SR540:

Roasting capacity 120 grams, roughly 1/4 pound
Multi function control knob and large digital display
Variable speed control for fan speed
Variable speed control for temperature adjustment
Variable speed control for timer. Maximum time on the control is 9.9 minutes
Fan speed, temperature and time can be adjusted at any time during roasting
Both models share the same physical body and dimensions. What is different is functionality, which can be seen clearly by looking at the plainly laid out controls.
| | | | |
| --- | --- | --- | --- |
| FEATURE | SR540 | | SR340 |
| Variable convection fan control | | | |
| Temperature control - 9 settings | | | |
| Time control - precise digital time display | | | |
| Adjust temperature and time without interrupting roasting cycle | | | |
| Heat override switch to fine tune your roast without interrupting roasting cycle | | | |
| Roast beans enough for 20 cups in under 10 minutes | | | |
| Easy to use for novice and experienced roasters | | | |
| Speed Roast fluid motion system ensures fast, even roasting | | | |
| Roast any coffee light or dark | | | |
| | $179 | | $149 |
Please note that roasting chamber of the SR540 is not compatible with any prior Fresh Roast models. This latest design is larger than before to improve bean movement.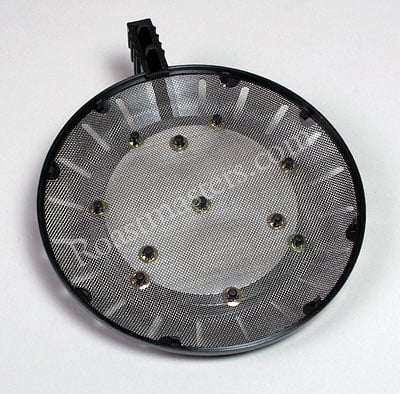 Inside view of lid. Screen captures chaff
Conclusion: The newest SR model from Fresh Roast offer beginners and experienced roasters a good tool for roasting beans enough for a couple of pots. The roaster performs quickly and is capable of the full roasted coffee range from light to dark. It has no smoke suppression nor does anything else close to it in price, but that also makes it possible to do dark roasts. The SR540 sits comfortably between Fresh Roast's entry level SR340 (now discontinued) and the SR700 which offers connectivity and control by PCs.
Specifications
Height: 12 7/8"
Width: 6 3/4"
Depth: 6.75"
Weight: 4 pounds
Power Supply: 120V
Watts: 1600
Warranty: 1 year manufacturer's
Certified for USA only. Not certified for Canada at this time. Not for export.
Download the instruction manual.
* free shipping is valid in the 48 contiguous states only.