About Hottop KN-8828B-2K+ Digital Drum Roaster
This Hottop model KN-8828B-2-K+ adds USB connectivity to Artisan roasting software running on a computer. You will have the ability to run the roaster from the Artisan software once properly configured; alternately you can control the roaster directly. In either case Artisan will record the roast profile and key events during the roast. Saved profiles can be stored and serve as a background to future roasts if you wish to follow a previously successful roast of a given coffee. This roaster and software combination takes home roasting to a new level and adds immensely to its enjoyment.

Now, with the very latest enhancements and safety features, the terrific KN-8828B-2K shown here and the USB connected KN-8828B-2-K+ make up the Hottop product line. Both "B-2-K" and "B-2-K+" offer a lot more roasting control than older models by allowing the user to determine temperature settings and fan speed. The B-2-K base model offers basic programming while this B-2-K+ model has advanced programming with computer connectivity. Both models share the same body but use different control boards and interfaces; each can be set to fully automatic operations. A comparison of both Hottop models is shown below.

Your purchase a Hottop KN-8828B-2K+ includes:
8 FULL POUNDS OF COFFEE!
PLUS - Roasting Log by 33 Roasts with Roastmasters logo

PLUS - $25 Gift Certificate

--- We can only accept Hottop orders for the United States, its territories and Canada ---
Priced at Roastmasters.com at $1800 including 8 FULL POUNDS OF GREEN COFFEE. The KN-8828B-2K+ is a more advanced model of KN-8828B-2K which can be had for $1300. The upgrades that your $500 buys are:
A USB compatible control panel featuring an advanced LED with wide viewing angle, high contrast, and full roast data displayed in real time. LEDs change color as temperatures rise.
Four bi-directional, infinite-rotation speed-sensitive knobs for easy and fast parameter changes during the roast (fan speed, temperature control, target temperature, and target time).
Two K-type thermocouples for separate bean temperature (BT) and environmental temperature (ET) for real-time monitoring. Both temperatures are displayed on the LED screen throughout the roast. Other Hottop models have but one thermocouple.
The USB port is bi-directional and supports third party software (Artisan) for real-time monitoring and graphing of roasts as well as for computer control of the roaster.
Updated heating elements allow for roasts up to 300 grams (vs 250 grams for other current models).
Artisan software can be used on Windows, Mac and Linux computers and is open source *free* software. While free it is well supported and updated by a community of users and is surprisingly robust providing near professional capabilities.
It should be noted that while Hottop guarantees and supports the roaster they do not provide same for the software and have several disclaimers to that point.
We have tested this roaster exensively and have really enjoyed ourselves in doing so. One nice aspect of Hottop is that the body of the machine has not changed in years, however, the company continues to improve the product and offers their customers upgrade kits. If you have an older Hottop model then such kits are available although they can be expensive. For new customers going directly to this model it's nice to know the company is not trying to always sell you something new and the core roaster has significant longevity.
As to Artisan, it's excellent software that lets you track bean and environmental temperatures, deltas for each which are similar to rate-of-rise, add notes, follow prior profile guides, produces spider graphs, has room for cupping notes, color analysis for those with such measuring equipment and many other features. Many home roasters have used this developed software for years, mainly recording profiles from handmade notes. Now, not only is Artisan capable of recording real time information from this Hottop model, but, the software can control the roaster including its fan speed, heating elements, stirrer, motor and ejection door.
For those looking for a totally automated experience this will not be the one for you. But this will be great fun for the DIY type who likes to exert full control over their coffee roasting and wants to perfect their roast profiles. The Hottop KN-8828B-2K+and Artisan software combination is as close to professional grade as you're apt to find in a home roaster at this time.
RECORD YOUR ROASTS IN DETAIL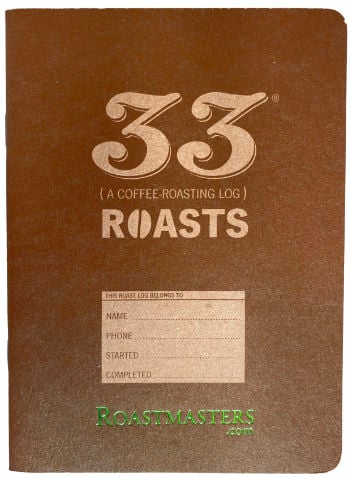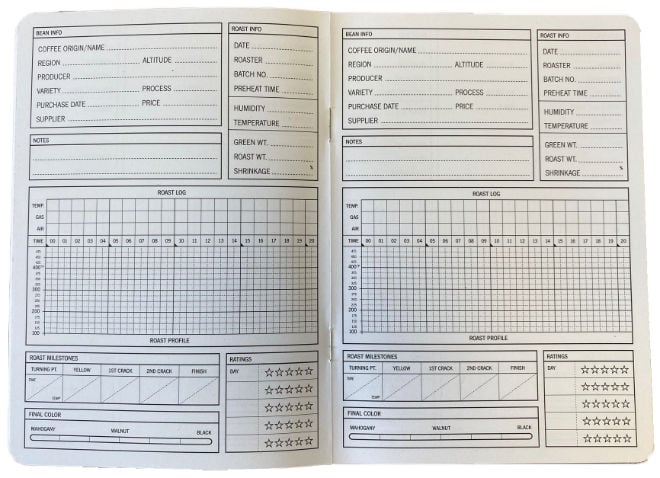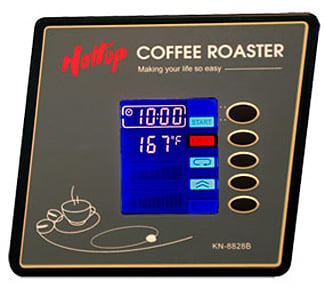 The Hottop KN-8828B-2K control panel.

Primer on using the B-2K+ with Artisan software
Comparison of Hottop B and B+ models
B-2K Model
B-2K+ Model
Temperature Control
Yes
Yes
Fan Speed Control
Yes
Yes
Time Control
Yes
Yes
Manual Roast Mode
Yes
Yes
Automatic Roast Mode
(with factory profile)
Yes
Yes
No. programs saved on roaster
3
3
Capacity
225-250g
225-300g
Max Roast Time
25 mins
25 mins
Can connect to Artisan Software
No
Yes
Number of Thermocouples
1
2
Features:
Manual control of all parameters during roast
USB graphic, logging, roast control
3 user profiles can be saved in non-volatile memory
All roast parameters easily saved at end of roast
Quiet operation allows you to hear the roast, not the roaster
High quality stainless steel surface
Large capacity, heavy-duty stainless steel drum, 225 - 300 gram capacity
2 stage air filter to lessen particulates in smoke
Dimensions: 19 x 14 x 10 inches
Weight: 20 pounds
Electrical: 750 watts
UPC: 196852024025
1 year manufacturer's warranty.