Hottop KN-8828B-2-K Digital Drum Roaster
$1,100.00
In stock.
About Hottop KN-8828B-2-K Digital Drum Roaster
Purchase a Hottop KN-8828B-2 and receive
FREE FEDEX GROUND SHIPPING
To the lower 48 states (excludes PO Boxes)
- plus 4 pounds of coffee to practice (our choice but all good)
- plus $10 coupon on your next purchase of green coffee from Roastmasters.com
($25 min purchase pre-coupon)
Now, with the very latest enhancements and safety features, the terrific KN-8828B-2-K shown here and the programmable KN-8828P-2 make up the Hottop product line. Both "B-2-K" and "P-2" offer a lot of roasting control than older models by allowing the user to determine temperature settings and fan speed. The "B" models offers basic programming and the "P" model advanced programming. Both models share the same body but use different control boards and interfaces; each can be set to fully automatic operations. A comparison of both Hottop models is shown below.
We can only accept Hottop orders for the United States, its territories and Canada.
Hottop orders must be paid via PayPal and you can use any standard credit card. You do not need a PayPal account.
The Hottop Model KN-8828B-2-K Digital Home Coffee Roaster is a very nice, sturdily built machine which is modeled after after a professional shop roaster, only in miniature. Its polished stainless steel barrel exterior is very eye-catching but better still is the completely stainless roasting drum. In our own tests we feel coffee roasted with the Hottop roaster models produce results closest to professionally roasted coffee. Users can roast the full range of roast styles from light to dark.
Hottop has added an emergency manual bean eject system which is a safety improvement allowing the immediate release of all coffee in situations such as power failure. If you purchased a Hottop from Roastmasters since late summer 2010 this feature was already incorporated.
This model is now equipped with a K-style thermocouple. The new thermocouple replaces the original button style thermal sensor that was on the back wall of the roaster. This new thermocouple, which is extended away from the rear wall, will give more accurate temperature display and faster response time. Die to the cost and complexity involved, Hottop will not make an upgrade available for older roaster models. Roasters equipped with the thermocouple are now designated as model KN-8828B-2-K and all roasters in our inventory are now this model.
The Hottop body has been produced for quite a few years. In 2007 The B and P models were introduced which provided users with new features and control panels. Since the body and interior construction were not changed, upgrade kits are available so that you can bring your prior Hottop models to these new standards. This is only if you have a much older Hottop. In December 2010, the safety ejection control is officially added to the B and P models, and the designation B-2 and P-2 will now be used for the most up-to-date roasters.
Height: 14 inch
Width: 10 inch
Depth: 19 inch
Weight: 19 pounds
Voltage: 120 volts
Warranty: 1 year

Hottop Model KN-8828B-2-K Features

Computer controlled roasting for accuracy and repeatability
K-type thermocouple
Fully automatic roasting & cooling when desired
All aspects of roast can be preset or adjusted during roast
User can end roast at any time
Capacity: 250g - 300g per roasting (9 ounces/250g optimal)
External cooling tray with agitation arm and cooling fan. Beans cool in 4 to 5 minutes
Easy cleaning
Very quiet operation
Built-in smoke reduction system
Stainless steel cover and drum
Large window gives good view of the beans during roasting
Audible signalling of roast progress
Heat element: 750 Watts
Steel Drum: 4 x 8 inches
Viewing window: 4 inches
New features:
Target time, target temperature, fan speed, or heater power can be changed during roast.
Color LCD display.
Not sensitive to the line voltage, no voltage regulator needed, such as a Variac, to maintain proper voltage.
Built-in temperature safety features (user must press any key to continue roasting if darker roast desiredwhen Hottop temperature displays 415 F, otherwise Hottop will dump the beans and shut off the machine automatically).
15 to 17 minutes for a 250 grams (i.e. 9 oz or 1/2 lb) batch.
Adjusted profile can be saved and played back.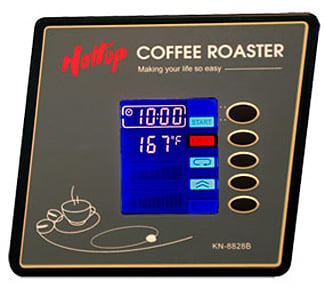 The Hottop KN-8828B-2-K control panel.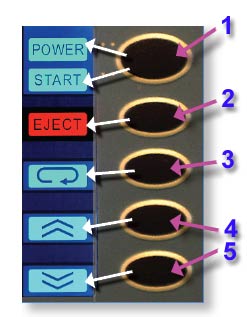 Control Panel Buttons
1. Start/Power - The largest button at the top of the control panel is for both "POWER" and "START." Only one of these two choices will be illuminated in the LCD display at any given time so the button is used for this dual function.
2. Eject - Available at any point during a roast. Use it to immediately stop the roasting process and send the beans into the cooling tray.
3. Select - Cycle through adjustable parameters (Target time, Target Temperature, Fan Speed and Heating Element Power).
4. Up/Down Arrows - used to change each of the four adjustable parameters. If at any time a parameter is at its extreme (highest or lowest possible setting) that arrow will not be available.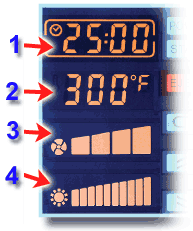 Control Panel Displays
1. Time - Counts down remaining time. Maximum roast time is 25 minutes with most roasts falling into the 15 to 19 minute range. This means you will have ample time left if needed. Beans are ejected when target time is reached if not overridden by user. Minimum is 10 minutes.
2. Temperature - User can select target temperature or current temperature display and can toggle from one to the other using the 'select' button. Beans will automatically eject when target termperature is reached if not overridden by user.
3. Fan Speed - 5 speeds can be set: 0, 25%, 50%, 75%, 100%.
4. Heating Element Power - Eleven selectable heating levels. Each bar represents 10% of the elements power. No bars means element is off.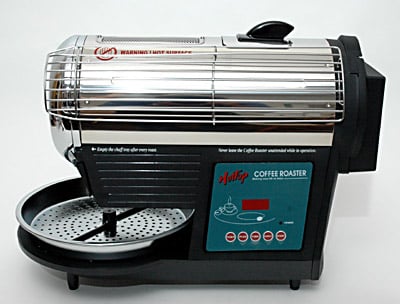 The heat guard grill is shown here on the previous model is the same as on present models.
There is one guard on each side and they should always be in place for safety. However, they can be easily removed when cleaning.
Comparison of Hottop B and P models
B-2-K Model
P-2 Model

Temp Control

Yes

Yes

Fan Speed Control

Yes

Yes

Time Control

Yes

Yes

Heating Element Power Control

Yes

Yes

Choice of Auto or Manual

Yes

Yes

No. programs memorized

3

10

True profile setting

No

Yes

Number of programmed segments

n/a

8

Add more time at end of roast

No*

Yes

* B model allows total time to be set or increased up to 25 minutes, ample for any roast.
How does the Hottop Model KN-8828B-2-K work? (We refer to it as the B model for simplicity).
Keep it simple: The Hottop is a simple and straightforward roaster to operate. Like prior models, enjoyed by many home roasters, the new B model can be operated on automatic by simply pressing 'Power/Start' button three times. The default program is 18 minutes and/or a target temperature of 422 degrees; the coffee ejects whichever comes first. The roaster will begin warming up followed by a beep that it is ready. Measure and pour green coffee into the top funnel. The roaster is capable of roasting 300 grams but 250 grams are recommended - that's about 9 ounces, but you can roast less too.
Get creative if you want to: During a roast you can override any of the settings for time, temperature, fan speed and heat element power. Want to move the roast along faster? Increase the heat element power and decrease the fan speed. While you roast the Hottop B is recording your actions! When you have finished the roast you will have opportunity to save the program you just created. You can save a total of 3 such programs. Next time you use one of the programs if you make any more tweaks you can opt to save over your previous program or you can keep the old one. It's up to you. Very simple yet very powerful.
There is a cleaning routine, described in detail in the manual (see page bottom), to keep your Hottop running smoothly for years to come.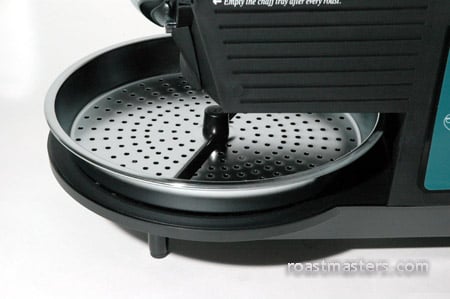 The cooling tray and stirrer mimics larger, professional drum roasters.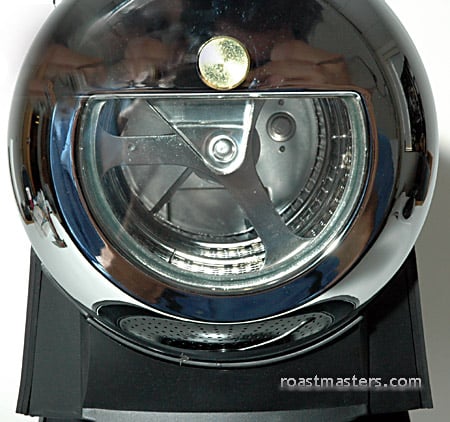 Looking down the stainless steel roasting chamber. The entire roasting drum removes for cleaning.
The single, brass screw shown just above center adjusts the drum when needed.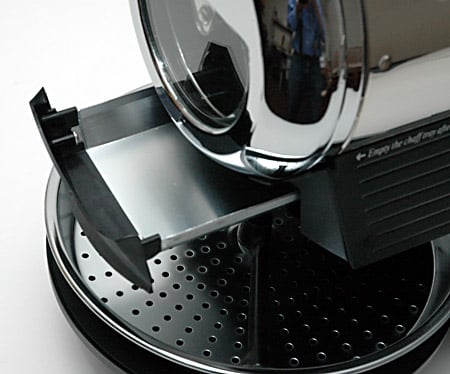 The chaff collection tray should be emptied after each roast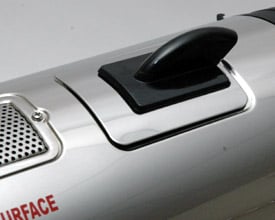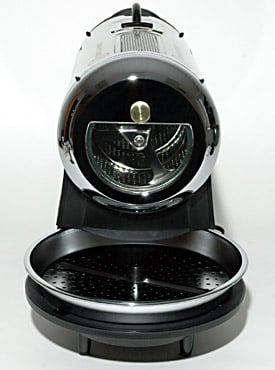 Left: Top of roaster with cover in place. Right: Front view of roaster.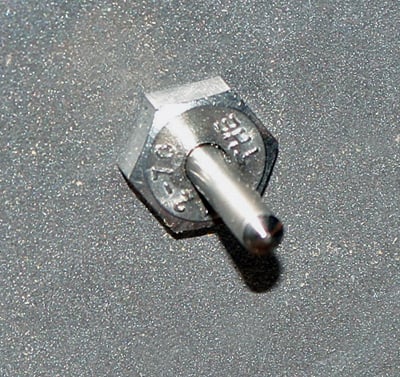 K-Thermocouple now standard on model KN-8828B-2-K
Manufacturer's Specifications and Guarantee
One year manufacturer's warranty. Hottop Coffee Roasters are warranted to be free from defects in materials and workmanship for a period of one (1) year warranty from the date of purchase. This warranty is applicable solely in the continental United States. Shipping & handling charges are not covered by the warranty.
User manual can be downloaded here in Adobe Acrobat (pdf) format.