About Brazil Sitio Serra Negra Natural
Arrived January 2018 in grainpro bags. New crop.
Sitio Serra Negra is located in a community called Lavrinhaa municipality in the state of Sao Paulo.
The Scalco family, of Italian decent, owns this farm and are the producers. The family moved to this region back in the 1940s and since then have grown coffee on top of the hills. Coffee is the main plantation in this micro region therefore the Scalco family has recently begun to produce a higher quality product in order to keep up with competition and to further satisfy customer needs. Farm elevation of 4100 feet is relatively high for Brazil and this coffee shows careful preparation and handling.
Location: Machado, Brazil
Altitude: 1250 meters / 4100 feet
Varietal: Yellow Catuai
Process: Full Natural
Drying: Sun dried on patios
Harvest: July-September
Export: October-January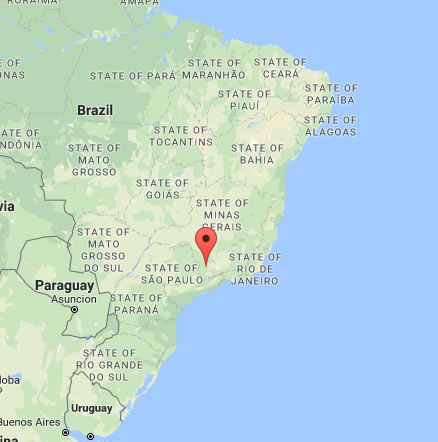 Full Natural Processing
Beans are sorted according to density. Drying requires a great deal of care and specialized handling. The result is a natural coffee with a more aromatic cup quality, which is rich in flavor, homogenous and clean. The complex flavors of the beans are preserved by harvesting them at exactly the right stage of ripeness. Te entire coffee cherry is dried and the drying fruit imparts flavor to the bean within. The result is fruity, mild cup, with low acidity and notable fruit sweetness.
Cup Characteristics: Earthy with lots of texture. Some savory character. Chocolate nuances, sweet and balanced. Mildly acidic background, smooth finish. Dark chocolate, dried fruit, sugar cane, big bodied, silky.
Roasting Notes: Coffees from these altitudes, while relatively high for Brazil, produce somewhat softer beans than other higher origins. Thus, slower roasts can be done. This coffee will produce earthy body and is a great candidate for single origin espresso. We advise pulling the roast before second crack has commenced, or just at its start.
Brazil coffee facts:
Population (2006): 188 million people
Coffee Production: 44 million bags (60 kg)
Country bag capacity: 132 pounds - 60 kg
Domestic Consumption: 17 million bags
Coffee Export: 27 million bags
Cultivated Area: 2.83 million hectares (over 7 million acres)

Harvests: June-September

Arabica Introduced: Early 18th century via French Guyana
Specialty Coffee Regions: Parana, Sao Paulo, Minas Gerais, Rio De Janeiro, Espirito Santo, Bahia, Pernambuco.
Grades: AA Plus, AA, peaberry
Botanical Varietals: Bourbon, typical, caturra, mondo novo, catuai, maragogype.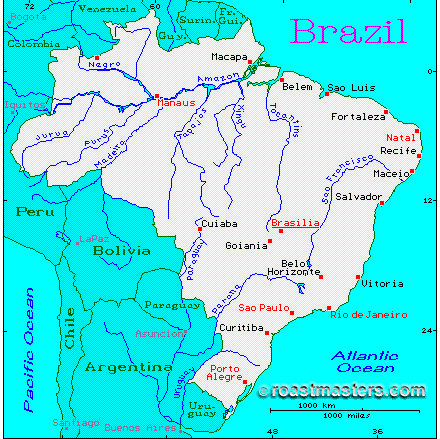 Comments
Brazil is the world's largest coffee producer, offering a wide variety of taste profiles.