Technivorm Moccamaster Coffee Makers
Technivorm Moccamaster Coffee Makers
Click brewer models to see our great offers - the lowest prices
- the best deals available with free shipping and more

$309. - Moccamaster KBT-741. Cook's Illustrated's top pick. The best selling of Technivorm's thermal brewers and a welcome addition to any home or office counter. Manual brew basket.

$319. - Moccamaster KBGT.
Same great brewer as the KBT model but with an automatic brew basket and drip stop feature. Cook's #1 pick in their most recent review of coffeemakers.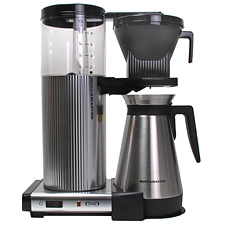 $319. - Moccamaster CDGT. Same great brewer as the KBGT models but in a cylindrical, Gerard Clement-Smit design. It's about a half inch taller but the brewing specs are the same.

TECHNIVORM AND ROASTMASTERS.COM
With thousands of Technivorm Coffee Makers sold, and legions of satisfied customers, Roastmasters is one of the largest and most reputable Technivorm sellers. We will go out of our way to make you happy before and after your purchase. Incuded with the purchase of any Technivorm Moccamaster is 1 pound of our freshly roasted specialty coffee, free shipping, a box of paper filters and a packet of Dezcal descaler. You can be assured of the highest quality service, fast shipping and a continuing interest in your coffee brewing.
$309. - Moccamaster KBT741 in black. Just a color variation but the color is applied with a powder coat over metal, which will last for years without showing wear.

$299. - Moccamaster KBTS. When counter height is a consideration this brewer is your best choice at only 13.2 inches high. The capacity is 1 liter, 8 cups, so it's a bit smaller.

Technivorm Glass Carafe Models

$309. - Moccamaster KBG-741. The best selling coffeemaker in Europe, this 10 cup maker has a clever design for keeping coffee at its best in a glass carafe, a real feat.

$299. - Moccamaster KB-741. Technivorm's best selling glass coffeemaker in the US. Shares most features and capacity with KBG-741 producing the same quality brew.
GREAT COFFEE MEETS STYLISH DESIGN
Technivorm Moccamaster coffee makers combine precision temperature control and water dispersion with clean, stylish design. The Moccamaster series produces water temperature at 195 to 203 degrees and dispenses this water through a 9 hole sprayhead. The entire brew cycle takes six to seven minutes, the optimal time for the water to pass through coffee, resulting in a full-bodied properly extracted brew. It looks great sitting on your counter too. The body of the brewers are metal - not plastic - finished in polished silver resembling brushed stainless, or in powder-coated black. Gerard Klement-Smit, one of Technvorm's founders, is a world class designer, joining graceful form with practical functions.
BUILT TO LAST FOR YEARS
Technivorm coffee makers are expensive when compared to some competitors, but they are built to last for many years and perform at a high level of excellence. The internal plumbing, plastic or vinyl tubing in most other brewers, are forged from copper in the Moccamaster series. When you consider how good your coffee will be and how many years of service you can expect, the value becomes apparent.
COOK'S ILLUSTRATED
Cook's Illustrated rated the 10 cup Technivorm Moccamaster KBT741 as the top brewer in its coffee brewer review a couple of years ago. Our company, Roastmasters.com was cited as Cook's Illustrated's source for the brewer and we continue to be a top seller. We know Technivorms.
Questions: 888-950-0888 or contact us online.