About Colombia Supremo Popayan Small Farm
Arrived mid January 2021, new crop, directly imported in Ecotact lined burlap sacks. This Supremo comes from only 5 select area farms in the Cauca region. The farms are small, under 3 hectares each and are tended by hand by the farm owners. The coffee, and a proposal to purchase this unique lot, was brought to us by an old friend with deep resources in the region. He, in turn, works with one of the highest quality exporters there, who has a relationship with these particular farms.
Colombia Supremos typically come from large cooperatives where many area coffee growers bring their cherry. After processing the beans are sorted and the largest sizes sold as Supremos. Colombian Supremos are one of the fundamental coffees on any specialty coffee offering list. This coffee is known for being even more smooth than other Colombian offerings - the bean size and preparation are also a step up. But while Supremos are prized for their cup quality and appearance, the challenge has always been to produce enough of this coffee from one region during one season to keep each lot fresh and its flavor profile focused.
Through our friend and importer, we reached out to a select group of small farmers near Popayan, the capital of Cauca, Colombia. Each has succeeded in significantly upping the quality of the average Supremo offering. Each delivery from these artisanal, high-altitude farms was sorted for its Supremo grade beans at the time of delivery. In addition to the smoothness that these high-end beans offer, this Popayan, Cauca Supremo also yields up hints of cocoa, smoke and a waft of night-blooming jasmine as the cup cools. It's a coffee that is immediately enjoyable, but also offers enough complexity so as not to get boring. We hope you enjoy this specially selected Supremo and agree that, at the risk of being redundant, it delivers even more than the simple Supremo designation promises.
Farms: Local to the Capital of Cauca
Farmers: Five core farmers
Varietal: Castillo and Variedad Colombiana
Processing: Washed, Aquapulped (minimum fermentation)
City: Popayan
Region: Cauca
Farm Size: 1-3 hectares in coffee planting
Cup Characteristics: Velvety smooth. Warming scents of cinnamon and nutmeg. Bright, clean and balanced. Suited to all roast levels this is a fine stand-alone coffee but, when used in blends, a contributor of brightness and smooth body.
Roasting Notes: Durable, high grown coffee capable of roasts between City Plus (C+) and dark roasts past second crack, and steps in between. The beans are large and dense, having enough acidity to hold up to dark roasting while still being flavorful.
Colombia coffee facts:
Main crop seasons vary depending on location. For many the main crop is Sept - December. Some regions have a mid crop as well.
Population: 43.6 Million people
Domestic Consumption: 1.8 Million Bags of 70 Kg. (154 lb.)
Coffee Export: 12.5 Million Bags of 70 Kg. (154 lb.)
Cultivated Area: 1.1 Million Hectares (2.7 Million Acres)
Harvest: Main Crop: October to January (60%)
Fly Crop: April to June (40%)
Note: In Narino, due to its geography, Main and Fly crop seasons are reversed.
Arabica Introduced: From the Carribean through Venezuela
Farms: 300,000

Specialty Coffees:
Supremo basis of a 17 screen size
Excelso basis of a 16/17 screen size
Botanical Varieties:
Bourbon, Typica, Caturra, Maragogype, Variety Colombia (hybrid of Timor and Caturra)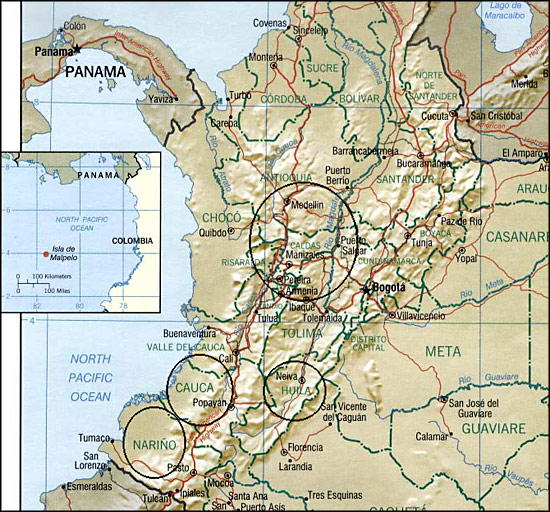 Crop Comments
Colombia is the second largest exporter of Arabica coffee in the world. All coffee grown is Arabica species, and mostly all is grown at high elevation and wet processed. Supremo is the country's highest grade though the highest elevation coffee can be smaller and thus not able to make the size grade although more concentrated. Colombia coffee has a well-earned reputation as having fine body, pleasant acidity and clean flavor. Each region brings a little something different to the final product.