Sumatra Mandheling Mountain Water Decaf
Available
About Sumatra Mandheling Mountain Water Decaf
Lovely Sumatra Mandheling which has been decaffeinated using the Mountain Water Process.
The Mountain Water Decaf process uses clear, pure water from the glaciers and highest mountain in Mexico. In the decaffeination process, the green coffee beans are immersed in water in order to extract the caffeine. The water constains the soluble components of the coffee beans which hold the elements of the individual coffee's flavor, so that during the extraction of the caffeine the beans maintain their original taste components. The resulting coffee is 99.9 caffeine free. Once decaffeination is finished the beans are dried and packed. We are finding the coffee decaffeinated in this ultra modern Mexican plant to be the purest and cleanest we have found. In addition, the process can be performed on relatively small lots of coffee - this means top quality coffees, rather than volume coffees - can be decaffeinated. Top coffees decaffeinated this way are a real break-through.
When quality coffees are selected and processed in this manner it is a winning formula. We continue to be impressed by the quality of the decafs coming out of this facility.
Roasting Notes: Roast to FC, pull at 2nd crack to full develop the body. If your tastes run to dark, roast to FC+, about 10-12 seconds beyond 2nd crack.
Cup Characteristics: Floral, smooth, chewy and well structured. There is subtle brightness and a boldness that comes through. The big body for which this region's coffee is known is apparent in the chocolaty texture.
Indonesia coffee facts:
Population (2006): 245.5 Million People
Coffee Production: 6.79 Million bags (60 kg)
Country bag capacity: 132 pounds - 60 kg
Domestic Consumption: 2.14 Million bags per year
Coffee Export: 4.65 Million Bags
Cultivated Area: 250,000 Hectares

Harvests: Year round depending on region with peaks March to June.

Arabica Introduced: Introduced in Java by the Dutch mid 17th century.
Specialty Coffee Regions: Sumatra (Aceh), Java, Timor, Sulawesi (formerly Celebes), Bali.
Grades: Grade 1 triple picked, grade 1 double picked, grade 1 , grade 2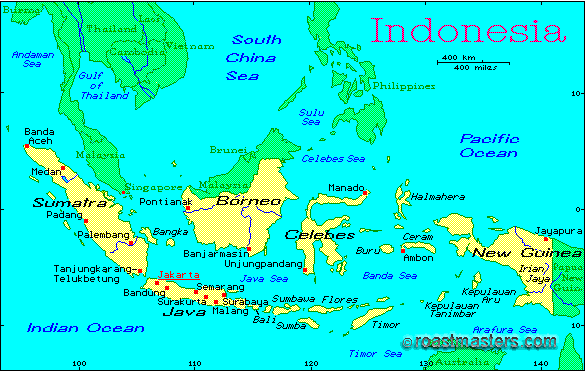 Comments
All Arabica plantations were destroyed in 1877 by a coffee disease.