Sumatra Mandheling Fair Trade Organic
About Sumatra Mandheling Fair Trade Organic
This coffee is from the Koperasi Kopi Gayo Organic Cooperative (KKGO) located in the Takengon highlands of the Aceh province of Sumatra. This region of Indonesia is often referred to as Gayo because the coffee farmers are of the Gayonese ethnic group. Many farmers, mostly from remote villages in Takengon, are widows whose husbands were lost during periods of conflict in Aceh. Additionally, many families are still rebuilding after a large earthquake that hit them in 2013.
Most coffee is grown between 1,200 and 1,600 meters and the varietals grown are Bourbon, Catimor, and Typica in volcanic loam soil. Processing methods are wet hulled and then sun dried.
Cooperative: Koperasi Kopi Gayo Organic Cooperative
Variety: Bourbon, Catimor, Typica
Region: Aceh, Sumatra, Indonesia
Harvest: June - December
Altitude: 1,200 - 1,600 meters (3900-5250 feet)
Soil: Volcanic loam
Certifications: Fair Trade, Organic
Cup characteristics: Earthy, nutty, smooth on the palate. Sturdy, pronounced but not overbearing body.
Roasting notes:
C+ to FC are good levels for Sumatra, though it is also highly prized when roasting darker. You will find different taste characteristics at each point: At C+ sweeter, nuttier flavors, less mouthfeel; at FC mouthfeel intensifies and reveals the earthy character; as the coffee roasts longer and caramelizes the body remains with added bittersweet characteristics.
Indonesia coffee facts:
Population (2006): 245.5 Million People
Coffee Production: 6.79 Million bags (60 kg)
Country bag capacity: 132 pounds - 60 kg
Domestic Consumption: 2.14 Million bags per year
Coffee Export: 4.65 Million Bags
Cultivated Area: 250,000 Hectares

Harvests: Year round depending on region with peaks March to June.

Arabica Introduced: Introduced in Java by the Dutch mid 17th century.
Specialty Coffee Regions: Sumatra (Aceh), Java, Timor, Sulawesi (formerly Celebes), Bali.
Grades: Grade 1 triple picked, grade 1 double picked, grade 1 , grade 2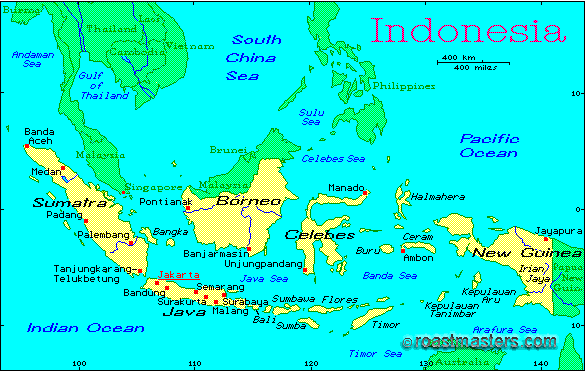 Comments
All Arabica plantations were destroyed in 1877 by a coffee disease.