About Sumatra Mandheling Fair Trade Organic
Latest arrival April 2021. Sumatra Mandheling is known for its very heavy, almost syrupy body and its low acidity. This combination makes for a smooth, velvety, yet pronounced cup of coffee. Powerful aroma. Direct and sturdy with nutty flavor. Our current lot is Ketiara Cooperative Fair Trade & Organic.
The Ketiara Cooperative was established in 2009 by 38 people and joined the Fair Trade movement in 2011. Today, Ketiara has nearly 900 members and is led primarily by women, who occupy the positions of Chairwoman, General Manager, and Finance Manager. The cooperative averages 70 metric tons of coffee per month and produces 100% shade-grown Arabica coffee for overseas markets. This coffee has both Organic and FLO certifications. Member farms are located around the Lut Tawar Lake in the Gayo Highland in the district of Takengon and Bener Meriah, Central Aceh. The area is a mountainous, tropical forest within the Leuser Ecosystem and has temperatures between 60 and 70 degrees Fahrenheit. The 897 Ketiara members manage a total of roughly 2000 acres. The cooperative uses the wet-hulled or semi-washed processing method, called "Giling Basah" in the local language.
The cooperative's area is surrounded by the Gunung Leuser National Park that straddles the border of North Sumatra and Aceh Provinces. The park hosts a wide diversity of flora and fauna: many mammals, birds, and primates such as the Sumatra tiger, elephant, wild boar, wild buffalo, python, and several species of maccaca, as well as thousands of plant species. The park is also the remaining habitat for Sumatra Orangutans.
Origin: Indonesia
Region: Sumatra
Subregion: Aceh
Producer: Ketiara Co-op
Altitude: Minimum 4600ft above sea level
Processing Method: Wet Hulled
Cup Characteristics: Earthy, nutty and smooth on the palate. A sturdy and pronounced but not overbearing body.
Roasting Notes: C+ to FC are good levels for Sumatra, though it is also highly prized when roasting darker. You will find different taste characteristics at each point: At C+ sweeter, nuttier flavors, less mouthfeel; at FC mouthfeel intensifies and reveals the earthy character; as the coffee roasts longer and caramelizes the body remains with added bittersweet characteristics.
Indonesia coffee facts:
Population (2020): 274 Million People
Coffee Production: 11.5 Million bags (60 kg)
Arabica 2.0 million bags; Robusta 9.5 million bags
Country bag capacity: 132 pounds - 60 kg
Domestic Consumption: 4.2 Million bags per year
Coffee Export: 7.3 Million Bags
Cultivated Area: 250,000 Hectares

Harvests: Year round depending on region with peaks March to June.

Arabica Introduced: Introduced in Java by the Dutch mid 17th century.
Specialty Coffee Regions: Sumatra (Aceh), Java, Timor, Sulawesi (formerly Celebes), Bali.
Grades: Grade 1 triple picked, grade 1 double picked, grade 1 , grade 2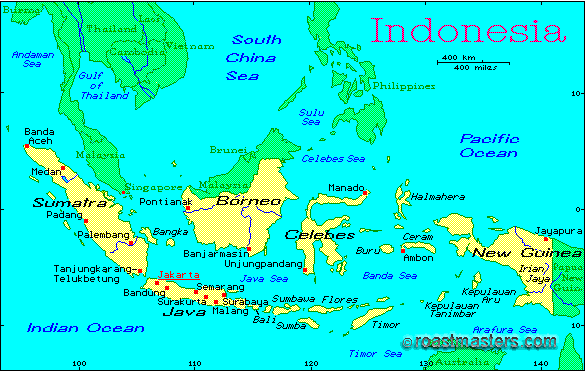 Comments
All Arabica plantations were destroyed in 1877 by a coffee disease.