About Guatemala El Socorro Yellow Bourbon
New crop arrived September 2016 in grainpro.
Guatemala El Socorro y Anexos is multi award winning farm located within a half hour of Guatemala City in the town of Palencia. We have offered coffee from this farm in the past and are fortunate enough to have procured it once again. This lot is a Yellow Bourbon varietal that really impressed us with its sweetness when we evaluated it initially. We are also offering their Maracaturra varietal which we have had in the past.
This is 'washed' process coffee, meaning that the fruit pulp is washed away. Coffee is fruit and the cherries, once ripe and harvested, have their outer skin removed by a specialized machine. The beans, really the cherry's seeds, are encased in the center of the fruit's flesh which ferments over the course of a day or two and is then washed away before being dried. But El Socorro, has very unusual processing technique beyond this standard format. They believe that the warm fruit gets shocked with cold water during this process so they place the just picked cherries into a bath of warm, same temperature water and let them cool gradually before being introduced to the full process. They attribute much of their success to this technique. The farm's success is the result of a strict quality control during whole process, since the management of the plantation, handpicking, wet mill and drying coffee is all done on the farm.
Producer: Juan Diego De La Cerda
Location: Guatemala, Palencia
Area: 750 ha
Altitude range: 5050 - 6100 feet
Type of soil: Loamy-Sandy
Shade trees: Non traditional variety
Cup Characteristics: Key lime, mild melon sweetness with honey mouthfeel. Notes of green apple flavor and acidity mixed with a sweet, smooth finish. Jammy, structured and approachable.
Roasting Notes: This coffee can be roasted successfully to various roast levels due to the bean density and high elevations where grown. Light roasting, midway between 1st and 2nd crack will produce a more acidic, delicate and flavorful cup and we always favor those results; taken to 2nd crack the body becomes considerably more emphasized and the acidity plays a lesser role.
El Socorro Farm Awards (not specifically this varietal)
2015 Cup of Excellence® Winning farm - 3rd place
2012 Cup of Excellence® Winning farm - 2nd place
2011 Cup of Excellence® Winning farm - 1st place

Previous Awards:
Cup of Excellence® 2009
Cup of Excellence® 2008
Cup of Excellence® 2007
Coffee of the Year, Best Origin Coffee Winner - SCAA 2011



Guatemala coffee facts:
Population (2006): 12.3 Million People
Coffee Production: 3.93 Million bags (60 kg)
Country bag capacity: 150 pounds
Domestic Consumption: 1.7 Million bags per year
Coffee Export: 3.8 Million Bags
Cultivated Area: 250,000 Hectares

Harvest:
September to April

Arabica Introduced: Coffee introduced by the Jesuits in the late 18th century and the coffee industry later developed by German immigrants in the mid 19th century.

Farms:
Approximately 65,000

Specialty Coffee Regions:
Antigua, Coban, Atitlan, Huehuetenango, Fraijanes, San Marcos

Botanical Varietals: Arabigo, Bourbon, Typica, Catura, Catuai, Catimur, Maragogype, RobustaArabigo, Bourbon, Typica, Catura, Catuai, Catimur, Maragogype, Robusta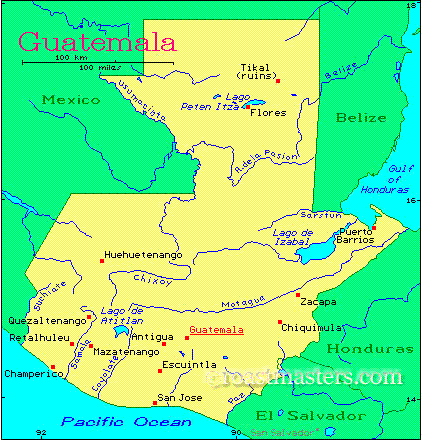 Comments
This relatively small country produces some of the world's top coffees and offers a variety of coffee experiences. Each region has distinct taste profiles, each of which is enhanced, as always, by the care and attention brought by the farm in growing methodology.
There are more than 60,000 small coffee farms in Guatemala with over 30% of the population engaged in the coffee industry.