About Guatemala El Socorro Red Bourbon
Arrived late October 2022, new crop, in Grainpro. This is El Socorro's lovely and affordable Red Bourbon variety. Last year El Socorro won 1st Place in the Guatemala Cup of Excellence for a Geisha coffee. This excellent farm produces multiple varieties including this Red Bourbon, Pacamara, Maracaturra and several others, and, in a variety of processes as well. For several years we have offered either a Red or Yellow Bourbon, sometimes with other varieties. Everything they produce is top quality and we have had a Direct Trade relationship with them for the better part of a decade.

The multi award winning farm is located within a half hour of Guatemala City, in the town of Palencia. The land was bought by Mario de la Cerda in 1960 as part of Hacienda San Guayaba, and later split off to become a separately identified property. Today, both farms are owned and operated by a father and son team, Juan and Juan Diego de la Cerda. The El Socorro farm is certified by Rainforest Alliance, and all wetmill, drying and milling is done on site. The farm is a total of 700 hectares, but only 85 are used for coffee production. A like amount of land is used for dairy farming, and the balance is a nature reserve for wild regional species and migratory birds.
Of note is the farm's unusual and highly effective processing technique for all of their coffee. The farm is at a high altitude, and can get very hot during the day. By contrast, the natural springs on the farm used in the wetmill provide very cold water. Juan and Juan Diego came to feel that plunging the hot, freshly harvested cherries into the cold spring water was causing two problems: shock and extended fermentation time, both of which they felt to be injurious to the final cup. Instead, they experimented with washing the harvested coffee in warm water, settling on a temperature nearly the same as the cherries' internal temperature (about 100 degrees F). This eased the cherries into a gradual cooling period and reduced the fermentation cycle to a 24-48 hour time span. The result is a striking, intensely fruity and floral profile.
This thoughtful approach to coffee preparation has not gone unnoticed. El Socorro y Anexos has won an award in the Cup of Excellence Competition 8 times in the past 12 years, and even placed first in 2007 and 2011. While this specific offering has not won an award, we think this coffee still shows the care and attention common to the award winners.
Department: Guatemala
Municipality: Palencia
Altitude: 5050-6100 Feet above sea level (1540-1860 masl)
Coffee Variety: Red Bourbon
Processing: Washed
Harvest: January-April
Cup Characteristics: Red Bourbon, as with other Bourbon variants, are very sweet and this one delivers on that claim. Flavors of key lime and a mild melon sweetness with honey mouthfeel. Notes of green apple flavor and acidity mixed with a sweet, smooth finish. Jammy, structured and approachable.
Roasting Notes: This very delicate, complex coffee will shine at City+. Roasting to Full City or beyond will mask some of the intense fruitiness of this coffee so we recommend keeping it on the lighter, though fully developed side. Depending on your roaster, take beyond 1st Crack but avoid the approach of 2nd Crack.
Guatemala coffee facts:
Population (2006): 12.3 Million People
Coffee Production: 3.93 Million bags (60 kg)
Country bag capacity: 150 pounds
Domestic Consumption: 1.7 Million bags per year
Coffee Export: 3.8 Million Bags
Cultivated Area: 250,000 Hectares

Harvest:
September to April

Arabica Introduced: Coffee introduced by the Jesuits in the late 18th century and the coffee industry later developed by German immigrants in the mid 19th century.

Farms:
Approximately 65,000

Specialty Coffee Regions:
Antigua, Coban, Atitlan, Huehuetenango, Fraijanes, San Marcos

Botanical Varietals: Arabigo, Bourbon, Typica, Catura, Catuai, Catimur, Maragogype, RobustaArabigo, Bourbon, Typica, Catura, Catuai, Catimur, Maragogype, Robusta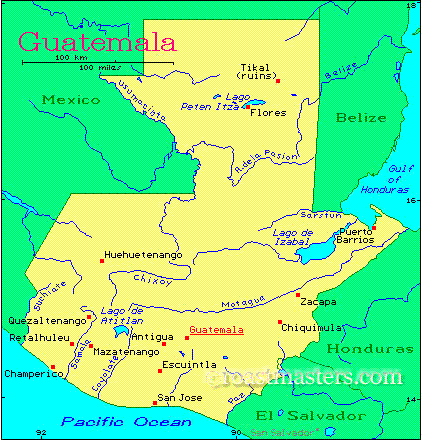 Comments
This relatively small country produces some of the world's top coffees and offers a variety of coffee experiences. Each region has distinct taste profiles, each of which is enhanced, as always, by the care and attention brought by the farm in growing methodology.
There are more than 60,000 small coffee farms in Guatemala with over 30% of the population engaged in the coffee industry.