About Guatemala El Socorro y Anexos Laurina
Arrived the beginning of September in Grainpro but being offered for the first time. Very limited and will go quickly.
Laurina is a coffee variety that is naturally low in caffeine content. It has 1/3 to 1/2 of the caffeine found in most Arabica coffee plants (which are half as much as Robusta plants such as in supermarket brands). It has light body and lower acidity all of which combine to auger for a bright future, except the plant is difficult to grow. It is prone to leaf rust, a coffee tree killer and the higher caffeine content in other coffee trees help defend themselves against leaf eating pests. That said, Laurina is very attractive both as a tasty coffee and a way to reduce caffeine while retaining full flavor. In fact, some of the coffee's flavors, when grown and processed properly such as in this example, are exotic and present savory and warming flavor notes.
We have a long Direct Trade relationship with Finca El Socorro which lies outside Guatemala City in the town of Palencia. The owner, producer Juan Diego De La Cerda, has achieved prominence in growing some of Guatemala's best coffees. He is one of the few producers who almost routinely places in the top five coffees each year in the Guatemala Cup of Excellence, no slight feat given the hundreds of coffees entered in the competition by growers throughout the nation. With over 50,000 small coffee farms, rising to the top tier and maintaining a position there is a major accomplishment. El Socorro has won an award in the Cup of Excellence Competition 8 times in the past 12 years, and placed first in 2007, 2011 and 2020. Awards won have been for different varieties the farm has developed: Bourbon, Maracaturra, Geisha. Ongoing development and consistent results have paid off.
Laurina was first discovered in the early 20th century growing on the small island of Reunion located to the east of Madagascar, itself off the eastern coast of Africa. Reunion was formerly named Bourbon Island and it is part of the story of how coffee made its way from the Far East to the western hemisphere centuries ago. Laurina is thought to be a naturally occurring mutation of the Bourbon varietal and is a dwarfed plant known to be very sweet cupping and creamy in texture. Laurina's more formal name is Bourbon Pointu, so named for its pointy, elongated coffee beans. The trees themselves look as much like Christmas trees as they do coffee trees. This is a coffee variety to keep your eyes on for expansion in the future. Sweet taste, some exotic flavors and less than half the caffeine add up to a highly desirable product, especially for those looking to cut down on caffeine without wanting to transition to decaf. Laurina has become popular among farmers with limited space, as it is a much shorter, slimmer tree than its Bourbon ancestor. Not only can trees be planted closer, but harvesting can be done more quickly as cherries are easier to reach and harvest by hand.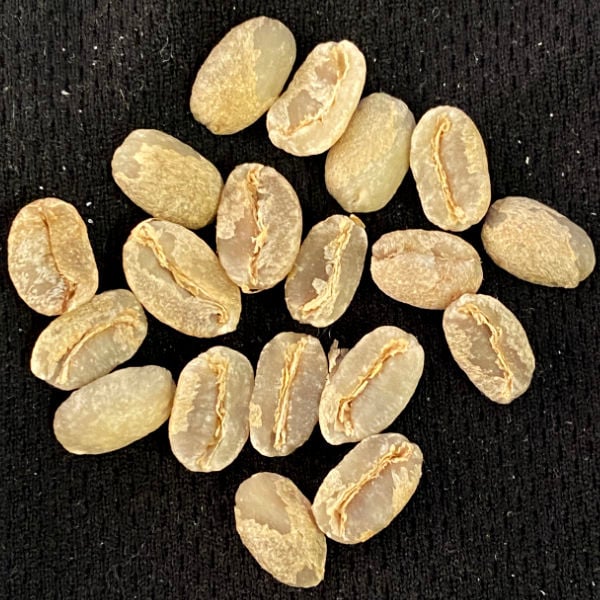 Laurina is scarce and we have but a small allocation. Be sure to try some while it is briefly available.
Department: Guatemala
Municipality: Palencia
Altitude: 5050-6100 Feet above sea level (1540-1860 masl)
Coffee Variety: Laurina
Processing: Washed
Harvest: January-April
Cup Characteristics: Aromas of licorice, bittersweet chocolate, roasted almonds. Flavors Macadamia nut, pignoli, sugar cane, cinnamon toast. Lemony crisp acidity mixed with red apple. Silky texture. An unusual taste profile.
Roasting Notes: This coffee is dense and needs a throttle of heat in the couple of minutes heading toward first crack. Then apply the brakes and let extend development time to about 90 seconds, pulling the roast before or no later than the first whisper of second crack.
Guatemala coffee facts:
Population (2006): 12.3 Million People
Coffee Production: 3.93 Million bags (60 kg)
Country bag capacity: 150 pounds
Domestic Consumption: 1.7 Million bags per year
Coffee Export: 3.8 Million Bags
Cultivated Area: 250,000 Hectares

Harvest:
September to April

Arabica Introduced: Coffee introduced by the Jesuits in the late 18th century and the coffee industry later developed by German immigrants in the mid 19th century.

Farms:
Approximately 65,000

Specialty Coffee Regions:
Antigua, Coban, Atitlan, Huehuetenango, Fraijanes, San Marcos

Botanical Varietals: Arabigo, Bourbon, Typica, Catura, Catuai, Catimur, Maragogype, RobustaArabigo, Bourbon, Typica, Catura, Catuai, Catimur, Maragogype, Robusta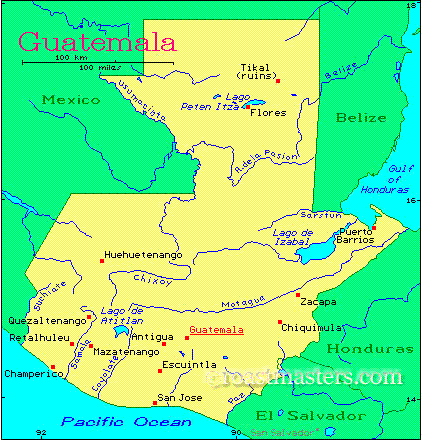 Comments
This relatively small country produces some of the world's top coffees and offers a variety of coffee experiences. Each region has distinct taste profiles, each of which is enhanced, as always, by the care and attention brought by the farm in growing methodology.
There are more than 60,000 small coffee farms in Guatemala with over 30% of the population engaged in the coffee industry.