About Sumatra Silimakuta AAA
Though we typically offer a fine Sumatra Mandheling we were offered this very special lot of AAA grade coffee that was so unusual that we decided to offer it, briefly, alongside our other Sumatra (Fair Trade and Organic) selection. This is a new crop coffee that has only just arrived in the US and is in very limited supply. Bean size is large, screen 19 and up.
Silimakuta is a small community in the Lake Toba region of Mandheling, Sumatra that sits at roughly 5000 feet above sea level. While just 3% of Indonesian population is made up of Christians, in this particular community of Silimakuta Christians comprise 95% of the population. The faith based community relies heavily on the support that they receive from the churches to produce coffee.
Local pastors elect commissaries to represent their communities and these commissaries purchase coffee from their neighbors and deliver to a new mill that was opened by the Church in 2013 called Saribou Dolok. The mill was founded in conjunction with credit unions to provide structured pricing and the very first profit sharing program in the area.
Region: Mandheling, Sumatra
Harvest: March-May/Oct-Dec
Washing: Wet Hulled
Elevation: 4600-5000 feet
Varietals: Jember (S-795), Typica, Sigararutang
Drying Method: Solar bed
Bean Size: Screen 19+
Cup Characteristics: Black pepper, exotic textured cup. Flavors: Tobacco, leather and deep, nutty, earthy flavors that allow you almost taste the terroir where this coffee is grown. Notes of starfruit, malted barley, miso. A clean, silky cup. Medium acidity, medium-heavy body, amaretto nutty, graham cracker, delicate spice.
Roasting Notes: This is a particularly large bean with typical Sumatra moisture content and you should expect to provide higher heat in order to develop this coffee. On a Behmor we recommend P1 and make sure the roaster is properly pre-heated.
Indonesia coffee facts:
Population (2020): 274 Million People
Coffee Production: 11.5 Million bags (60 kg)
Arabica 2.0 million bags; Robusta 9.5 million bags
Country bag capacity: 132 pounds - 60 kg
Domestic Consumption: 4.2 Million bags per year
Coffee Export: 7.3 Million Bags
Cultivated Area: 250,000 Hectares

Harvests: Year round depending on region with peaks March to June.

Arabica Introduced: Introduced in Java by the Dutch mid 17th century.
Specialty Coffee Regions: Sumatra (Aceh), Java, Timor, Sulawesi (formerly Celebes), Bali.
Grades: Grade 1 triple picked, grade 1 double picked, grade 1 , grade 2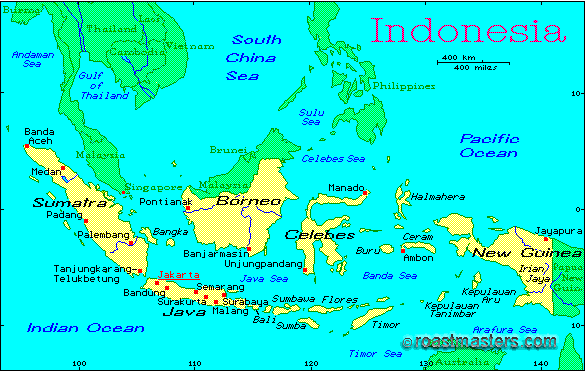 Comments
All Arabica plantations were destroyed in 1877 by a coffee disease.