About Colombia Potosi Organic
Arrived January 2016, new crop. A terrific coffee from the Granja La Esperanza farm, this one is an organic coffee from their Potosi farm. The farm produces 100% of it's own organic fertilizers from their own cattle which receive natural, balanced feeding. The Potosi farm is cultivated with a blend of varietals such as Typica, Caturra, Colombia and Castillo. All coffee plants are managed and certified by standards of the Rainforest Alliance, NOP, CEE and JAS, meaning that from cultivation to fertilization all processes look to preserve the environment and workers' health.
Cafe Granja La Esperanza manages 3 farms: Cerro Azul, Potosi, and Las Margaritas in eight distinct microclimates located in three mountain ranges in Colombia, which gives the experienced agronomists behind Cafe Granja La Esperanza plenty of room to experiment with a number of variables, such as microclimates, processing methods, and varietals. The team at Granja La Esperanza is driven by a combination of science, business, and an obsession with quality coffee. The team creates milling and processing protocols tailored for each distinctive microclimate and varietal.
The staff is so dedicated to quality and research that they recently spent two years studying the famous Geisha varietal in Panama before becoming the first producers to bring the varietal to Colombia at their Finca Cerro Azul in Trujillo. Their dedication to quality goes so far that coffee harvesters must demonstrate a level of excellence during a five month training period before being qualified to pick the Geisha cherries at the peak of ripeness.
In addition to winning the Triple Crown Award at SCAA in 2012, coffee from one of their farms, Finca Cerro Azul, was ranked second place with a score of 88.25. Coffees from Cafe Granja La Esperanza were also used in competition by the winners of the Brewer's Cup and Roasters Choice Awards. Their hard work was described as an "unrelenting quest to steadily obtain the most perfect cup of coffee" and this coffee is proof of their success in this quest.
Cup Characteristics: Black licorice, chocolate fudge aroma. Flavors of tangerine, malt, and sweet red apple. Mild and clean acidity with a silky, effervescent body. The finish is light and elegant with hints of cashew nut.
Roasting Notes: High grown and durable this coffee can be utilized for a variety of roast styles but will naturally reveal its more delicate nature about midway between first and second crack. This is true with the majority of fine washed coffees. That being said, the coffee is quite capable of retaining flavors at the darker end of the spectrum.


Colombia coffee facts:
Main crop seasons vary depending on location. For many the main crop is Sept - December. Some regions have a mid crop as well.
Population: 43.6 Million people
Domestic Consumption: 1.8 Million Bags of 70 Kg. (154 lb.)
Coffee Export: 12.5 Million Bags of 70 Kg. (154 lb.)
Cultivated Area: 1.1 Million Hectares (2.7 Million Acres)
Harvest: Main Crop: October to January (60%)
Fly Crop: April to June (40%)
Note: In Narino, due to its geography, Main and Fly crop seasons are reversed.
Arabica Introduced: From the Carribean through Venezuela
Farms: 300,000

Specialty Coffees:
Supremo basis of a 17 screen size
Excelso basis of a 16/17 screen size
Botanical Varieties:
Bourbon, Typica, Caturra, Maragogype, Variety Colombia (hybrid of Timor and Caturra)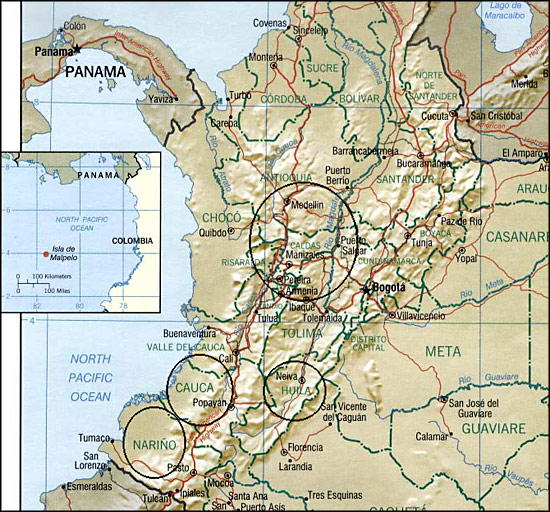 Crop Comments
Colombia is the second largest exporter of Arabica coffee in the world. All coffee grown is Arabica species, and mostly all is grown at high elevation and wet processed. Supremo is the country's highest grade though the highest elevation coffee can be smaller and thus not able to make the size grade although more concentrated. Colombia coffee has a well-earned reputation as having fine body, pleasant acidity and clean flavor. Each region brings a little something different to the final product.