About Peru Fair Trade Organic
This lot of Peru Fair Trade Organic comes from the Bosques Verdes Producers Association located in the San Ignacio province in the Cajamarca department of Peru. It is a non-profit organization consisting of 195 members who founded it with a common goal of selling their coffee at better prices and to improve the quality of life for the members and their families.
The Association was founded in 2005 and in 2013 was transformed into a Cooperative called Agraria Cafetalera Bosques Verdes. The formation of the cooperative was intended to connect more farmers and provide greater representation and benefits for its partners.
Peru is the world's leading producer of organic coffee. The main varietals represented here are Typica, Caturra and Bourbon. All processing is fully washed which includes depulping, fermentation, washing and sun drying.
Fair Trade USA and USDA Organic Certified.
Cup Characteristics: Medium body, slightly sweet with mild acidity. Clean with well structured body. Ripe berry, grape, tropical flavors.
Roasting Notes: Full City suggested for lighter roasts. This coffee is also well suited for dark roast enthusiasts as it is bright and hard enough to withstand additional roasting beyond second crack.
Peru coffee facts:
Population (2006): 28.3 million People
Coffee Production: 3,450,000 bags (60 kg)
Country bag capacity: 150 pounds - 69 kg
Domestic Consumption: 200,000 bags
Coffee Export: 3,250,000 bags
Cultivated Area: 120,000 Hectares (297,000 acres)

Harvests: April to September for washed coffees.

Arabica Introduced: Introduced in the 18th century.
Specialty Coffee Regions: Chamchamayo Valley in the center of the country.
Grades: AAA, AA, A
Farms: About 40,000 farms.
Botanical Varietals: Typica, Bourbon, Caturra, Mundo Nuevo, Villa Lobos.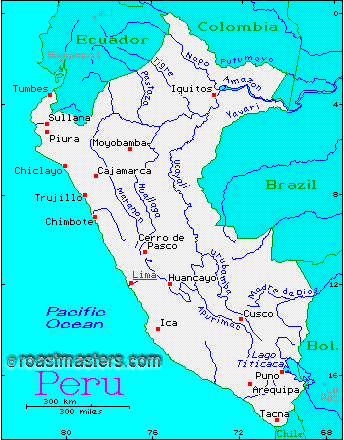 Comments
Coffee from Peru represents a classic Central American profile being bright, acidic and mildly flavored. In addition to being good stand-alone coffees they are excellent, neutral candidates for blends and can add liveliness when needed.