About Peru Fair Trade Organic
Arrived November 2022, first new crop rrival of this season from Peru, in grainpro. This is the highest grade from Cenfrocafe, their APU coffee.
Cooperatively gathered from farmers in the Jaen and San Ignacio provinces of north western Peru near the border with Ecuador and processed at the Cenfrocafe Cooperative. There are 2000 coop member farmers contributing coffee cherry and most of the coffee is grown between 1300 and 2000 meters, 4300 to 6500 feet. The contributing farms are very small with average organic production of only 40 pounds of coffee, in parchment, per acre. The coop provides its members with technical assistance and quality control advice, plus economic and leadership training as well as loans that are used to cover harvest costs and schooling for children.
This is an export grade called APU which is the top sort from the Cenfrocafe Cooperative. Coffee rated 86+ points are separated and sold under this standard, the best offered. APU grade is grown on the highes elevation farms in the area.
Country: Peru
Cooperative: Cenfrocafe
Grade: APU
Province: Jaen and San Ignacio
Elevation: 1300 - 2000 meters
Varietal: Typica, Caturra, Bourbon
Certifications: USDA Organic, Fair Trade
Peru is the world's leading producer of organic coffee. The main varietals represented here are Typica, Caturra and Bourbon. All processing is fully washed which includes depulping, fermentation, washing and sun drying.
Fair Trade USA and USDA Organic Certified.
Cup Characteristics: Complex and layered with bittersweet chocolate tones. Smooth texture offers an elegant mouthfeel. Bright, apple acidity showing its high elevation origins. Ripe berry, grape, tropical flavors.
Roasting Notes: Full City suggested for lighter roasts. This coffee is also well suited for dark roast enthusiasts as it is bright and hard enough to withstand additional roasting beyond second crack.
Peru coffee facts:
Population (2006): 28.3 million People
Coffee Production: 3,450,000 bags (60 kg)
Country bag capacity: 150 pounds - 69 kg
Domestic Consumption: 200,000 bags
Coffee Export: 3,250,000 bags
Cultivated Area: 120,000 Hectares (297,000 acres)

Harvests: April to September for washed coffees.

Arabica Introduced: Introduced in the 18th century.
Specialty Coffee Regions: Chamchamayo Valley in the center of the country.
Grades: AAA, AA, A
Farms: About 40,000 farms.
Botanical Varietals: Typica, Bourbon, Caturra, Mundo Nuevo, Villa Lobos.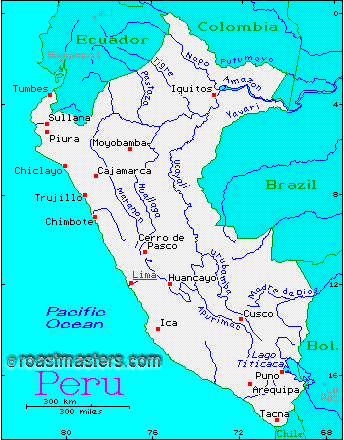 Comments
Coffee from Peru represents a classic Central American profile being bright, acidic and mildly flavored. In addition to being good stand-alone coffees they are excellent, neutral candidates for blends and can add liveliness when needed.