About Peru Rutas del Inca Coop Fair Trade Organic
In recent blind cuppings of Peruvian coffee a new name surfaced as our top pick: Rutas del Inca Cooperative. Headquartered in the Querocoto District of the Chota Province in Cajamarca, Peru, the Cooperative was founded in 2013. The area in which the coffee is now grown was at one point known for its potato production. That changed in 2010, thanks to the support of various NGOs, who encouraged the new crop as having great market potential.
Rutas del Inca Co-op exported its first crop in 2014, and immediately cemented itself as a quality focused, organic certified producer. At the time of its founding, the Co-op had just 33 members; at present is has 258, representing 27 communities in the Querocoto, Huambos and Querocotillo Districts. Producers live between 1800 and 2400 Meters above sea level, with a rainy season between January and March. While the terrain can be rugged during that time, routes exist which reach the majority of the communities within the three districts.
Rutas del Inca is focused on continually improving quality. To that end, the Co-op is working on increasing production and quality control on coffee plantations, as well as the application of good agricultural practices and environmental conservation.
The name "Rutas del Inca", or "Route of the Incas", was inspired by the paths created to bring seafood to the high mountains where the Incas built their communities.
Peru is the world's leading producer of organic coffee. Fair Trade USA and USDA Organic Certified.
District: Querocoto
Province: Chota
Region: Cajamarca
Altitude: 1800-2400 Meters
Coffee varietal: Typica, Caturra and Bourbon
Processing: Washed
Cup Characteristics: Complex and layered, with bittersweet chocolate tones. Smooth texture offers an elegant mouthfeel. Bright apple acidity shows its high elevation origins.
Roasting Notes: We recommend full city for ligher roasts, but this coffee is also well suited for dark roasts, as it is bright and hard enough to stand up to extended roasting times.


Image copyright Sustainable Harvest

Peru coffee facts:
Population (2006): 28.3 million People
Coffee Production: 3,450,000 bags (60 kg)
Country bag capacity: 150 pounds - 69 kg
Domestic Consumption: 200,000 bags
Coffee Export: 3,250,000 bags
Cultivated Area: 120,000 Hectares (297,000 acres)

Harvests: April to September for washed coffees.

Arabica Introduced: Introduced in the 18th century.
Specialty Coffee Regions: Chamchamayo Valley in the center of the country.
Grades: AAA, AA, A
Farms: About 40,000 farms.
Botanical Varietals: Typica, Bourbon, Caturra, Mundo Nuevo, Villa Lobos.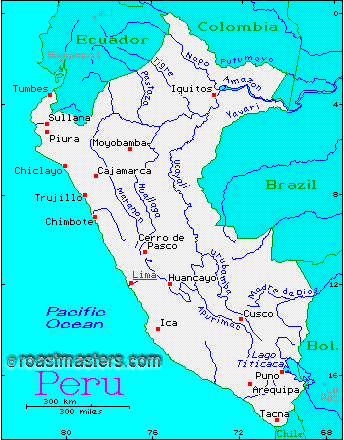 Comments
Coffee from Peru represents a classic Central American profile being bright, acidic and mildly flavored. In addition to being good stand-alone coffees they are excellent, neutral candidates for blends and can add liveliness when needed.