About Peru Fair Trade Organic
This new lot of Peru is from the APROCANORSI Cooperative in the San Ignacio province. The organization was founded in September 2004 with 110 original members who came together with the shared goal of improving quality of life of the producers and marketing high quality coffee at a fair price. In 2005 they became certified as Organic and Fair Trade for the benefit of the environment and the objective to sell coffee on an international scale.
From its inception the group was a non-profit organization, in 2014 they decided to transform into a cooperative for the social and economic benefit of the members. The cooperative currently has 158 members, all located in the surrounding districts of San Igancio. In addition to being Fair Trade and Organic certified, they also have an Utz certification, all of which have helped leverage the sale of their coffee into the international markets.
Peru is the world's leading producer of organic coffee. Fair Trade USA and USDA Organic Certified.
Cup Characteristics: Medium body, slightly sweet with mild acidity. Clean with well structured body. Ripe berry, grape, tropical flavors.
Roasting Notes: Full City suggested for lighter roasts. This coffee is also well suited for dark roast enthusiasts as it is bright and hard enough to withstand additional roasting beyond second crack.
Peru coffee facts:
Population (2006): 28.3 million People
Coffee Production: 3,450,000 bags (60 kg)
Country bag capacity: 150 pounds - 69 kg
Domestic Consumption: 200,000 bags
Coffee Export: 3,250,000 bags
Cultivated Area: 120,000 Hectares (297,000 acres)

Harvests: April to September for washed coffees.

Arabica Introduced: Introduced in the 18th century.
Specialty Coffee Regions: Chamchamayo Valley in the center of the country.
Grades: AAA, AA, A
Farms: About 40,000 farms.
Botanical Varietals: Typica, Bourbon, Caturra, Mundo Nuevo, Villa Lobos.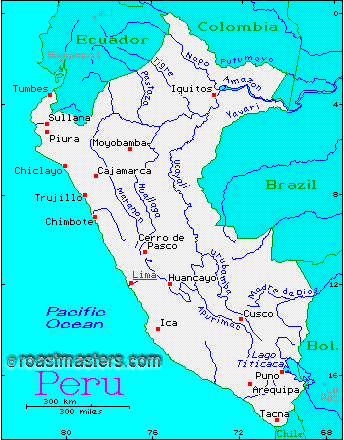 Comments
Coffee from Peru represents a classic Central American profile being bright, acidic and mildly flavored. In addition to being good stand-alone coffees they are excellent, neutral candidates for blends and can add liveliness when needed.