About Peru Swiss Water Organic Decaf
This is Peru Grade 1, the top tier, fully decaffeinated in Swiss Water's chemically free process. Peru is the largest producer of organic coffee in the world, so purity here is end to end, from the farm to the wetmill to the decaffeination process. The coffees Peru are mainly high grown, clean, bright and complex. They also present an excellent value propostion for roasters and consumers.

The Swiss Water Decaf plant located in Vancouver, British Columbia uses a chemical free, pure water process to remove caffeine while minimizing the impact on the coffee's native flavors. In the decaffeination process, the green coffee beans are immersed in water in order to extract the caffeine. The water contains the soluble components of the coffee beans which hold the elements of the individual coffee's flavor, so that during the extraction of the caffeine the beans maintain their original taste components. The resulting coffee is 99.9 caffeine free. Once decaffeination is finished the beans are dried and packed. We are finding the coffee decaffeinated in this ultra modern Canadian plant to be the purest and cleanest we have found most recently. In addition, the process can be performed on relatively small lots of coffee - this means top quality coffees, rather than volume coffees - can be decaffeinated. Top coffees decaffeinated this way are a real break-through.
Cup Characteristics: Clean, bright, free of taints. Piquant acidity, medium body, well balanced. A good choice for a single origin decaf or blend component.

Roasting Notes: In order to highlight the clean, delicate acidity of this coffee, it is best taken to a full city roast. This coffee can be roasted light or dark.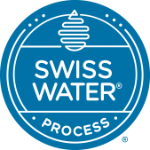 Costa Rica coffee facts:
Population (2006): 4.1 million People
Coffee Production: 1.7 million bags (60 kg)
Country bag capacity: 150 pounds
Domestic Consumption: 380,000 bags
Coffee Export: 1,320,000 bags
Cultivated Area: 82,500 Hectares (203,775 acres)

Harvest:
September to February

Arabica Introduced: Coffee was first introduced into Costa Rica in 1779 from Cuba. First exportation was in 1820.
Farms: About 32,000, over half are small farms (less than 1 hectare).
Specialty Coffee Regions: Tarrazu, Tres Rios, Central Valley, Pacific Central, South Pacific

Botanical Varietals: Mondo Nuevo, Hibredo/Tico, Villa Sarchi, Geisha, Caturra, Catui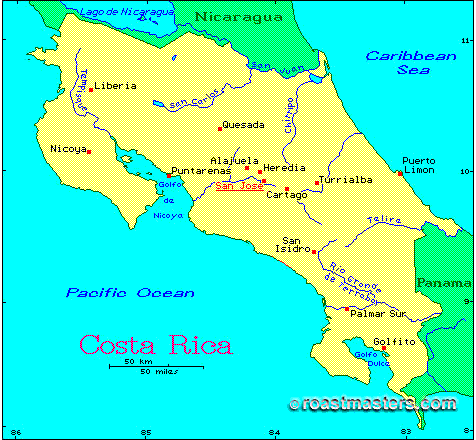 Comments: Coffee is grown in Costa Rica on both the Atlantic and Pacific slopes at altitudes between 1600 and 5400 feet. The highest grade is called Strictly Hard Bean, grown at elevations over 3900 feet. Costa Rica produces some exceptional coffees, renowned for their brilliance, balance and complexity.