About Peru Queromarca Microlot
Arrived March 2023 in grainpro.

This Queromarca microlot
comes from a group of 17 producers from Callayuc, in the northern Peru province of
Cutervo
.
Coffee cultivation is fairly new to the area but it's obvious the conditions are right to produce world class lots. The local group there working with coffee farmers is called Cultivar Coffee. Two years ago they started working with two communities and they say "in a certain way our collaboration started by coincidence. It all began with our search for one specific coffee grower who is called Susana. We tasted her coffee in 2020 and were very impressed". They later embellish that they
located and tasted her coffee again and it was excellent. She, in turn, introduced them to other neighboring growers and began to develop relationships that have lead us to this very interesting and tasty coffee which is comprised of the highest scoring lots of the 17 growers. In effect, this is a very small collection of producers sharing concise piece of land, working with a local expert to properly harvest, process and market some excellent cofffee. These 17 farms combined occupy only about 30 total acres, so they are very small and family
run.
Northern Peru boasts a warm climate, fertile lands, dense vegetation, and a rich cultural heritage that has been preserved to this day. The Cajamarca region, within this area, is renowned for its varied geography that ranges from Andean ecosystems to high-altitude forests. The region is also known for its pastures that provide an ideal environment for cattle to grow and produce high-quality dairy products. The area's coffee is of excellent quality and is highly regarded by many. The soil, microclimate and very high elevations, from 1800 to 2000 meters, augurs well for quality coffee production when properly managed.

The province of Cutervo, located in the northern part of Peru, is known for its stunning cloud forests, moors, and dry forests that are protected by the Cutervo National Park. The park is a critical ecosystem that provides food and water to over 90,000 people in seven micro-watersheds. The region's primary agricultural activities are coffee cultivation, sugarcane production, rice, fruit trees, and cattle rearing.
Thanks to the Andes mountain range and its proximity to the equator, there is a constantly warm climate, fertile lands and dense vegetation. It is an area with great cultural wealth and full of traditions that the population has managed to preserve up to today. In that northern area, the Cajamarca region stands out for its diversity in geography, ranging from Andean ecosystems to high-altitude forests of great beauty. Cajamarca's pastures are well known for providing a great environment for cattle to grow and producing delicious dairy products.
Country

: Peru

Department

: Cajamarca

Province

: Cutervo

District

: Callayuc

Number of producers:

17, Farm sizes: 13 ha in total

Varieties

: Yellow and Red Caturra

Altitude farm

: 1800 - 2000 meters above sea level

Main Harvest period

: June - September

Processing

: Fermentation of 48+ hours. Washed.

Drying

: Drying for 15 days under the sun
Cup Characteristics
: Aroma is mildly floral with pipe tobacco that develops into nutty scents of cashew and candied almonds during brewing. Lots of complex flavors of coconut, milk chocolate, mild passionfruit and lychee. Balanced, elegant and it has the brightness of high grown arabicas of distinction.
Roasting Notes: Full City suggested for lighter roasts which will preserve florality and bright notes better. But, as the coffee is dense, it can be roasted darker to your taste.

Peru coffee facts:
Population (2006): 28.3 million People
Coffee Production: 3,450,000 bags (60 kg)
Country bag capacity: 150 pounds - 69 kg
Domestic Consumption: 200,000 bags
Coffee Export: 3,250,000 bags
Cultivated Area: 120,000 Hectares (297,000 acres)

Harvests: April to September for washed coffees.

Arabica Introduced: Introduced in the 18th century.
Specialty Coffee Regions: Chamchamayo Valley in the center of the country.
Grades: AAA, AA, A
Farms: About 40,000 farms.
Botanical Varietals: Typica, Bourbon, Caturra, Mundo Nuevo, Villa Lobos.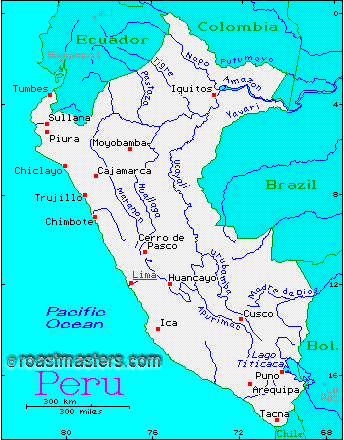 Comments
Coffee from Peru represents a classic Central American profile being bright, acidic and mildly flavored. In addition to being good stand-alone coffees they are excellent, neutral candidates for blends and can add liveliness when needed.