About Panama Bambito Estate
We are thrilled to be able to offer coffee from Bambito Estate - during the Best of Panama competition last year the owner of Roastmasters (and international judge), Barry Levine, gave the farm his highest score during the blind cupping portion. The lot in question went on to win 3rd place in the Washed Geisha category, and buyers quickly snapped up any other available coffee lots. This year we were fortunate enough to be able to purchase some of their excellent Caturra/Catuai, and not a moment too soon as the farm won 1st place in the Washed Geisha category this year, and sold at auction for over $1500 a pound.
Bambito Estate was founded in the early 1900s, and is still run by the same family. The farm is situated in an unusual place; enclosed on two sides by national forests, and protected by mountain ridges on the other sides. This location creates two microclimates perfect for producing top coffee, being protected from the more extreme elements that normally exist at higher altitudes. The farm is also quite self-sufficient. Two natural springs feed the wetmill on site, and the farm has a cupping room for sampling coffee and a plant nursery to keep genetic stock. Coffee byproducts from the wetmill are also used for fertilizer.
This lot is a mix of Caturra and Catuai. Catuai is a varietal developed in the mid-twentieth century, a cross between the Mondo Novo and Caturra varietals, both of which were created by selective cross-breeding programs. Mondo Novo was the result of combining Bourbon and Typica varietals, and Caturra is a combination of two Red Bourbon mutations. It is fully washed, meaning the outer skin and pulp (fruit surrounding the coffee husk) are totally removed during milling before being sun dried on patios.
Producer: Itza Priscilla Sitton Vega de Amar
Farm:Bambito Estate
Township: Cerro Punta
District: Tierras Altas
Province: Chiriqui
Altitude: 1600-1800masl
Coffee Variety: Caturra and Catuai
Processing: Washed
Cup Characteristics: Aromas of butterscotch, toast. Flavors: Concord grape, black currant, bittersweet chocolate, nutmeg. Clean, round body with silky finish. Well prepared and processed coffee from a top farm that has only gotten better in recent years.

Roasting Notes: The preferred roasting range of this coffee is City+ to Full City. The delicate qualities will be present throughout this range, with lighter variations highlighting piquant notes. Full City will enhance body.
Panama coffee facts:
Population (2018): 4.1 million people
Coffee Production: 100,000 bags (60 kg)
Country bag capacity: 132 pounds - 60 kg
Domestic Consumption: 50,000 bags
Coffee Export: 50,000 bags
Cultivated Area: 26,000 Hectares (64,200 acres)

Harvests: October - February

Arabica Introduced: Arabica was imported from Costa Rica in 1820.
Specialty Coffee Regions: Boquete and Volcan, near Volcan Baru, Chiriqui.
Grades: Strictly Hard Bean (SHB), HB.
Farms: About 30,000 farms.
Botanical Varietals: Typica, Caturra, Gesha, Catuai, Pacamara.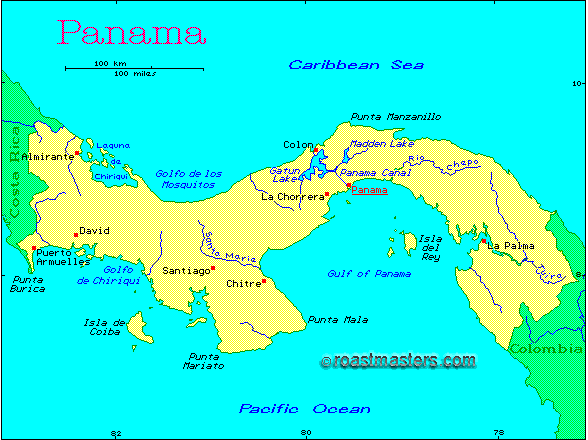 Comments
Panama is a rising star in the specialty coffee world. In the Boquete in particular, farmers are taking Arabica coffee cultivation to new levels and recent auctions of small, specialty lots have garnered record, if not silly, prices. Nonetheless, some of the coffee is excellent. Gesha, a varietal that stems from Ethiopia, has been grown here with good success, yet other cultivars noted above, can produce superb results.