About Panama Don Julian Geisha Natural
This new crop Panama happens to be one of our all time favorites. We were lucky enough to visit this farm where this incredible coffee is grown, and on arrival it became clear that the extraordinary taste of the coffee is the direct result of the exraordinary characteristics of the farm. At first perusal you might assume that you were walking through a nature preserve, where coffee trees are surrounded by other plants and enormous shade trees tower above. It is no accident that the farm feels this way; the owner, Mrs. Burneskis, thinks the farm should be left in as natural a state as possible. She has a level of respect and connectivity for the coffee plants that really comes to light when you walk through the sprawling greenery. Finca Don Julian is located about 1600 meters above sea level, and grows their coffee in rich, black volcanic soil. The growing area being in a protected tropical rainforest gives the coffee a unique flavor, great acidity and bold body.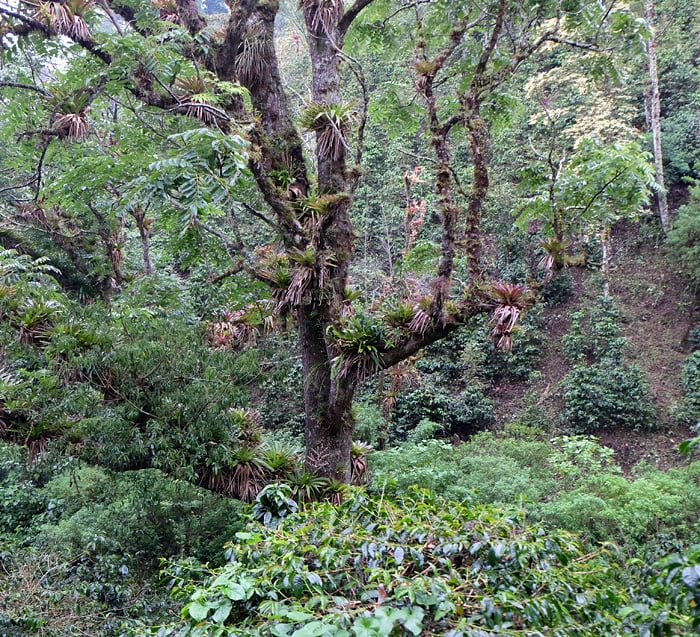 Can you find the coffee trees in this preserve?
This lot is 100% Geisha, an heirloom varietal from Ethiopia that produces a blue-green elongated coffee bean that is especially aromatic and floral. Price Peterson, who owns Hacienda Esmeralda in Panama, experimented by planting it some years ago along with a broader group of varietals. The result was the rediscovery of a great cultivar with extreme fruitiness and floral scents and flavors, but with balance and finesse not seen in other coffees. Coffee farmers in other countries soon followed suit, and the varietal regularly takes home awards in Cup of Excellence competitions held throughout the world. It is a natural processed coffee, a brief explaination of which is required to understand the terminology. Since the advent of micro milling machines, most notably that developed by Penagos in Colombia, small farms have the ability to process their own coffee for a somewhat modest cost of entry. These machines use pressurized water mist to strip away the outer skin of the coffee cherry, and can remove pulp (the fruit surrounding the coffee husk) to a fine tolerance, leaving selective amounts of pulp to dry on the husk. When all the pulp is removed it is fully washed. When a tiny amount remains, it is called yellow honey; when a little more remains it is considered red honey, and a lot remaining is black honey. Neither the skin nor the pulp being removed results in a natural processed coffee (like this one).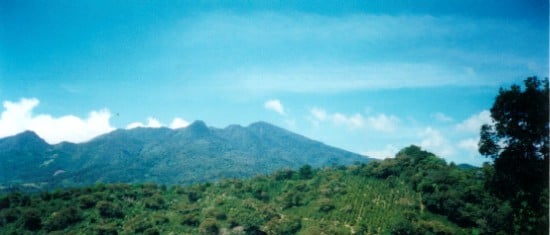 View of the Horqueta Mountains with the Baru Volcano in the distance
Province: Chiriqui
District: Boquete
Altitude: 1600 meters above sea level
Coffee variety: Geisha
Processing: Natural
Farm: Don Julian
Cup Characteristics: Delicate, medium fruit penetration. Flavors of milk chocolate, walnut, tamarind, blackberry, plum and peach. A well balanced cup.
Roasting Notes: Like most dense, hard bean and delicate coffees, we always suggest keeping it to the lighter roast side, maybe midway between first and second crack. This maximizes nuances, in this case the sweet acidity and floral Geisha notes that further roasting will diminish.