About Nicaragua Regalo de Dios Java Natural
Arrived September 2022 from Nicaragua in Grain Pro, new crop.
We offered this coffee last season with a slightly different twist. The producer Luis Alberto Balladarez owns several farms that are close together. Last season this coffee came from both Finca La Bendicion and Lo Prometido, two contiguous farms and the cherries from both plots were combined. He also grows Java varietal on Finca Regalo de Dios (Gift from God in Spanish) and that is where it came from in its entirety this season. As an aside we have also enjoyed a Pacamara from this same plot. It might be correct to identify this micro region coffee as being produced by Luis Alberto rather than each plot as his guidance is evident in all of these properties.
This particular coffee made its first impressions on our head coffee roaster when he visited Nicaragua in early 2020. After cupping many coffees over 4 days, the Java ended up being his favorite. Whether grown on Finca Regalo de Dios or on one of the other farms owned by Luis (Finca La Bendicion and Lo Prometido), the coffee is dry processed at Beneficio Las Segovias in Ocotal. Luis Alberto took first place in the Cup of Excellence in 2020 and 1st and 5th place in 2018. Each of Luis' farms are split into "plantios" (plantations) based on altitude, and coffees are further separated based on varietal. Even multiple lots from the same plantio harvested and processed on the same day may have subtle variations that make them better suited to pulped natural or full natural processing rather than conventional washing. The washed and honey processed coffee from this farm is dried for 20-25 days, but the natural processed coffee is dried for 30-35 days - natural coffees are dried with the coffee cherry on the beans, which imparts an inherent fruitiness to the coffee bean.
Although Nicaragua lies in the heart of the Central American coffee growing countries, and has been growing coffee commercially for over a century, the success of the coffee industry has been plagued by political strife. During the Reagan administration, all Nicaraguan products were banned from import to the United States. In recent years, coffee plantations once taken over by Sandinistas have been returned to local families, and the industry is making great strides towards producing some very high quality coffees. As improvements in cultivation, traceability and quality occur, long-term production is steadily increasing, and farmers are offering a surprising range of cup profiles based on distinctive varietals and unique micro-climates.Luis Alberto is one of the top producers in pursuit of excellence here.

Luis Alberto Balladarez, right, inspecting freshly harvest coffee
The Java varietal was originally thought to be a Typica until genetic testing revealed it to be a selection from an Ethiopian Landrace population called Abyssinia (World Coffee Research) the variety was introduced to the island of Java directly from Ethiopia by the Dutch in the early 19th century. The Java variety is becoming a good growing option for smallholder farms, who use fewer inputs, as it is resistant to coffee leaf rust and coffee berry disease. In the mid-20th century, it was brought to Cameroon from Java and then, in 1991, it was brought and planted in Costa Rica, its introduction into Central America. There are some flavor characteristics found in Geisha, also of Ethiopia origin, but Java is not as delicate nor as floral. It is an easily accessible exotic variety with a deeply rooted history.
Country: Nicaragua
Farm: Finca Regalo de Dios
Producer: Luis Alberto Balladarez
Region: Nueva Segovia
Municipality: Mozonte
Altitude: 1300-1650 meters
Varietal: Java
Process: Natural/Dry Process
Harvest Season: December-March
Cup Characteristics: Brown sugar, nutty, earthy, floral, graham crackers, tamarind. Sweet and floral qualities are evident. Refined, elegant cup with Natural process medium fruit intensity.

Roasting Notes: This coffee need to be roasted on the light side if you want to preserve its floral nature. But it is feasible to roast it a little further to increase body, albeit at the expense of the florality. Let the coffee get fully past first crack, and if your roaster allows it, kick the heat down to nearly zero once first crack gets going and allow the coffee to slowly develop. A longer development time, 1.5 to 2 minutes, depending on your roaster might let you achieve both.
Nicaragua coffee facts:
Population (2007): 5.7 million people
Coffee Production: 1.5 million bags, all Arabica
Country bag capacity: 132 pounds - 69 kg
Domestic Consumption: 200,000 bags
Coffee Export: 1.37 million bags
Cultivated Area: About 100,000 hectares (nearly 250,000 acres)

Harvests: In the south November through January; in the north January and February.
Soil: Volcanic, very fertile

Arabica Introduced: Arabica coffee was introduced in the mid 19th century.
Specialty Coffee Regions: South, North and Central ranges.
Grades: Based on elevation. SHG (Strictly High Grown 1500-2000 meters); High Grown (1300-1500 meters); Medium Grown (1000-1300 meters); Low Grown (500-1000 meters).
Farms: About 17,000
Botanical Varietals: Bourbon, Typica, Caturra, Maragogype.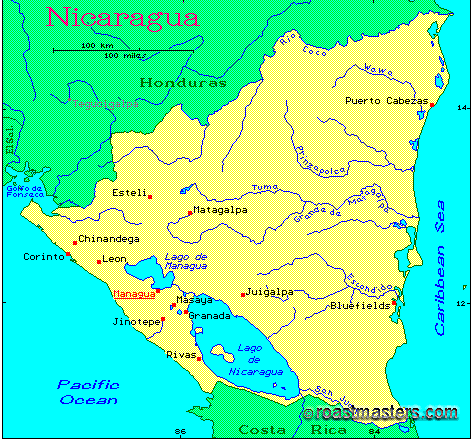 Comments - Nicaragua's coffee outlook is promising despite some of the lowest incomes in the Americas. It has the third lowest per capita income in the Western Hemisphere and the largest area of land in Central America. Growing and pruning processes have improved and there is potential for Nicaragua to increase its production. The Cup of Excellence has helped to discover some excellent coffee from Nicaragua and provides incentive for the dedicated efforts to produce same.