About Nicaragua Nicolas & Angela Jasmine
Arrived August 2022, new crop, in grainpro. Very limited quantity.
We stumbled on this coffee while attending a cupping of about 30 coffees from Nicaragua at a trade show. At the time the coffees were just being prepared in Nicaragua. We picked out this one as being particularly interesting and at a good price for the quality offered. The coffee has just arrived in the US and now in our roasting plant.
Nicolas & Angela are a Nicaraguan couple who produce a number of different preparations of the Red Catuai they grow on their farm. This one presents some floral qualities of jasmine and lilac along with concord grape, Their coffee stands out on just about any cupping table and it did for us among the group tasting mentioned above. Nicolas, we are told, is the huggable grandfather you'd want to have, and Angela smiles and is welcoming as she works diligently on harvest tasks. They have six children and 12 grandchildren and explain that they farm to be able to support their kids' education. The couple plan to pass their farm to one of their daughters, Mireya, in a multi-year transition towards retirement, but at the moment they are in full control of all aspects of the farm, its production and processing.
Producer: Nicolas & Angela
Farm: El Porvenir
Country: Nicaragua
Region: Jinotega
Altitude: 1450 meters
Varietal: 100% Red Catuai
Processing: Washed
We purchased this coffee from an exporter who works on the ground in Nicaragua. Gold Mountain Coffee Growers is a social enterprise that, in addition to its own farm (Finca Idealista), works directly with coffee producers in Nicaragua, including Nicolas and Angela, to connect them with roasters abroad. They say they literally stand on every partner farm during picking to ensure ripeness with refractometers and ripeness bracelets. In addition, they also carry out sustainable development projects in communities, such as free computing classes for girls from coffee communities, medical assistance, microcredit, running water in schools, and educational supplies.
Cup Characteristics: Some notable floral qualities of jasmine and lilac along with concord grape. Very sweet turbinado type sugars present. Flavors of rosehip, oolong tea and fig. A complex, clean and lingering coffee.

Roasting Notes: This coffee was very complex when we extended the development time to about 100 seconds but avoided the start of second crack.
Nicaragua coffee facts:
Population (2007): 5.7 million people
Coffee Production: 1.5 million bags, all Arabica
Country bag capacity: 132 pounds - 69 kg
Domestic Consumption: 200,000 bags
Coffee Export: 1.37 million bags
Cultivated Area: About 100,000 hectares (nearly 250,000 acres)

Harvests: In the south November through January; in the north January and February.
Soil: Volcanic, very fertile

Arabica Introduced: Arabica coffee was introduced in the mid 19th century.
Specialty Coffee Regions: South, North and Central ranges.
Grades: Based on elevation. SHG (Strictly High Grown 1500-2000 meters); High Grown (1300-1500 meters); Medium Grown (1000-1300 meters); Low Grown (500-1000 meters).
Farms: About 17,000
Botanical Varietals: Bourbon, Typica, Caturra, Maragogype.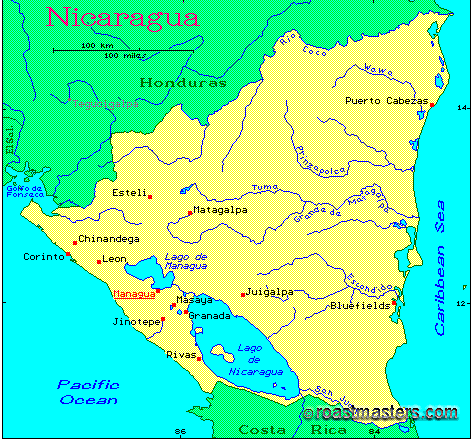 Comments - Nicaragua's coffee outlook is promising despite some of the lowest incomes in the Americas. It has the third lowest per capita income in the Western Hemisphere and the largest area of land in Central America. Growing and pruning processes have improved and there is potential for Nicaragua to increase its production. The Cup of Excellence has helped to discover some excellent coffee from Nicaragua and provides incentive for the dedicated efforts to produce same.