About Salter Microtronic Scale
Model 2006 Microtronic
Removable hygienic stainless steel cover is easy to clean. A low cost, accurate scale ideal for weighing beans before and after roasting. Roasting by weight is the way to repeatable results. Measures to 5 pounds in 1/8 ounce increments, or, to 2 kilograms in 2 gram increments. Weighing surface is 5.75" diameter. Overall footprint about 7"x7". Chrome with stainless steel.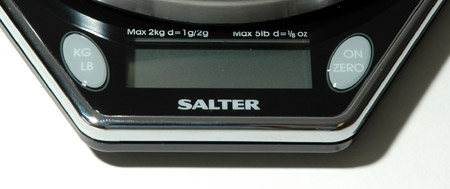 Features:
Compact design
Cover is dishwasher safe
Weigh directly onto platform or use with a bowl
Automatically adjusts for use with most bowls or containers
Add & weigh facility
Reads in both Kg / lb 10mm / 0.4" digits
Auto zero
Auto shut-off
Measures from 2 grams up to 2 kilograms
Or from 1/8 ounce up to 5 pounds
Manufacture 10 year guarantee
Long-life lithium battery – included
Not legal for trade or commerce.