About Colombia Tolima Organic
Latest arrival January 2019 in grainpro. Our friends at Granja Esperanza in Colombia introduced to this local association of organic coffee producers several years ago, and we are thrilled to have it available again. The association, called ASOPEP (Association Of Organic Producers of Planadas), is located in Colombia's Department of Tolima, an origin where some of the very top coffees derive. Planadas is the small city at the southernmost part of Tolima.162 families make up the association and together farm about 1000 acres of coffee land. Planadas is a young town, formally only 50 years old with settlers primarily from other coffee regions in Antioquia and Huila. The immediate growing area has ideal growing conditions for coffee as is obvious from this organic lot.
The association itself is also young, founded in 2013. Its mission statement is: "To be known as an association that creates opportunities for the personal growth of its members, protects the environment, innovates in commercial business processes and is always in the vanguard of specialty coffee producers worldwide."
Fermentation is traditional, in cement tanks where the coffee, once the skin has been removed, resides for 16-18 hours until the mucilage is able to be washed away. It is then fully washed and spread out to dry, mainly in full sun but when conditions do not permit, in guardiolas, which are low temperature drying ovens. Most producers prefer sun dried coffee, done on patios, or on African raised beds.
Country: Colombia
Department: Tolima
Municipality: Planadas & Ataco
Total Crop Area: 400 hectares (about 1000 acres total)
Altitude: 1,600 - 2,100 meters; 5250 - 6900 feet
Process: Fully washed
Varietals: Castillo (20%) Caturra (50%) Colombia (25%) Typica (5%)
Families in association: 162
Organic certification: USA (NOP/USDA)
Cup Characteristics: Pronunced citrus and floral notes, flavored with orange and lemon peel, with a long and elegant aftertaste. It has medium- high acidity, creamy body, good sweetness and is very balanced and uniform.
Roasting Notes: This is a durable bean that can withstand roasting past 2nd crack but the more delicate flavors and acidity are most pronounced when roasted to Full City.

Colombia coffee facts:
Main crop seasons vary depending on location. For many the main crop is Sept - December. Some regions have a mid crop as well.
Population: 43.6 Million people
Domestic Consumption: 1.8 Million Bags of 70 Kg. (154 lb.)
Coffee Export: 12.5 Million Bags of 70 Kg. (154 lb.)
Cultivated Area: 1.1 Million Hectares (2.7 Million Acres)
Harvest: Main Crop: October to January (60%)
Fly Crop: April to June (40%)
Note: In Narino, due to its geography, Main and Fly crop seasons are reversed.
Arabica Introduced: From the Carribean through Venezuela
Farms: 300,000

Specialty Coffees:
Supremo basis of a 17 screen size
Excelso basis of a 16/17 screen size
Botanical Varieties:
Bourbon, Typica, Caturra, Maragogype, Variety Colombia (hybrid of Timor and Caturra)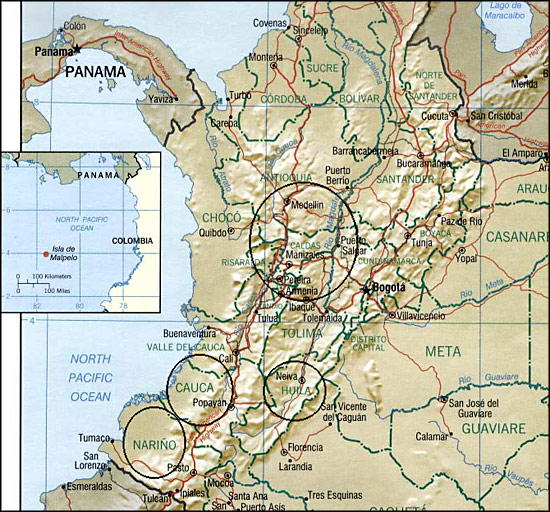 Crop Comments
Colombia is the second largest exporter of Arabica coffee in the world. All coffee grown is Arabica species, and mostly all is grown at high elevation and wet processed. Supremo is the country's highest grade though the highest elevation coffee can be smaller and thus not able to make the size grade although more concentrated. Colombia coffee has a well-earned reputation as having fine body, pleasant acidity and clean flavor. Each region brings a little something different to the final product.