About Panama Mama Cata Typica-Geisha Blend
Latest arrival December 2017 and what a lovely coffee this is! This is the second year we are offering coffee from the Mama Cata Estate in Panama and we are excited to have it. The farm was established in 1997 by Jose David Garrido Perez who revamped the farms technology and made it the success that it is today. Before being purchased by Mr. Garrido it was owned by the Fisher family, including Catalina Fisher from whom the farm name was derived, where they focused on traditional coffee varietals such as Typica. For many years the washed Typica from Mama Cata scored very well in the Best of Panama competition, winning the traditional category three times and today continues to rank highly in competition in a variety of categories.
We visited the farm twice this season, in March and again in May, cupping multiple lots from various lots and in particular from this Toña parcel where Geisha and Typica trees grow interspersed. So not only are there two varietals combined but they grow in common soil among one another. This has some unusually positive repercussions on the cupping table. There is a lot of geisha in the mix, not just a token amount and it is evident in the cup. This blend has the florality of geisha and has sturdiness from the typica, with elegance and balance from both.
While we are used to seeing Geisha showcased on its own, this lot is a blend of Typica and Geisha. The quality of this blend has been refined over the years with the modernization of the estate. The way that they identify lots at the estate is by GPS coordinates, a unique identification system compared to most surrounding estates. This allows the family to study information such as variety, soil composition, and production of each coffee tree in a given lot, which in turn enables them to effectively tailor each lot to produce the best quality and output of coffee possible. There is a major focus on harvesting only the ripest coffee cherries and the pickers are educated on proper ripeness rather than just picking all of the cherries from a given tree. Moreover, the patio drying of coffee is done according to weather patterns that are monitored by high-tech weather stations located at the wet mill.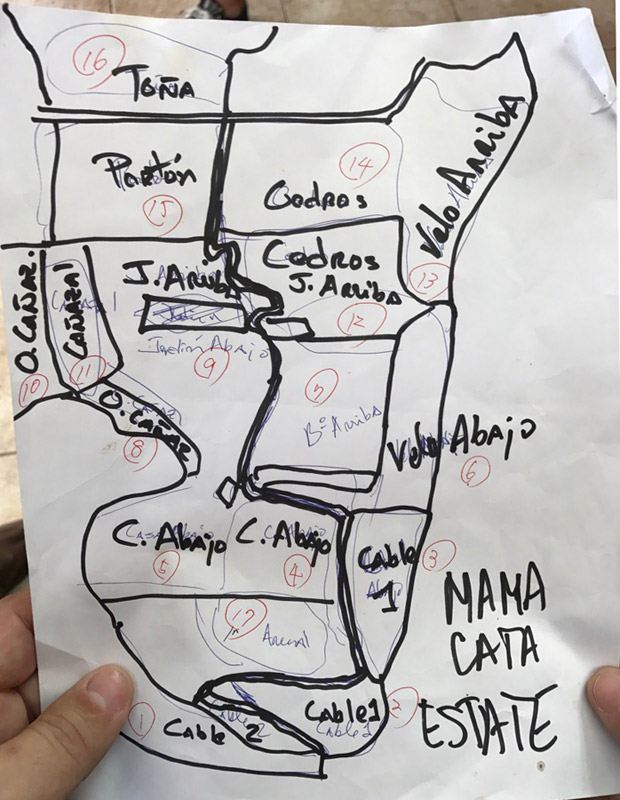 Hand drawn map of the Mama Cata Estate. Toña plot is top left at about 1700 meters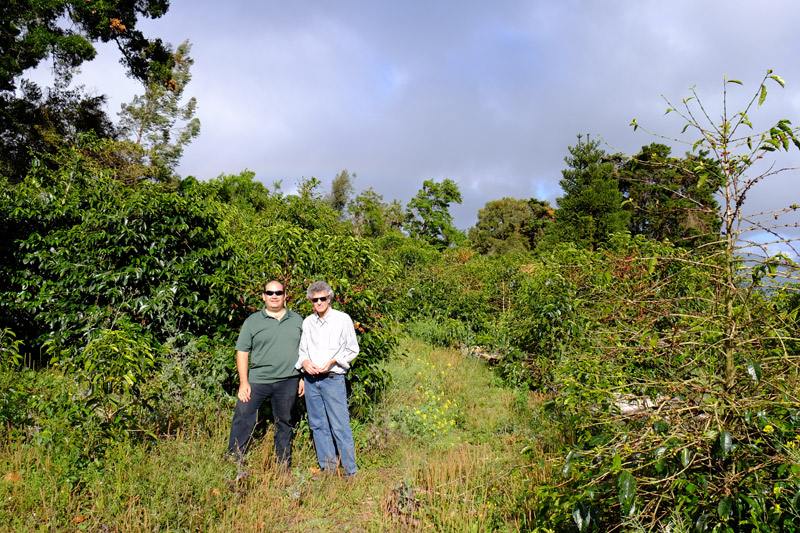 Jose David Garrido Perez, producer (left) with Barry Levine from Roastmasters / Willoughby's Coffee in the Toña plot.
Toña is only one of two plots where geisha is interspersed with typica.
Producer: Jose David Garrido Perez
Country: Panama
Region: Boquete
Specific plot where grown: Toña
Farm: Mama Cata Estate
Altitude: 5085-5575 feet
Varietal: Green Tip Geisha, Green Tip Typica, Bronze Tip Typica
Process: Washed
Cup Characteristics: Gorgeous aroma showing the defining presence of geisha, very floral and nutty. Flavors are delicate but sturdy with notes of rose water and jasmine. Piquant lemon background notes. Succulent and silky mouthfeel. Extremely satisfying cup.
Roasting Notes: This is a high grown, dense and delicate coffee, actually two different varietals intermixed in planting. We strongly suggest keeping it to the lighter roast side, maybe midway between first and second crack or even closer to a completed first crack. This maximizes nuances, in this case the lemony, silkiness that further roasting will diminish.
Panama coffee facts:
Population (2018): 4.1 million people
Coffee Production: 100,000 bags (60 kg)
Country bag capacity: 132 pounds - 60 kg
Domestic Consumption: 50,000 bags
Coffee Export: 50,000 bags
Cultivated Area: 26,000 Hectares (64,200 acres)

Harvests: October - February

Arabica Introduced: Arabica was imported from Costa Rica in 1820.
Specialty Coffee Regions: Boquete and Volcan, near Volcan Baru, Chiriqui.
Grades: Strictly Hard Bean (SHB), HB.
Farms: About 30,000 farms.
Botanical Varietals: Typica, Caturra, Gesha, Catuai, Pacamara.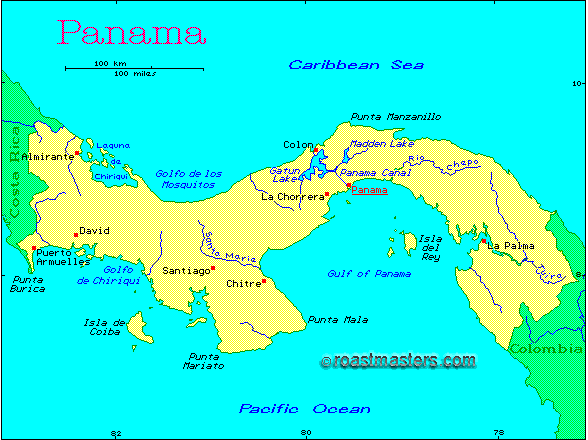 Comments
Panama is a rising star in the specialty coffee world. In the Boquete in particular, farmers are taking Arabica coffee cultivation to new levels and recent auctions of small, specialty lots have garnered record, if not silly, prices. Nonetheless, some of the coffee is excellent. Gesha, a varietal that stems from Ethiopia, has been grown here with good success, yet other cultivars noted above, can produce superb results.