About Sumatra Wahana Estate Longberry
Arrived late August 2015. This Sumatra Longberry micro-lot is from the Wahana Estate and as the name suggests, is a long and thin shaped bean varietal. It is said to have originated in Ethiopia due to a similarity to a varietal called Longberry Harrar. Wahana Estate has been credited with bringing this varietal to the Lake Toba area of Sumatra as one of their experimental varieties. This coffee is fully washed and sun dried.
The Wahana Estate was established in 2005 and is the only large, private coffee estate of its kind on the island of Sumatra. It's located in the village of Lae Mungkur in Northern Sumatra. Wahana Graha Makmur translates to "Vessels for Great Success" and the estate's mission is not just producing their own high quality coffee, but also to improve the quality of coffee farmers throughout the region by offering advice and farm management to neighboring farms. The estate is made up of about 250 hectares and grows 13 different coffee varieties that are each carefully separated into lots to produce distinct single varietal coffees, including some local Indonesian hybrids such as the Longberry and the Rasuna.
The estate is an important local employer - with between 800 and 1000 workers, whose families have the use of an on-site health clinic. Workers are provided with free housing, electricity, drinking water, healthcare (including free medicine), and kindergarten and nursery for young children. The estate has also built a church and small mosque inside the farm's grounds.
It's really unusual to find coffees like this, experimental varietals but with results that are of excellent quality. This is admittedly expensive for a coffee from Sumatra but we think you will be pleased by the results.
Cup Characteristics: Very clean, especially for Sumatra origin with aromatic chocolate notes. Sweet with orange and caramel flavors. The cup is very earthy and smooth with a subtle exotic fruit flavor like guava offering both a textural and flavor sensation.
Roasting Notes: The coffee roasts like other high grown Sumatra varieties and may take a tad longer to finish due to higher moisture levels one typically sees from this origin.
Indonesia coffee facts:
Population (2020): 274 Million People
Coffee Production: 11.5 Million bags (60 kg)
Arabica 2.0 million bags; Robusta 9.5 million bags
Country bag capacity: 132 pounds - 60 kg
Domestic Consumption: 4.2 Million bags per year
Coffee Export: 7.3 Million Bags
Cultivated Area: 250,000 Hectares

Harvests: Year round depending on region with peaks March to June.

Arabica Introduced: Introduced in Java by the Dutch mid 17th century.
Specialty Coffee Regions: Sumatra (Aceh), Java, Timor, Sulawesi (formerly Celebes), Bali.
Grades: Grade 1 triple picked, grade 1 double picked, grade 1 , grade 2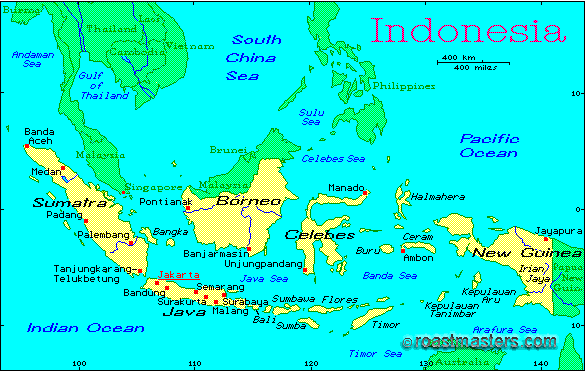 Comments
All Arabica plantations were destroyed in 1877 by a coffee disease.