Costa Rica La Minita Tarrazu
Available
About Costa Rica La Minita Tarrazu
Arrived late March 2019, new crop in GrainPro bags. This coffee is simply terrific and thoroughly enjoyable. La Minita has always prided itself on being amongst the most fastidiously grown and prepared coffees in the world. The La Minita plantation is set on 700 acres in the steeply graded, hilly Tarrazu region, with elevations between 4,000 to 7,000 feet. The farm produces several qualities of coffee but this signature coffee, La Minita Tarrazu, has very limited production, about 1700 bags annually. The attention to detail is extreme, beginning with what they describe as backyard gardening techniques on a large scale, as all the work is done by hand.
Arabica varietals planted are Typica and Caturra, which grow optimally here. Each tree is picked four times and farm management is almost obsessive that cherries be fully ripened before harvesting. Every aspect of washed processing and milling takes place on the farm under watchful supervision: fermentation, washing, drying (in the sun unless weather makes it impossible), resting, milling, polishing. Before the coffee is bagged it goes through a final, special hand sorting to remove any remaining defects. This final sort is so labor intensive that a worker can do no more than 50 pounds in a day.
Cup Characteristics: Opulent fruit and fine acidity in complete harmony. Delicate body with long finish. Layered flavors.
Roast notes: La Minita Tarrazu is a very high grown, dense and hard bean. It can take, and needs a lot of heat to develop. Roast to FC or FC+ to develop the complex flavor and fine acidity. The darker you roast beyond FC the more bright notes will diminish.

Costa Rica coffee facts:
Population (2006): 4.1 million People
Coffee Production: 1.7 million bags (60 kg)
Country bag capacity: 150 pounds
Domestic Consumption: 380,000 bags
Coffee Export: 1,320,000 bags
Cultivated Area: 82,500 Hectares (203,775 acres)

Harvest:
September to February

Arabica Introduced: Coffee was first introduced into Costa Rica in 1779 from Cuba. First exportation was in 1820.
Farms: About 32,000, over half are small farms (less than 1 hectare).
Specialty Coffee Regions: Tarrazu, Tres Rios, Central Valley, Pacific Central, South Pacific

Botanical Varietals: Mondo Nuevo, Hibredo/Tico, Villa Sarchi, Geisha, Caturra, Catui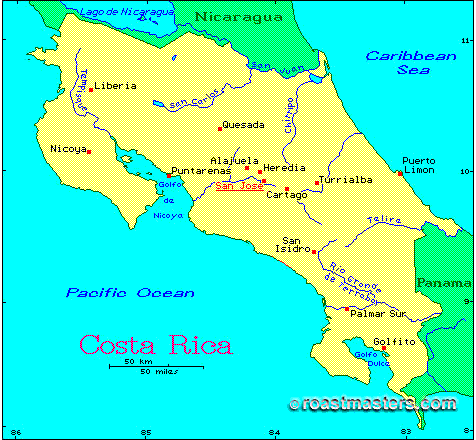 Comments: Coffee is grown in Costa Rica on both the Atlantic and Pacific slopes at altitudes between 1600 and 5400 feet. The highest grade is called Strictly Hard Bean, grown at elevations over 3900 feet. Costa Rica produces some exceptional coffees, renowned for their brilliance, balance and complexity.