About Kenya AB Gachuiro
Arrived early December 2020 in grainpro.
Gachuiro Factory (wet mill) receives cherry from producers who farm on the land surrounding the factory in Gachuiro, Nyeri County. Gachuiro Factory is one of 4 factories managed by Kiama Farmers Cooperative Society. Kiama, founded in 2004, represents over 3,000 farmers in Nyeri. Smallholders hand pick ripe cherry and deliver it to the factory that day. Pulped cherry is dry fermented for 16-24 hours.
Parchment is soaked for 24 hours and then placed on raised drying beds. Drying typically takes between 1 and 3 weeks. Parchment is milled at the Kahawa Bora dry mill. Thanks to the mill, small estate owners can receive larger payouts for their high-quality production and link their name to their coffees for consumers to see.
Coffee production in Kenya has been steadily increasing since its start, producing 50,000 tons annually and employing over 250,000 Kenyans. The volcanic soils give the coffee a unique terroir that is high in acidity (brightness) and reminiscent of some dry red wines. A government run system offers rewards to farmers for quality improvements which has led to exponentially better coffee. Temperatures in Nyeri County are cool as it lies in a valley between Aberdare Range and the slopes of Mount Kenya. This area forms part of the Great Rift Valley, some of the earliest links to humankind. This is an ideal climate for growing Arabica coffee due to the red volcanic soil, lots of seasonal rainfall and high elevation. High grown coffee matures slowly and flavors intensify as a result.

Country: Kenya
Farm: Farmers delivering to Gachuiro Factory
Producer: Gachuiro Factory
Region: Gachuiro
Municipality: Nyeri
Altitude: 1,700 to 1,800 meters
Varietal: SL28, SL34
Process: Fully Washed
Harvest Season: Central Kenya: May - July (early crop); October - December (late crop)
Cup Characteristics: Aromas of raspberry, blackberry, and tropical fruits. Flavors of peach, apricot, and nectarine. A round, balanced, approachable cup.
Roasting Notes: Beans are hard and dense and can be roasted to a variety of darkness levels. Most floral and delicate notes will be presented at City+ to FC range. The delicate nuances of this coffee will present themselves at lightly roasted levels but be sure to have a full first crack.

Kenya coffee facts:
Population (2006): 34.7 million People
Coffee Production: 880,000 bags (60 kg)
Country bag capacity: 132 pounds - 60 kg
Domestic Consumption: 50,000 bags
Coffee Export: 850,000 bags
Cultivated Area: 127,000 Hectares (314,000 acres)

Harvests: 2 per year
- Main crop October to December
- Fly crop June to August

Arabica Introduced: Introduced from Ethiopia via Yemen at the end of the 19th century, by the Fathers of the Holy Spirit Congregation. Bourbon varietal introduced from Reunion in 1901 by missionaries. Kent varietal introduced early 20th century from the Indies.
Specialty Coffee Regions: North and northeast of Nairobi; high plateaus surrounding Mt. Kenya. Soil is volcanic.
Grades: AA Plus, AA, peaberry
Farms: About 350,000 farms with an average of 0.2 hectares (about 1/2 acre). 8 major preparation cooperatives.
Botanical Varietals: Bourbon, Kent, various hybrids (SL-28, SL-34, Riuru 11), Blue Mountain (from Jamaica).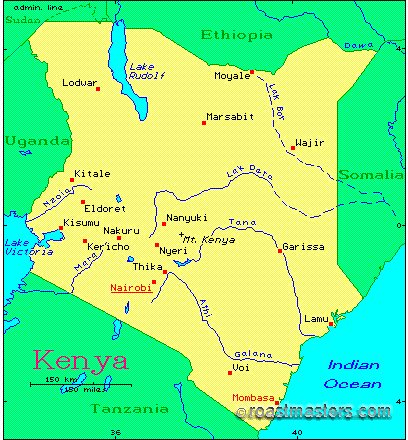 Comments
One of the great coffee producers. Coffee accounts for 27% of the country's exports and half of their agricultural output. Shading, by banana trees, is a common practice.
Kenya has a weekly auction system that has been in place for many years. It does not provide transparency of revenues to growers and the system is said to be flawed by a complex web of middlemen. There are allegations of corruption as well. The government is working to develop a more direct model whereby growers can offer their coffees more directly to foreign buyers thus reaping a better price.