About Technivorm Moccamaster KBTS - Stone Grey
When counter height is an issue, the Technivorm Moccamaster KBTS-741 Clubline brewer is the best solution. Please note that this is NOT the KBT-741 brewer but rather a reduced height version with somewhat less capacity. This brewer combines all the great traits of Technivorm brewers into a smaller, shorter package. Brewing capacity is 1 liter (34 ounces) and is equivalent to 8 cups in european measure. Height is only 13.2 inches. As with other Technivorm brewers, this is a simple, precise and elegant electric drip coffeemaker. No gadgets here. No clock, no grinder, just consistently excellent brewing. This is a handmade coffeemaker built in Holland. The main asset of the Moccamaster line is its ability to maintain perfect brewing temperature throughout the entire brewing cycle, an attribute that has earned it certification from at least two coffee trade associations. This is a quality product, done simply. Technivorm brewers have been recommended in articles that appeared in Cook's Illustrated, Wine Spectator, Barron's, NY Times, et al. All of the models we offer have stainless thermal carafes and do not utilize warming plates which damage coffee. We also offer the very popular Moccamaster KBT-741 and Moccamaster CDGT Thermo models, each 1.25 liters and taller than this KBTS.
EVERY 10 CUP TECHNIVORM FROM ROASTMASTERS INCLUDES


*** $15.00 shipping discount to Canada, Hawaii and Alaska. Enter coupon code SHIPDISC during checkout.
The Technivorm Moccamaster KBTS Features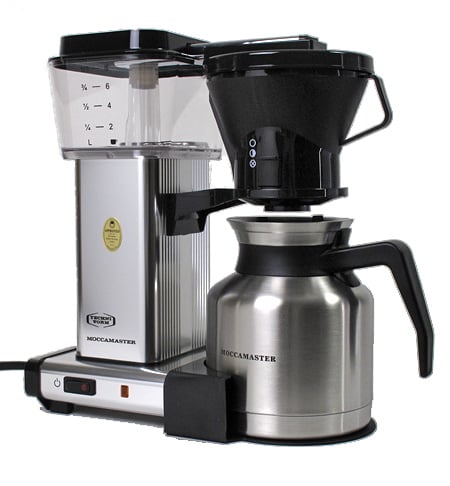 Features:
Brews at a consistent 200 degrees batch after batch.
Brews up to 8 cups. Capacity is 1 liter (about 34 ounces). Brew time for a full pot is about 5 to 6 minutes at drip grind.
Includes all stainless thermal carafe. New design as of May 2012. There is no heating element in brewer.
Includes Brew Thru Lid for the carafe.
Copper boiling element with double safety guard.
Filter basket has drip stop.
Illuminated on/off switch.
Uses paper cone filters (included with our offer) or goldfilter.
Matte stone grey finish (shown in polished silver on the right).
Visible scale indication.
Original "Smitdesign" hand-built by Technivorm of Amerongen, the Netherlands.
Dimensions:
Height 13.2"
Width 11.5"
Depth 7"
Weight:
Additional Info
More about the Technivorm Moccamaster KBTS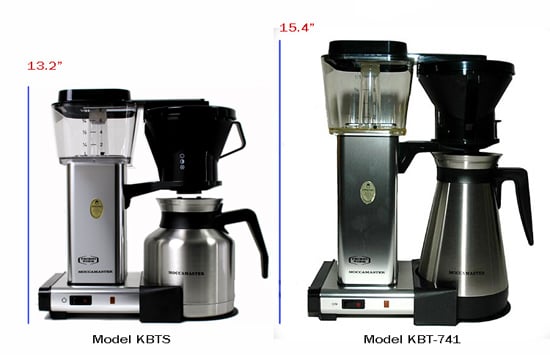 Comparing sizes of the KBTS and KBT-741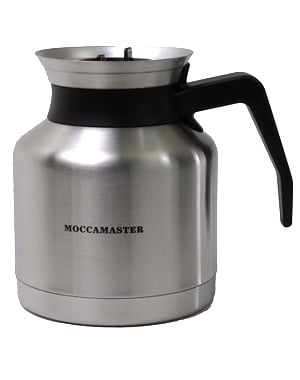 New style 1 liter thermal carafe with brew thru lid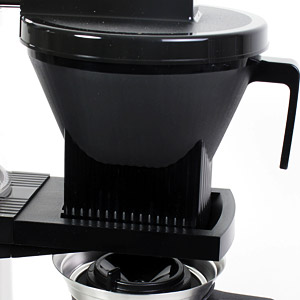 Detail of spray head looking up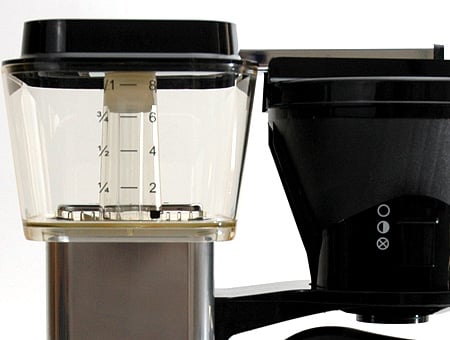 Detail of water chamber and filter.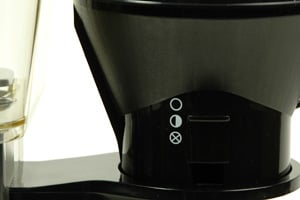 Newer styled filter basket on the KBTS model
Handcrafted & Approved
Certified by the Specialty Coffee Association of America and approved by the European Coffee Brewing Centre (Oslo). Only a handful of brewers earn this approval which "ensures that the water extracts the coffee optimally".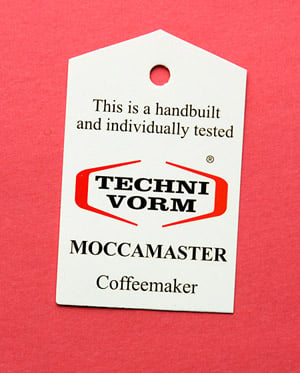 Certificate of handmade quality workmanship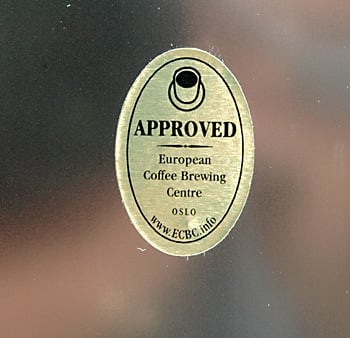 The European Coffee Brewing Centre Seal of Approval
Manufacturer's warranty is 5 years from date of purchase.