About Technivorm Moccamaster KB-741 - Refurbished
If you are in the market for a coffeemaker with a glass carafe, look no further. The Technivorm Moccamaster KB-741 is Technivorm's best selling coffee brewer model in the United States. The Technivorm Moccamaster KB-741 and KBG-741 are the best glass carafe models available. We have always favored brewers with thermal carafes, over those with glass carafes, for keeping coffee flavor optimized. But, after thoroughly testing these brewers we can say that they are best in class and will provide you with many years of great coffee. This brewer has been designed to brew and maintain excellent coffee flavor while utilizing a glass carafe and heating soleplate. This is an original Smitdesign, handbuilt in Holland by Technivorm – quality all the way.
Many customers are not interested in thermal carafe brewers, preferring to keep their coffee hot on a soleplate. Problem is most brewers have heating elements that are too hot and do not adjust to the diminishing quantity as you pour, so coffee's delicate flavors get rapidly compromised. That can turn a wonderful coffee into an acrid brew. Technivorm of Holland has figured out how to have the best of both worlds. The soleplate of the KB-741 automatically adjusts to the amount of coffee in the carafe, maintaining beverage temperature between 176 and 185 degrees F, a level that can retain flavor. There is also a 2-position switch so that small pots are provided lower hold temperatures.
Cleverly designed, the brewer is also solidly built. It has a copper boiling element inside with double safety guard. Outside is a sturdy aluminum housing in a brushed silver finish. Also included in the KB-741 is a 3-positionswitch on the filter basket that you can adjust to full or half brew, or, to the 'closed' position allowing you to stop the brewing process at any time to serve coffee. The carafe has a smart design - a slightly tapered top with a long stem takes brewed coffee to the bottom of the carafe so that the resulting coffee is thoroughly mixed and homogeneous; most brewers drip directly into a carafe so the beverage is thinner at top than at bottom requiring it to be manually stirred. The soleplate, which keeps the coffee hot, is oven enamelled for longevity.
Features:
1 year manufacturer's warranty on refurbished brewers.
Brewing temperature is precisely controlled between 198 and 205 degrees F; holding temperatures between 176 and 185 degrees F. This meets the demanding standards of the SCAA, SCAE and ECBC.
9 hole sprayhead for even wetting of ground coffee.
Automatically adjusting soleplate heating.
Soleplate shuts off automatically after 100 minutes; illuminated on/off switch.
Carafe with clever mixing lid for thoroughly mixed brew.
Copper boiling element.
Visible scale indicator tells you when brewer requires descaling.
Brew times of 5 to 6 minutes.
The filter holder has a built in drip stop when carafe is removed.
What are the differences between the KBG-741 and the KB-741?
The KB-741 has a switch on the filter basket that you can move to 'closed' position. The KBG-741 has a Stop and Serve feature, meaning that you can simply remove the carafe and pour, thus stopping the flow of coffee into the carafe. We do recommend you wait the time for the brew cycle to complete, both for properly strength and safety, but if you don't want to wait out those very last drips then just pour yourself a cup.
KB-741 has a brushed aluminum finish; KBG-741 has a polished, though subtle, finish.
Minor differences in the shape of the glass carafe. Both carafes have the same capacity.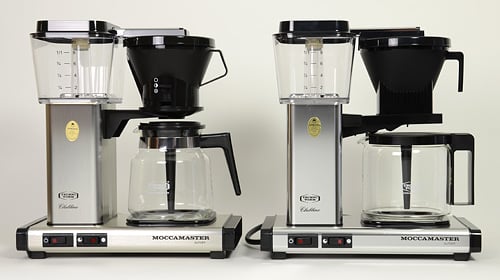 KB741 on left, KBG741 on right.
This brewer is handbuilt in Holland by Technivorm and is an original Smitdesign. It is one of a rare group that has been approved by Specialty Coffee Association of America, the Specialty Coffee Association of Europe and the European Coffee Brewing Center.
Capacity: 10 cups (European size, total 43 ounces)
Dimensions: 6.7" W, 13" D, 14.2" H
Wattage: 1475
Voltage: 120

Refurbished Technivorm coffee makers carry a manufacturer's warranty is 1 year against defects.