About Hawaii Ka'u Specialty Peaberry
Arrived late May 2017, new crop, in grainpro. This is our first offering of coffee from Malian Lahey who founded Ka'u Specialty Coffee in 2011 with a vision of helping farmers earn a fair price for coffee that had been selling for just a fraction of the price that the prized Kona coffees had been. Malian's company works directly with farmers to ensure they receive fair pricing, sustainable farming practices, and protection of Hawaiian culture all the while producing the highest quality coffee.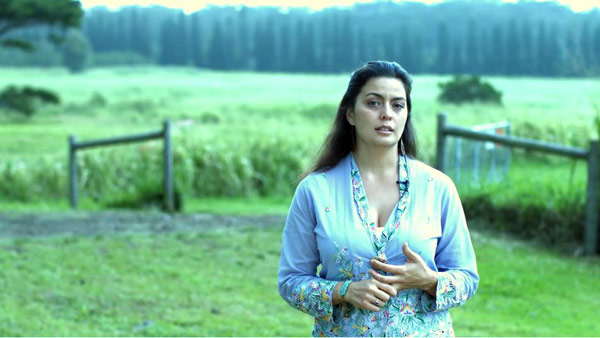 Malian Lahey
These are peaberry beans which means the shape is oval versus typical flat beans. Because of their cylindrical nature peaberries can roast more uniformly in drum roasters because they roll easily. By contrast they can be difficult to roast in roasters that depend a lot on an air stream to get beans in motion because the bean shape has wind resistance. This is collection of peaberries from a few area producers including two Coffee of the Year winners (SCA Roaster's Guild).
Country of Origin: USA
Region: Hawaii
Microregion: Ka'u
Varietal: Typica
Bean type: Peaberry
Elevation: 1500 to 2500 feet
Process: fully washed, dried on raised beds
Producer: Multiple area smallholders including two Coffee of the Year winners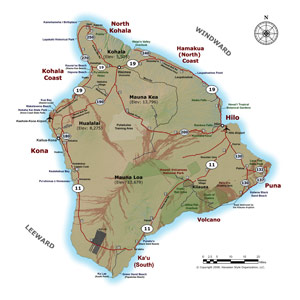 Map of Big Island, Hawaii (click to enlarge)
Most of the coffee grown in Ka'u grows between 1,000 and 2,500 feet in rich, volcanic soil. As coffee replaced sugar in the local economy it did not take long before selected growers began to produce highly sought after, world class coffee. In numerous Specialty Coffee Association competitions both in the US and abroad, coffees from Ka'u began to place regularly in the top ten. Some of the individual producers are in very high demand like their colleagues in Kona. In part this has to do with the dominant volcanic soil and ash, being in proximity to Volcano National Park and the nearby Kilauea volcano. The mornings are, the afternoons usually have light rain and in the evening cool air moves the inland mountains toward the ocean. Another significant factor is the collegial work done by area farmers to combine their learning and skill toward superior production methods which has quickly paid off. Altogether there are less than 1000 acres under coffee cultivation in the area at this time.
While Kona and Ka'u coffees share many qualities, notable due to volcanic soils, they have a slightly different flavor profile. Ka'u coffees in general show more fruit flavors and acidity, in part due to the higher growing elevations and cooler temperatures. Cooler temps make for slower growing, higher density and more concentrated tastes as well as larger bean size.
All of the coffee grown for Ka'u Specialty is grown, harvested, processed, dried, and milled right there at origin. Attention to detail is a cornerstone of the success of these farmers and Ka'u Specialty including their innovations in soil biology, harvesting coffee at the moment of perfect ripeness, and a sophisticated processing method called carbonic maceration to create distinctly high quality, aroma and flavor rich beans. It turns out that all of the hard work and ongoing education has helped Ka'u put themselves on the map as one of the most distinct and favored coffees not just in Hawaii but in the global coffee community. With better coffee also come higher prices and in turn the farmers are able to make better wages. The coffee growing community in Ka'u is really taking off and we are honored to be a part of that and to bring these special coffees to our consumers.
Cup Characteristics: Very complex and interesting flavor punch. Exotic spiciness with hints of black pepper and cumin. Lively lemon acidity and smooth, buttery finish.
Roasting Notes: You can run the gamut from light to dark with this coffee although our preference is for an City+, an extended first crack and pull the roast before second crack starts. But some, including area locals, like their coffee a little darker. As noted above peaberries have some special roasting traits due to their shape which rolls in drum or drum-type roasters (like Behmor, Gene) but may have difficulty getting into the air stream of hot air roasters where air is introduced beneath the beans (like Fresh Roast models).