Ethiopia Yrgacheffe Idido Grade 1
Ethiopia Idido Misty Valley Organic is now sold out. It is not likely that we will have more in 2009 due to changes in the way coffee is being traded in Ethiopia. We hope that as the new Ethiopia Commodity Exchange (ECX) develops, coffees like Idido Misty Valley will be exported once again.

About Ethiopia Yrgacheffe Idido Grade 1
We cup a lot of coffee during our normal, rigorous selection process and over the course of the year we see numerous lots of Yrgacheffe. This particular lot really popped out of the rest for its power, cleanliness and especially for an exotic flavor profile that really characterizes Yrgacheffe coffee at its best. We think you will be as impressed as we were.
This Ethiopia Yrgacheffee Grade 1 is sourced from small coffee producers organized around the Idido coffee mill, located in the Gedeo Zone of the Yirgacheffe district. The Gedeo Zone is named after the Gedeo people who are indigenous to this area. After a full washing process to remove skin and mucilage, the beans in the parchment husks are sun dried on raised beds for about 12-15 days. During the day time the coffee needs to be raked and turned over continuously in order to ensure a consistent drying process. During the hottest time of day and in full sun the coffee is covered as well as during the night to protect it in case of rainfall. When fully dry, the beans are transported in parchment to Addis Ababa, the capital of Ethiopia, to be milled and bagged prior to export.
Washing Station: Idido
Zone: Gedeo
District (Woreda): Kochere
Altitude: 1900-2100m above sea level
Coffee variety: Heirloom Varietals, Kurume
Processing: Washed
Harvest: October-January
Cup Characteristics: Aroma of brown sugar. Powerful, clean, jammy with flavors of rosewater, honeysuckle and exotic notes of tamari. Deep spice flavors and black pepper notes. Very complex, especially nice cup profile.
Roasting Notes: This coffee is interesting over a range of roasts and profiles. Full City is a nice level for this coffee, taking it up to but not pushing fully into second crack. At City+ the floral/lemony character is better preserved while the body will be a bit reduced.
Ethiopia coffee facts:
Population (2020): 115 Million People
Domestic Consumption: 1.5 Million bags per year
Coffee Export: 1.5 Million Bags of 60 Kg. (132.29 lb.)
Cultivated Area: 400,000 Hectares (988,000 Acres)

Harvest:
-- Unwashed: October to March
-- Washed: end of July to December

Arabica Introduced: The birthplace of coffee. Oldest recognized country of origin for uncultivated Arabica species.

Farms:
331,130 (94%) Smallholdings (less than or equal to 2.47 acres)
19,000 (6%) Government

Specialty Coffees:
Washed: Sidamo, Yirgacheffe, Limu, Bebeka
Unwashed: Harrar, Sidamo, Djimmah, Lekempti (wild coffee trees)

Botanical Varietals: Numerous indigenous cultivars.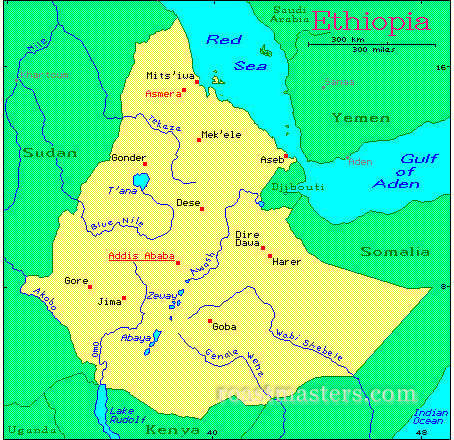 Comments
About 50% of the coffee produced in Ethiopia is consumed there as the population has a rich coffee drinking culture, replete with ceremony and tradition.