About Guatemala Isabella SHB
Our first new crop arrival was in late June with future deliveries staged.
This very fairly priced Guatemala SHB is a compilation from area farms in Huehuetenango. For those unfamiliar with the region, Huehuetengango (often just called Huehue and pronounced wayway) is in the far western reaches of the country, in rugged country and is the home of at least two of the most noted and award winning coffee farms in the whole country. We are not mentioning their names because we do not want to give the impression that this coffee comes from either of those farms, however, the area is replete with excellent farms in large part due to natural conditions and an increasing awareness of growing techniques among producers. This rocky and extremely mountainous zone has become one of the epicenters of Guatemala's coffee culture and production. Temperatures here do not get extremely high. With the combination of high elevation and cooler temperatures offee can grow a bit slower and more concentrated.
Huehuetenango's renowned and award-winning coffees are grown in the driest soils with the highest altitudes of the country. They breathe from the cold, crisp winds from the Cuchumatanes mountains as well as the warm winds blowing from the Tehuantepec region. Natural traits and artisanal method of production bring about a coffee with both an exotic flavor and aroma at an extremely competitive price. Isabella is the market name given to this regional blend by our importer.
Area Altitude: 1,500 - 2,000 meters / 5,000 - 6,500 feet
Temperature: 20°C - 24°C / 68°F - 75°F
Harvest Season: January - April
Varietals: Bourbon, Caturra, Catuai, and Typica
Some of the proceeds collected by the importer from sales of this coffee go to support the El Paraiso clinic which serves about 600 local children and adults.
Cup Characteristics: Clean, bright and sweet, the ideal combination for either a stand-alone coffee or blend base or component. Will add bright, citrus notes to blends but is itself well balanced with smooth, soft body.
Roasting Notes: Can be roasted across the whole range of darkness levels from light to dark. The significant brightness will sustain darker roasts from being lackluster.
Guatemala coffee facts:
Population (2006): 12.3 Million People
Coffee Production: 3.93 Million bags (60 kg)
Country bag capacity: 150 pounds
Domestic Consumption: 1.7 Million bags per year
Coffee Export: 3.8 Million Bags
Cultivated Area: 250,000 Hectares

Harvest:
September to April

Arabica Introduced: Coffee introduced by the Jesuits in the late 18th century and the coffee industry later developed by German immigrants in the mid 19th century.

Farms:
Approximately 65,000

Specialty Coffee Regions:
Antigua, Coban, Atitlan, Huehuetenango, Fraijanes, San Marcos

Botanical Varietals: Arabigo, Bourbon, Typica, Catura, Catuai, Catimur, Maragogype, RobustaArabigo, Bourbon, Typica, Catura, Catuai, Catimur, Maragogype, Robusta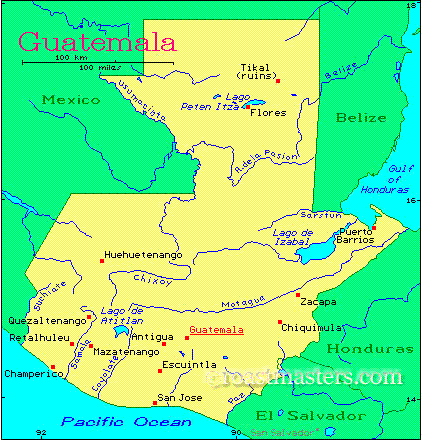 Comments
This relatively small country produces some of the world's top coffees and offers a variety of coffee experiences. Each region has distinct taste profiles, each of which is enhanced, as always, by the care and attention brought by the farm in growing methodology.
There are more than 60,000 small coffee farms in Guatemala with over 30% of the population engaged in the coffee industry.