About Guatemala Antigua Finca Medina Natural
This is 2019 coffee that arrived late last Fall and has been stored in grainpro. It is cupping very well but we need to make room for arriving new crop coffees and the pricing for for 5, 10 and 50 pound packages is additionally discounted. This coffee has not been offered previously on Roastmasters as a natural process though we have offered washed coffee from the same farm. Finca Medina is known for their high quality washed coffee from central Antigua. But in this unusual offering, they have produced a Natural process coffee that was very well done and we thought our customers would enjoy trying it, albeit briefly. Finca Medina is a Rainforest Alliance farm in the central coffee belt of Antigua city in Guatemala. Antigua, in addition to being a beautiful and ancient city, surrounded by volcanoes, is something of an Appellation Zone, with just about 50 farms able to be called genuine Guatemala Antigua. The principal varietals or coffee cultivars in this area are classic Bourbon plus derivatives Caturra and Catuai, but this particular lot also has some Marsellesa varietal, a Bourbon and Timor hybrid well suited to the area.
Finca Medina has been producing coffee since 1842 and today farms about 1000 bags of coffee per year. We visited the farm some years ago and were impressed by a farm wide irrigation system they had installed to remove some of the detrimental variations of weather and, in particular, the off years that are caused by lack of rainfall. The farm ownership has a social and environmental consciousness, among other things providing for their community through school scholarships and materials for children of farm employees as well as donations to a local orphanage which offers care to disabled children.
This plantation is a member of the Rainforest Alliance that awards its seal for thoughtful land use and sustainability. 10% of the farm is dedicated forest, regenerated with native species. An intensive environmental program is being conducted throughout the rest of the farm to identify additional opportunities for environmental care of the land. The farm is fully irrigated. They are a member of APCA, the organization certifying Antigua farm authenticity.
Country: Guatemala
Region: Antigua, genuine and certified
Farm: Finca Medina
Altitude: 1,600 meters
Varietal: Bourbon & Marsellesa
Processing: Full Natural, dried in the cherry
Drying: African beds for 28 to 30 days
Cup Characteristics: Aromas of rose, plantain, cherry and honey. Flavors of strawberry rhubarb, sweet brown sugar, peach, cranberry juice, honey, hazelnut. Fruit penetration from natural processing is mild to medium and balanced. This is an easy-to-drink natural with lots of sweet juiciness.
Roasting notes: The coffee is grown at high elevation so the beans are hard, dense and the flavors concentrated. To do justice to the coffee roast it to a City+ level and no further than the middle of 2nd crack. The time after first crack will vary with your roaster model and ramp rate. Please note that Natural processed coffee typically has more chaff resulting from its processing and, that will come off during roasting.

Guatemala coffee facts:
Population (2006): 12.3 Million People
Coffee Production: 3.93 Million bags (60 kg)
Country bag capacity: 150 pounds
Domestic Consumption: 1.7 Million bags per year
Coffee Export: 3.8 Million Bags
Cultivated Area: 250,000 Hectares

Harvest:
September to April

Arabica Introduced: Coffee introduced by the Jesuits in the late 18th century and the coffee industry later developed by German immigrants in the mid 19th century.

Farms:
Approximately 65,000

Specialty Coffee Regions:
Antigua, Coban, Atitlan, Huehuetenango, Fraijanes, San Marcos

Botanical Varietals: Arabigo, Bourbon, Typica, Catura, Catuai, Catimur, Maragogype, RobustaArabigo, Bourbon, Typica, Catura, Catuai, Catimur, Maragogype, Robusta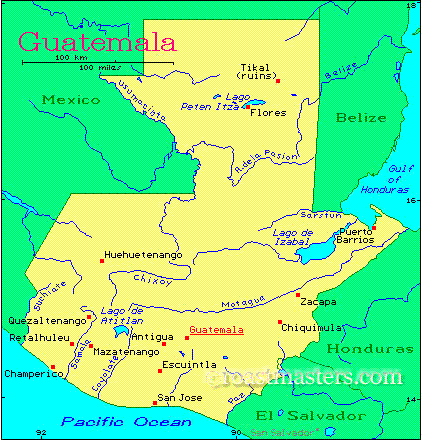 Comments
This relatively small country produces some of the world's top coffees and offers a variety of coffee experiences. Each region has distinct taste profiles, each of which is enhanced, as always, by the care and attention brought by the farm in growing methodology.
There are more than 60,000 small coffee farms in Guatemala with over 30% of the population engaged in the coffee industry.