About Guatemala Antigua Finca San Sebastian
Newest arrival early December in grainpro.

We had been trying to acquire coffee from Finca San Sebastian in Guatemala Antigua for years but it had mainly gone to Japanese buyers. Years ago we met Mario Falla who owned and ran the farm. We had and really enjoyed the coffee but, as stated, there just was not enough to entertain us as new buyers. We wound up developing a relationship with other members of the family and became multi year purchases of their neighboring La Tacita farm. Then, something of a flip flop occurred - the La Tacita was all sold abroad and while at a trade show, I ran into Estuardo Falla who said he had a relatively small amount available. We roasted and cupped it, then closed the deal. We have been buying San Sebastian each year since and the quality has been consistently excellent and fairly priced.

This Antigua coffee comes from the San Sebastian farm which sits at between 5200-6000 feet above sea level and spans 450 hectares. The farm was founded in 1890 by Salvador Falla Santos and is now managed by a fourth generation member of the Falla family, Estuardo Falla Castillo. During its history San Sebastian has earned a spot as one of the most acknowledged names of Antigua coffee - there are only about 50 genuine Antigua farms. Over the century that it has been cultivating coffee it has managed to produce quality coffee time and again. From the first award it received in 1904 to its win at the prestigious Cup of Excellence Competition in 2007, it's clear that San Sebastian has mastered the art of coffee production. Quality control and use of technology allows the farm managers to analyze every lot that is harvested, ensuring great coffee each year. The grow both Bourbon and Caturra (dwarf Bourbon) varieties that are then processed at the farm's own wetmill and 100% sundried. The coffee is packed in grainpro bags at origin to further preserve the character.

Bourbon is not the most common variety these days throughout Antigua but this heirloom cultivar offers sweet, concentrated flavors due to its relatively low yield, somewhat small size and the high elevation where it is grown. They use two tiers of shade tree with naturally occurring oak forming the top tier and planted Grevilla and Macadamia forming the lower. These shade trees provide a canopy which allows coffee to grow more slowly and its sweetness is heightened. This type of canopy also provides habitat for wildlife, protection against erosion and it fosters organic compost. The Fallas promote responsible cultivation, protection of the their micro environment and fair wages to their employees through premium coffee production and pricing.
Antigua, Guatemala's former 16th century capital, was abandoned by the 18th century because of the frequency of volcanic eruptions and earthquakes. The Falla family bought property there in 1890 and has been farming since. Over the years, their sizeable overall holdings were divided among heirs with much of the land being used for coffee and other farming.
Cup characteristics: Clean, bright and complex. With lots of body and some perceived light smokiness the coffee has deep flavor and sweetness, some common to the Bourbon variety. As with other high grown coffee, there is piquant acidity and Antigua's notable zesty character.
Roasting Notes: Dense high grown coffees are durable and can be roasted to light or dark. Lighter roasts will be characterized by pronounce acidity and delicate wine notes. The acidity is sufficient to withstand darker roasting, meaning the coffee, when dark, will not be flat tasting and will remain vibrant as a stand-alone or blend component. It does top coffees justice to keep roasts lighter in order to reveal their flavors and not have the roast dominate.
Guatemala coffee facts:
Population (2006): 12.3 Million People
Coffee Production: 3.93 Million bags (60 kg)
Country bag capacity: 150 pounds
Domestic Consumption: 1.7 Million bags per year
Coffee Export: 3.8 Million Bags
Cultivated Area: 250,000 Hectares

Harvest:
September to April

Arabica Introduced: Coffee introduced by the Jesuits in the late 18th century and the coffee industry later developed by German immigrants in the mid 19th century.

Farms:
Approximately 65,000

Specialty Coffee Regions:
Antigua, Coban, Atitlan, Huehuetenango, Fraijanes, San Marcos

Botanical Varietals: Arabigo, Bourbon, Typica, Catura, Catuai, Catimur, Maragogype, RobustaArabigo, Bourbon, Typica, Catura, Catuai, Catimur, Maragogype, Robusta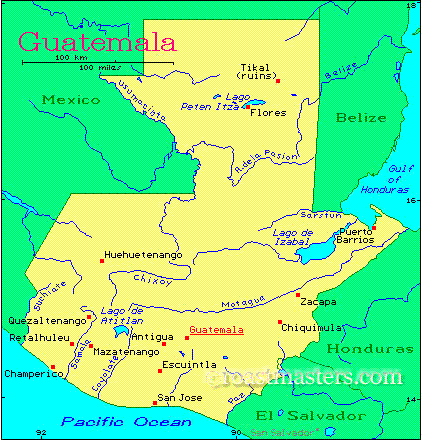 Comments
This relatively small country produces some of the world's top coffees and offers a variety of coffee experiences. Each region has distinct taste profiles, each of which is enhanced, as always, by the care and attention brought by the farm in growing methodology.
There are more than 60,000 small coffee farms in Guatemala with over 30% of the population engaged in the coffee industry.