About Flores Komodo Green Dragon Fair Trade Organic
Arrived May 2016. Flores is a small Indonesian island located about 200 miles to the east of Bali, and is northwest of Timor. The island is one of the few places on earth where Komodo dragons can be found in the wild and is part of the Komodo national park. Flores' population is about one and a half million people. Mountain elevations reach nearly 8,000 feet. It is known as the 'island of flowers' so named by the Portuguese not because of flowers, but rather by the colorful coral reefs that surround the island. The terrain is rugged and the island is replete with both active and inactive volcanoes which have created especially fertile soils ideal for organic coffee production. Flores was rocked by a 7.8 earthquake in 1992 which resulted in thousands of lost lives.
The coffee industry in Flores was not known for quality prior to 2005, however, a program begun by the Indonesia Coffee and Cocoa Research Institute changed its entire coffee methodology to a quality forward approach. Today there are twelve neighboring cooperatives in Flores and each them has been certified as organic
Almost all coffee in Flores is Arabica grown between 1200 and 1800 meters. Among the major changes that have taken place in recent years are the harvesting of only fully ripe cherries, and, implementation of wet hull processing, also called semi-washed. Beans are depulped and while covered with mucillage are partially fermented, then dried. The drying takes place on raised African beds here, an excellent development as the coffee is not in contact with soil and is exposed to air from all sides. Coffee is dried to a high 30% to 35% moisture level while in its hull (or parchment); it is then hulled, or milled, while moist and the balance of drying is later continued. In the local Bahasa language the process is called "giling basah" or literally, wet grinding. This method produces deep green/blue coffees, now commonly seen in those from Sumatra. It is also responsible for the heavy body, low acid nature as full drying within parchment results in higher acidity.
The Komodo Coop is USDA certified organic. Flores is the poorest large Indonesian island and the coffee industry here makes strides to help farmers. Premiums are used to purchase school books for children, subsidized school transportation, improvement of water supply to villages, as well as weekly doctors visits to remote areas. Each container sale from the Komodo coop results in the planting of 1,000 trees on deforested land and Roastmasters.com's purchase contributed 9.375 trees.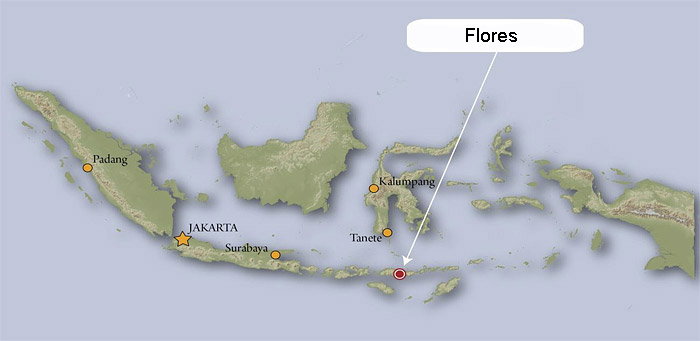 The desire to produce quality coffee has been contagious and the coops share information aimed at further improvement. Within just a few short years coffee from Flores has become a truly viable product in world trade. Varietals include Typica, Yellow Catuai (referred to as Colombian variety), Arobusta, and Juria, a local cultivar which grows wild and can be twenty-five or more feet in height. These wild grown trees produce fruit once every two years rather than annually.
While not a cup profile for everyone, Flores Komodo will have its followers.
Cup characteristics: Coffee from Flores is known for sweet chocolate, floral and woody notes. Very earthy and smooth, even more so than Sumatra. Background smokiness that makes for a distinctive cup. Mouth coating body and chocolaty texture.
Roasting Notes: We roasted the coffee rather lightly and it produced the cup profile shown above. We would suggest using slightly less coffee than the charge weight of your roaster because this Flores may take a bit longer to roast; thus on programmed roasters you may run out of time. For example, if the program calls for a quarter pound (113 grams) try using 100 grams of beans. This coffee should also produce a very distinctive and interesting dark roast and could be a good candidate for a single origin espresso.


Indonesia coffee facts:
Population (2006): 245.5 Million People
Coffee Production: 6.79 Million bags (60 kg)
Country bag capacity: 132 pounds - 60 kg
Domestic Consumption: 2.14 Million bags per year
Coffee Export: 4.65 Million Bags
Cultivated Area: 250,000 Hectares

Harvests: Year round depending on region with peaks March to June.

Arabica Introduced: Introduced in Java by the Dutch mid 17th century.
Specialty Coffee Regions: Sumatra (Aceh), Java, Timor, Sulawesi (formerly Celebes), Bali.
Grades: Grade 1 triple picked, grade 1 double picked, grade 1 , grade 2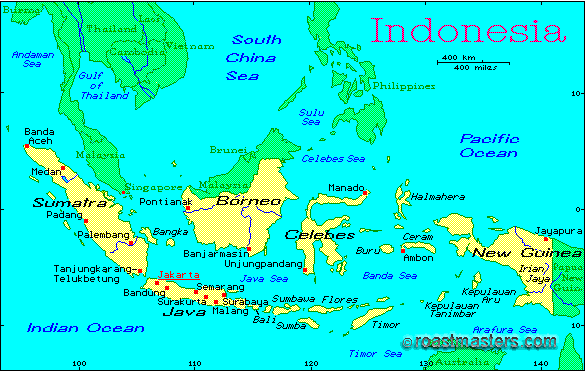 Comments
All Arabica plantations were destroyed in 1877 by a coffee disease.