About Costa Rica Santa Teresa Cedral
Latest arrival February 2020 in Grain-Pro. This is the second time we are offering coffee from Finca Cedral, in Dota, Tarrazu. The owner of the farm, Roger Ureña Hidalgo, also owns the wetmill where the coffee was processed, Santa Teresa 2000. Roger is a third generation coffee producer, and grew up helping out on his father's coffee and dairy farm. He worked for a while in the US, to save up enough money to purchase more coffee plantations and expand his existing one. Around three years ago he decided to set up a coffee mill on one of his farms, Finca Santa Teresa, to get better prices for his coffee and focus on quality. In addition to Finca Cedral and Santa Teresa, Roger owns 10 other farms, and plants a large number of varietals. Two of his coffees won awards in the Costa Rica Cup of Excellence last year: a washed geisha from Santa Teresa came in at #10, and a typica mejorado honey from Finca Las Nubes took the #19 spot.
This coffee from Finca Cedral is 100% Washed Catuai, a varietal developed in the mid-twentieth century. Catuai is a cross between the Mondo Novo and Caturra varietals, both of which were created by selective cross-breeding programs. Mondo Novo was the result of combining Bourbon and Typica varietals, and Caturra is a combination of two Red Bourbon mutations.
Province: San Jose
Canton: Dota
District: Santa Maria
Altitude: 2000 meters above sea level
Coffee variety: Catuai
Processing: Fully Washed
Farm: Finca Cedral
Cup Characteristics: Flavors of fig jam and red apple. A buttery smooth body and lemon acidity. An extremely well balanced cup with acidity and body in ideal proportion.
Roasting Notes: Preferred roasting range is City+ to Full City. The delicate qualities will be present throughout this range, with lighter variations highlighting piquancy and citrus notes. Full City will enhance body.
Costa Rica coffee facts:
Population (2006): 4.1 million People
Coffee Production: 1.7 million bags (60 kg)
Country bag capacity: 150 pounds
Domestic Consumption: 380,000 bags
Coffee Export: 1,320,000 bags
Cultivated Area: 82,500 Hectares (203,775 acres)

Harvest:
September to February

Arabica Introduced: Coffee was first introduced into Costa Rica in 1779 from Cuba. First exportation was in 1820.
Farms: About 32,000, over half are small farms (less than 1 hectare).
Specialty Coffee Regions: Tarrazu, Tres Rios, Central Valley, Pacific Central, South Pacific

Botanical Varietals: Mondo Nuevo, Hibredo/Tico, Villa Sarchi, Geisha, Caturra, Catui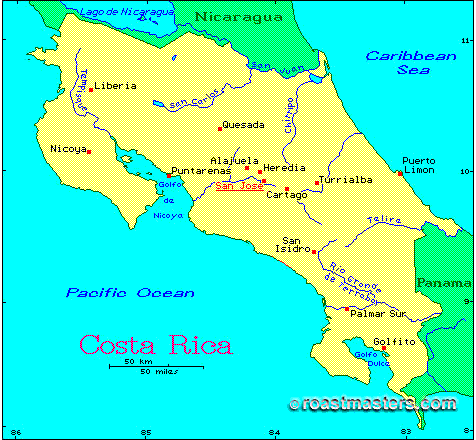 Comments: Coffee is grown in Costa Rica on both the Atlantic and Pacific slopes at altitudes between 1600 and 5400 feet. The highest grade is called Strictly Hard Bean, grown at elevations over 3900 feet. Costa Rica produces some exceptional coffees, renowned for their brilliance, balance and complexity.