About Ethiopia Kebel Aricha Natural
Arrived September 2013 in grainpro. Another wonderful, fairly priced Ethiopia natural process from Yirgacheffe district, grown very high and carefully processed. Here are the details.
Mill

Kebel Aricha

Owner

Surafel Birhanu Coffee Supplier

Location

Gedeo Zone, Yirgacheffe district, approx 4 km west of Yirgacheffe town

Producers

Approx. 650-700 farmers

Average Production

Approx. 160MT a year of specialty grade coffee (plus 270 MT of commercial-grade)

Varietal

Heirloom – typica and various other indigenous Ethiopian varietals

Soil

Red brown, depth of over 1.5m

Season

New crop (2012/13 harvest)

Processing

Sun Dried natural

Ripe cherries delivered to mill, where cherries are graded and then placed onto raised drying beds in thin layers and turned every 2-3 hours in the first few days, to avoid over-fermentation and mould growth.

4-6 weeks later, depending on weather and temperature, the beans are de-hulled. The beans are then transported to Addis in parchment, then milled prior to shipping.

Sold through the ECX (Ethiopian Commodity Exchange) system, where this was classified by the ECX Central Liquoring Unit as a Grade 1 natural coffee.

Altitude

1950-2100 meters (6400-6900 feet)

Rainfall

2000 mm per year, 8 months rainy, 3-4 months dry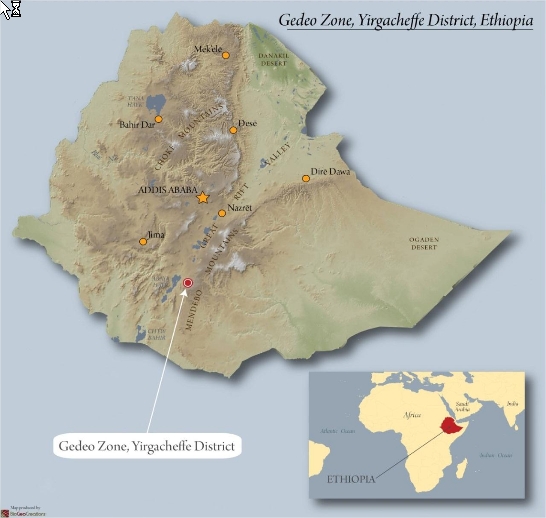 Cup Characteristics: Strawberry is the dominant fruit with some lesser cherry notes. There is citrus in the background, notably lime. You may also detect vanilla, rose water and some blackcurrant. Clean, very balanced and graceful, this is an easy , likeable cup which is not overbearing as some naturals can be to the uninitiated.
Roasting Notes: Our preference is for lighter roasts approaching second crack. Very good preparation makes for minimal quakers so you can expect it to roast evenly. Depending on your taste, you can roast into the start of second crack.