About Ethiopia Banco Gotete Washed
Arrived in December in Grainpro but our first offering. This coffee was grown by smallholder farmers living around the town of Banco Gotete in Gedeo County, Yirgacheffe region. Most contributing farmers own less than a hectare of land, and they grow coffee simply as a backyard cash crop. Coffee will usually be interspersed with other subsistence crops, such as sweet potato, mangos and avocados. Varieties of coffee grown are usually interpreted to be 'heirloom,' as very little renovation takes place, and farmers simply inherit the trees of their parents and this lack of analysis is why these varieties are referred to as 'heirloom' by the coffee industry. The farmers themselves simply call them 'Gedeo' variety. Income from coffee is important but due to the small size of their farms, not terribly signifiant. Most coffee grown in the region is 100% natural, as farmers simply don't have the money to apply chemical fertilizers, pesticides or herbicides.
This delicious lot was processed, dry milled and exported by Legu Trading which pays a premium price for fully ripe cherry and who also hires as many individuals as possible in their mills and facilities. The company hires at least 300 people year round and up to 600 in the high season. All workers are paid a fair wage and receive full 8 hour work days. Coffee is selectively hand-picked before being delivered to collection points, usually within 10 km of the producer's homes. Great care is taken upon delivery to separate out any overripe, underripe or damaged beans before consolidating with other lots for the road to the wet mill. At least once a day, the collected coffee cherry is delivered to the mill, where it is pulped and then delivered to a fermentation tank, where it ferments for 12-18 hours depending on the climate at the time. After fermentation the coffee is fully washed through grading channels and is then delivered to dry on African beds. Once here, the parchment is turned regularly and protected from hot sun until it reaches the optimal humidity, at which point it is bagged and rested.
Yirgacheffe is actually part of the Sidamo region in southern Ethiopia, but its exquisite washed coffees are so well-known that is has been sub-divided into its own micro-region. This steep, green area is both fertile and high much of the coffee grows at 2,000m and above.
Note, you may encounter different spelling of Banco Gotete (such as Banko Gotiti). The words are phonetically translated.
Cup Characteristics: Cherry vanilla aromas. Great complex flavor profile with light jasmine and honeysuckle notes. Flavors narrowed and became more focused as it cooled. Tea tannins, buttered toast.

Roasting Notes: FC is a nice level for this coffee, taking it up to, but not pushing fully into second crack. At City+ to FC the floral character is better preserved and body remains substantial. This coffee can be interpreted over a range of roasts and profiles.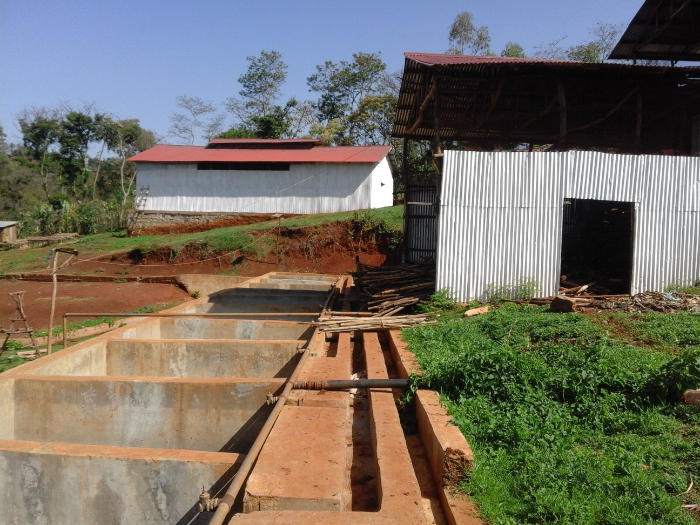 Washing canal Banco Gotete. Rich volcanic soil is visible everywhere.
Ethiopia coffee facts:
Population (2020): 115 Million People
Domestic Consumption: 1.5 Million bags per year
Coffee Export: 1.5 Million Bags of 60 Kg. (132.29 lb.)
Cultivated Area: 400,000 Hectares (988,000 Acres)

Harvest:
-- Unwashed: October to March
-- Washed: end of July to December

Arabica Introduced: The birthplace of coffee. Oldest recognized country of origin for uncultivated Arabica species.

Farms:
331,130 (94%) Smallholdings (less than or equal to 2.47 acres)
19,000 (6%) Government

Specialty Coffees:
Washed: Sidamo, Yirgacheffe, Limu, Bebeka
Unwashed: Harrar, Sidamo, Djimmah, Lekempti (wild coffee trees)

Botanical Varietals: Numerous indigenous cultivars.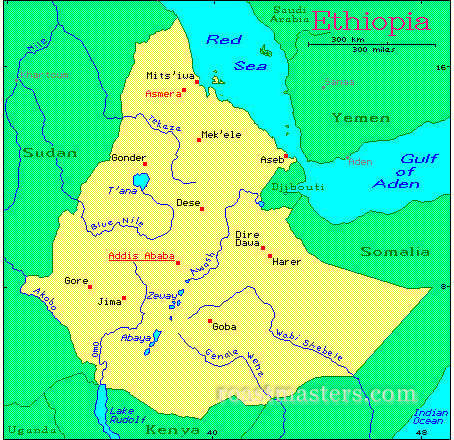 Comments
About 50% of the coffee produced in Ethiopia is consumed there as the population has a rich coffee drinking culture, replete with ceremony and tradition.