About Ethiopia Yirgacheffe Konga Natural
Latest arrival March 2018 in GrainPro. We work closely with several importers of Ethiopian coffee and are always on watch for stand out examples of Natural (Dry) processed coffees that show lots of fruit forwardness but are clean. This is an example of one such coffee. It originates from the Konga zone or district of Yirgacheffe in south central Ethiopia which itself is located in the Gedeo Zone. This is one of the most famous coffee growing regions in the country and indeed the world. The cup itself was very impressive and is, in part the result of its cafeful preparation. It is grade 1 or as close to zero defect coffee as can be accomplished. Like most natural processed coffee there are some quakers or immature beans but the number of them here is minimal.
Country: Ethiopia
Town: Yirgacheffe, Konga District
Zone: Gedeo
Altitude: 1900 - 2100 meters; 6200 - 6900 feet
Varietals: Heirloom
Process: Natural (Dry)
Drying: Raised beds, 3 weeks
Grade: 1, top
Harvest: January 2017
New crop naturals are beginning to arrive in the US now (June) and this is first striking one we acquired so far. We were very impressed with the cup. Fruity, notably blueberry and very clean and transparent. The fruit intensity is surely there but the process does not mask the deliciousness of the underlying coffee. Coffee is brought to the local washing station by area smallholder farmers. This is an excellent coffee for a fair price.
Cup Characteristics: Floral and fruit filled aromas. Flavor has significant blueberry notes, deep but clean strawberry as well as some exotic spiciness of cumin and cardamom. Acidity is delicate, lemon edged.
Roasting Notes: Dry processed coffees generally roast more quickly so slow down the roast in the early stages to get the center developed. We like this at City+ but it can go a bit darker before you would begin lose some of the individual character of the coffee. We tried it a tad darker at Full City but found, on a personal level, that some of the piquancy of the lemony acidity had faded so would feel best steering you toward a lighter hand.

Ethiopia coffee facts:
Population (2206): 75 Million People
Domestic Consumption: 1.5 Million bags per year
Coffee Export: 1.5 Million Bags of 60 Kg. (132.29 lb.)
Cultivated Area: 400,000 Hectares (988,000 Acres)

Harvest:
-- Unwashed: October to March
-- Washed: end of July to December

Arabica Introduced: The birthplace of coffee. Oldest recognized country of origin for uncultivated Arabica species.

Farms:
331,130 (94%) Smallholdings (less than or equal to 2.47 acres)
19,000 (6%) Government

Specialty Coffees:
Washed: Sidamo, Yirgacheffe, Limu, Bebeka
Unwashed: Harrar, Sidamo, Djimmah, Lekempti (wild coffee trees)

Botanical Varietals: Numerous indigenous cultivars.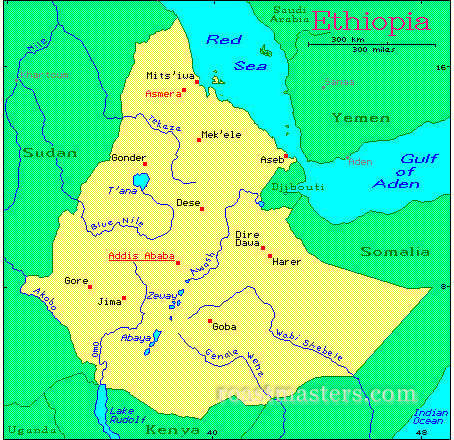 Comments
About 50% of the coffee produced in Ethiopia is consumed there as the population has a rich coffee drinking culture, replete with ceremony and tradition.