About Guatemala El Sendero
Arrived early June, new crop in grainpro. El Sendero is a washed coffee from the highly mountainous Huehuetenango region of Guatemala.
For those unfamiliar with the region, Huehuetenango (often just called "Huehue" and pronounce "Way-Way") is in the far western reaches of Guatemala, and home to at least two of the most noted and award winning coffee farms in the whole country. While this coffee is not from those farms, the area is replete with excellent farms, due in large part to ideal natural farming conditions and an increasing awareness of growing techniques among producers. A rocky and extremely mountainous zone, Huehuetenango has become one of the epicenters of Guatemala's coffee culture and production. The combination of high elevation and cooler temperatures mean that coffee grows a little slower and more concentrated.
The El Sendero farm was started back in 2002, when the owner, Carlos Lucas, bought two hectares of land with money he saved while working in the United States for seven years. When he is not busy on the farm, Carlos runs a small tienda (shop) in the town of Hoja Blanca, and in 2017 also started construction on another bodega to help store his coffee.
Producer: Carlos Lucas
Region: Huehuetenango
Altitude: 1900 Meters above sea level
Coffee variety: A mix of Catuai, Bourbon and Caturra
Coffee grade: SHB (Strictly Hard Bean)
Processing: Fully washed
Cup Characteristics: Sweet sugar cane aroma. Complex well balanced dark fruit as well as molasses. Juicy but becomes a long, clean and drier finish. Flavors of black cherry, blackberry jam. A fruit-forward coffee, with other flavors including oranges, tamarind, coconut and green tea.
Roasting Notes: Strictly Hard Bean (SHB) coffees are dense, durable beans that can be roasted throughout the spectrum, from light to dark. Lighter roasts will be characterized by a pronounced acidity and delicate wine notes. That acidity is also sufficient to withstand darker roasting; meaning the coffee, when dark, will not be flat-tasting but will remain vibrant as a single origin or blend component.
Guatemala coffee facts:
Population (2006): 12.3 Million People
Coffee Production: 3.93 Million bags (60 kg)
Country bag capacity: 150 pounds
Domestic Consumption: 1.7 Million bags per year
Coffee Export: 3.8 Million Bags
Cultivated Area: 250,000 Hectares

Harvest:
September to April

Arabica Introduced: Coffee introduced by the Jesuits in the late 18th century and the coffee industry later developed by German immigrants in the mid 19th century.

Farms:
Approximately 65,000

Specialty Coffee Regions:
Antigua, Coban, Atitlan, Huehuetenango, Fraijanes, San Marcos

Botanical Varietals: Arabigo, Bourbon, Typica, Catura, Catuai, Catimur, Maragogype, RobustaArabigo, Bourbon, Typica, Catura, Catuai, Catimur, Maragogype, Robusta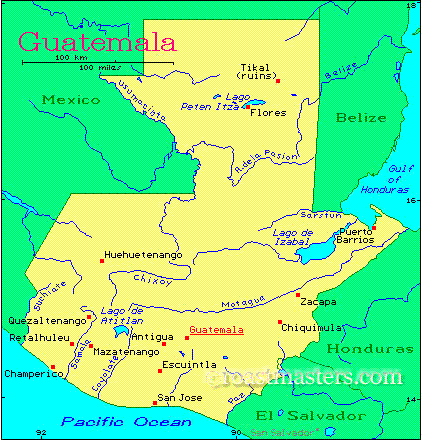 Comments
This relatively small country produces some of the world's top coffees and offers a variety of coffee experiences. Each region has distinct taste profiles, each of which is enhanced, as always, by the care and attention brought by the farm in growing methodology.
There are more than 60,000 small coffee farms in Guatemala with over 30% of the population engaged in the coffee industry.