About Guatemala Finca El Injerto Pandora 'Reserva del Comendador'
This carbon neutral coffee lot was harvested on February 24th, 2021 and was part of the 2021 El Injerto auction. We had the pleasure of participating in the auction, and were lucky to be one of only two US coffee companies to acquire this lot.
Close to the famous Sierra de los Cuchumatanes, El Injerto is nestled in the highlands of Huehuetenango, a beautiful, rough and steep part of the country. So hard is it to get to by car that many visitors take helicopters - the winding roads and difficult terrain mean an eight hour trip from there to Guatemala City. The farm goes from 1500 masl (meters above sea level) all the way to 1920 masl where the most delicate and exotic varieties are planted. It has mineral rich, non-volcanic soil, an average precipitation of 1600mm and temperature of 22 degrees C resulting in some of the best microclimates to produce coffee. Jesus Aguirre Panama was the first owner of this farm, which he acquired in 1874. He started planting sugarcane to produce crystallized sugar known as "panela" (brown sugar loaf), corn, beans, and tobacco. Around 1900 he started the planting and production of coffee, and called the farm El Injerto, the name of a fruit native to the area. This particular varietal was planted approximately 25 years ago by Arturo Aguirre Sr. when he brought the seed from El Salvador. While El Injerto's Pacamara is probably what it is best known for now, it is interesting to note that many years ago no one liked this coffee; it was very rare, unknown varietal, and buyers didn't like its exotic flavor. It was difficult for Aguirre Sr. to sell it - sometimes it was at a discount price and other times he had to sell some Bourbon in order for the buyer to accept the Pacamara.
Since then times have changed and this coffee has become the most awarded coffee of the Cup of Excellence in Guatemala, winning 1st place 7 times. Reserva del Comendador is the 1st picking of the region and it's the favorite of Aguirre Sr., although they plant and grow a number of varietals to see what grows best with their soil and micro-climate. About 60% of the farm is planted with Catuai and Bourbon; another 30% with pure Bourbon; 8% with Pacamaras and the remaining 2% with Maragogype. They also grow tiny Mocca varietals from Yemen, and Geishas, which hail from Ethiopia. The farm is experimental and genuinely interested in developing world-class coffee. They wish to make the farm it own denomination someday, as some have done with wine growing regions. To further their goals, this coffee goes through an exhaustive process of hand sorting, separation, and selection. Wetmilling is done on site, where coffee is cold fermented, soaked for 24 hrs after washing and dried very slowly on raised African beds in a greenhouse. This process enhances the flavors and increases the lifetime of the coffee.
This offering is 100 percent Red Pacamara, which is a hybrid of two coffee varietals: Pacas, which is a Bourbon mutation, and Maragogipe, which is a Typica mutation. It was developed in El Salvador in the mid-twentieth century. The mixture at its best produces very deep, brothy flavors that always seem reminiscent of dark fruit like plums, raisins and prunes.
Producer: Aguirre Family
Farm: El Injerto
Municipality: La Libertad
Department: Huehuetenango
Coffee Variety: Red Pacamara
Processing: Washed
Altitude: 1800-1900masl
Cup Characteristics: Aromas of molasses and caramelized sugars with flavors of lychee, fig, brown sugar and stew. A dynamic citrus acidity well balanced with classic Pacamara flavors that result in a brothy and satisfying cup. The best Pacamara examples like this one have an umami character, hard to put your finger on but you know it when you taste it.
Roasting Notes: This very delicate, complex coffee will shine at City+. Roasting to Full City or beyond will mask some of the intense fruitiness of this coffee so we recommend keeping it on the lighter, though fully developed side. Depending on your roaster, take beyond 1st Crack but avoid the approach of 2nd Crack.
Guatemala coffee facts:
Population (2006): 12.3 Million People
Coffee Production: 3.93 Million bags (60 kg)
Country bag capacity: 150 pounds
Domestic Consumption: 1.7 Million bags per year
Coffee Export: 3.8 Million Bags
Cultivated Area: 250,000 Hectares

Harvest:
September to April

Arabica Introduced: Coffee introduced by the Jesuits in the late 18th century and the coffee industry later developed by German immigrants in the mid 19th century.

Farms:
Approximately 65,000

Specialty Coffee Regions:
Antigua, Coban, Atitlan, Huehuetenango, Fraijanes, San Marcos

Botanical Varietals: Arabigo, Bourbon, Typica, Catura, Catuai, Catimur, Maragogype, RobustaArabigo, Bourbon, Typica, Catura, Catuai, Catimur, Maragogype, Robusta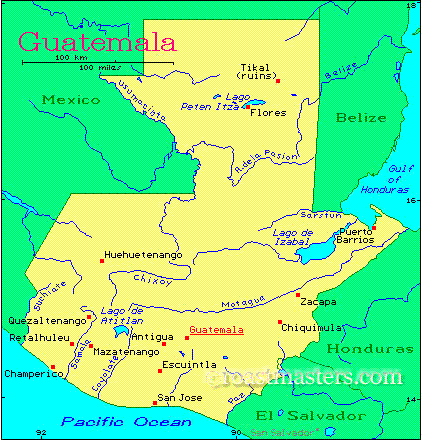 Comments
This relatively small country produces some of the world's top coffees and offers a variety of coffee experiences. Each region has distinct taste profiles, each of which is enhanced, as always, by the care and attention brought by the farm in growing methodology.
There are more than 60,000 small coffee farms in Guatemala with over 30% of the population engaged in the coffee industry.