About Panama Elida Green Tip Geisha La Torre ASD
Arrived in October, 2020 new crop, vacuum boxed to us. This is one of the top Geisha coffees in the world.
We are bringing out the 'big guns' for the holidays, Panama Elida Estate Green Tip Geisha Natural ASD, the very coffee that took 1st place in both 2018 and 2019 Best of Panama competitions in the coveted Geisha Natural (Processes) category. This is from the same farm and plot that gave the world its $1,029 per pound coffee in 2019. While still expensive at our current selling price, by any standard, this is an awesome coffee, displaying power and finesse, fruit intensity and floral elegance, all at once. We were able to secure a small allocation by Direct Trade as we have a longstanding relationship and friendship with the Lamastus family. This 2020 crop follows in the same quality tradition as its illustrious forebears.
This coffee was grown on Elida's Torre plot of land at the farm's highest elevation and best exposure. Coffee from this plot won first place in both the Geisha Washed and Geisha Natural categories in 2018 and 2019 at the Best of Panama competition. This was an amazing achievement given the sheer number of coffees entered into competion. Wilford Lamastus and family have made artistry with their intimate knowledge of Geisha growing, processing and evaluating various lots from his family farm. There are two known sub-types of Geisha, green tip and bronze tip, so named for the appearance of the plant's leaves. The green tip variety is turning out to be a stunner from this world class farm.
So, now about this particular micro-lot, Elida Estate Green Tip Geisha Natural "La Torre" ASD. Let's break it down:
Green Tip - There are two known variations of the Geisha varietal, green tip and bronze tip based on the color of the plant's leaves. Green tip flavors accentuate floral notes and have brighter acidity. Bronze tip are smooth and creamy, showing less floral and a little more fruit. In competition the trend has been for the Green Tip to steal the show, time after time.
Natural - coffee can be washed where the coffee cherry's skin is removed, followed by fermentation and drying. Or, the entire coffee cherry can be dried out, in which case it is called Natural. As coffee beans are really its seeds, in the center of the cherry, the pulp drying on the beans imparts more, sometimes much more, of the coffee fruit flavor which penetrates to the seeds within.
La Torre - The Tower - the most coveted plot of land on the Elida Estate located at the farm's highest growing elevation.
ASD - abbreviation for Anaerobic Slow Dry. A relatively new technique where coffee cherries are placed into airtight containers for a period of time. The cherries in essence stew in their own juices, intensifying. That is the "A" part. Then comes the Slow Dry part, where the drying time is extended from 10-15 days up to 40+ days. Again, another way to intensify and increase flavors.
Barry Levine, Willoughby's owner, was a juror at the 2019 Best of Panama. As is the practice, the top ranked coffees from the competition are auctioned online. When auctioned, bidders across the globe were determined to have this particular coffee and the action was fierce. Only 100 pounds of coffee was available. Buyers, knowing the price would run high, formed into groups, and we were part of one such group being led by a colleague in Tokyo. The price immediately went into the mid hundred dollars per pound range and the auction pushed on deep into the night where we are. It concluded in the middle of the night, after many hours of bidding, setting a coffee world auction record of $1029 per pound. Our cost further increased as we imported it and further still when roasted. Now, a maximum of 25 customers will have an opportunity to buy this exceptional coffee.
(Coffee Review when reviewing last year's $1029 coffee) Nuanced, ethereal, yet exceptionally lush. Aprium, star jasmine, pistachio butter, cocoa, pink peppercorn, almond brittle in aroma and cup. High-toned, sweetly tart in structure with a juicy, vibrant acidity; levitating, nectar-like mouthfeel. The finish is rich-toned and resonant with all of the aromatics and flavors of the cup, star jasmine and cocoa, in particular. Notes: This coffee earned the highest rating in a cupping of coffees of the Geisha/Gesha variety of Arabica for Coffee Review's September 2019 tasting report. Produced from the trees of the rare Ethiopia-derived botanical variety Geisha (also spelled Gesha) by the Lamastus family at Elida Estate. With its generally elongated beans and distinctive floral and crisp, often chocolaty cup, the Geisha/Gesha variety continues to distinguish itself as one of the world's most unique coffees. The Green Tip strain is particularly admired. This is a natural" or dry-processed version, meaning the beans were dried inside the fruit, encouraging a flavor profile that is sweeter and deeper-toned than the more familiar wet-processed profile.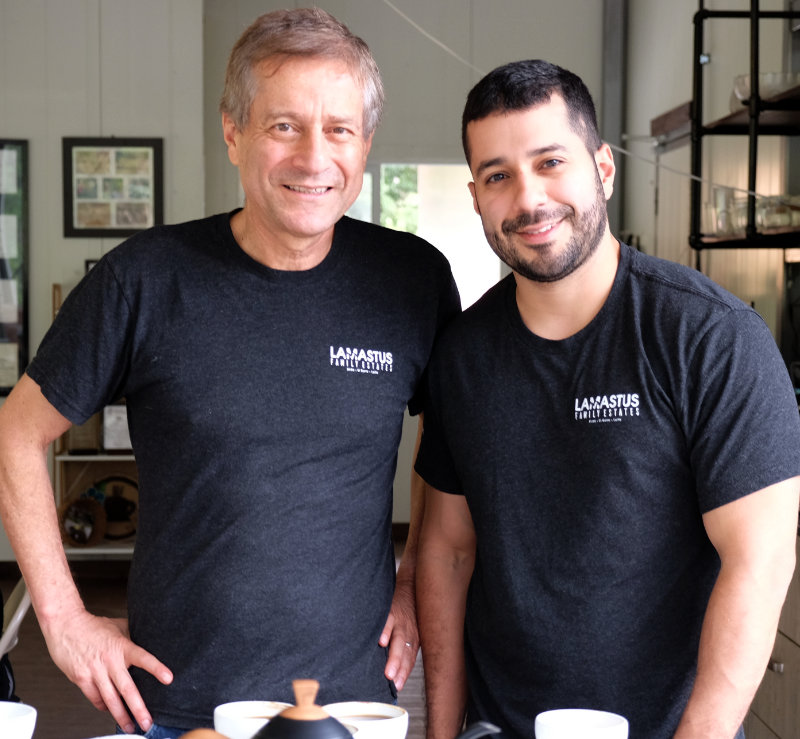 Wilford Lamastus Sr and Jr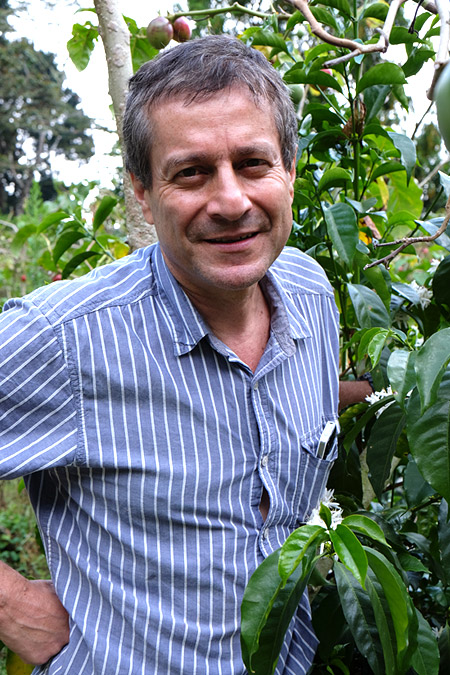 Wilford Lamastus Sr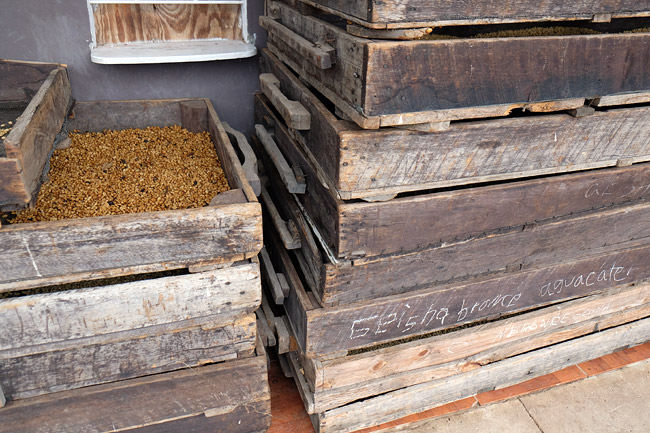 Handmade wooden trays once used for drying Natural and Honey coffees on the farm

Cup Charasteristics: An explosion of tropical fruit and floral bouquet. Blueberry, nutmeg, tart cherry. Intensely floral jasmine and honeysuckle as well as hops. Tropical fruit papaya, pineapple, guava. Tangerine, peach, stone fruit. Very sweet and complete.
Roasting Notes: Geisha coffees need to be roasted on the light side in order to preserve their floral nature. Roast them too much and it will dissipate and much that you paid for will be lost. Let the coffee get fully past first crack, but if your roaster allows it, kick the heat down to nearly zero once first crack gets going and allow the coffee to slowly develop. You don't want to take this too close to second crack.