About Panama Elida Green Tip 1029 Geisha
And now for something completely different and decidedly luxurious. The top scoring coffee ever in competition, it received an average of 95.5 points from a panel of 20 jurors. It is also the highest scoring coffee ever in Coffee Review (97 and 98 points).
Acquired by our roasting division (Willoughby's Coffee & Tea) we have decided to allocate some of this outstanding coffee to community of roasters, be they at home or their business. Available in three sizes: 20, 50 or 100 grams green. Yes, we know it is expensive, very expensive, because we paid a lot for it ourselves. But you will get to try a coffee that few others will ever have the opportunity to taste. If you would prefer that we roast this coffee for you we will include those in the purchase options.
Grown by the Lamastus Family of Boquete Panama this is a stunning example of the Geisha variety and a superb example of Natural processing. Elida Estate has the highest coffee growing area in all of Panama. This coffee was grown on Elida's Torre plot of land at the farm's highest elevation and best exposure. Coffee from this plot won first place in both the Geisha Washed and Geisha Natural categories in 2018 at the Best of Panama competition. In 2019 they won both categories again, an amazing achievement given the sheer number of coffees entered into competion. Wilford Lamastus and family have made artistry with their intimate knowledge of Geisha growing, processing and evaluating various lots from his family farm. There are two known sub-types of Geisha, green tip and bronze tip, so named for the appearance of the plant's leaves. The green tip variety is turning out to be a stunner from this world class farm.
Barry Levine, owner of Willoughby's and Roastmasters.com, was a juror at the 2019 Best of Panama. As is the practice, the top ranked coffees from the competition are auctioned online. When auctioned, bidders across the globe were determined to have this particular coffee and the action was fierce. Only 100 pounds of coffee was available. Buyers, knowing the price would run high, formed into groups, and we were part of one such group being led by a colleague in Tokyo. The price immediately went into the mid hundred dollars per pound range and the auction pushed on deep into the night where we are. It concluded in the middle of the night, after many hours of bidding, setting a coffee world auction record of $1029 per pound. Our cost further increased as we imported it and further still when roasted. Now, a handful of customers will have an opportunity to buy this exceptional coffee.
Our Elida Geisha Green Tip Natural experience includes:
20, 50 or 100 grams green or, if you prefer, 20 or 50 grams roasted to order Panama Elida Green Tip Geisha Natural
1 Willoughby's Coffee & Tea logo cupping bowl (sorry, the Roastmasters.com version not yet available)
Shipping included to US locations
A note - while this is unquestionably a great coffee, please do not expect it to have say, 50 times the flavor of a $20 coffee. It just does not work that way and the same would be true for any delicious luxury item like a top wine. But it is indeed a delicious cup.
20 grams should produce 12 finished ounces of beverage per our recommended brew strength; 50 grams should produce 30 finished ounces; 100 grams 60 finished ounces. For those who purchase the coffee roasted we will include a grind sample for you to match as an guide, and, our professional logo cupping bowl is a nice thing to use and own for future. The cupping bowl can hold up to 200 grams of beverage.
Cup Characteristics: (Coffee Review) Nuanced, ethereal, yet exceptionally lush. Aprium, star jasmine, pistachio butter, cocoa, pink peppercorn, almond brittle in aroma and cup. High-toned, sweetly tart in structure with a juicy, vibrant acidity; levitating, nectar-like mouthfeel. The finish is rich-toned and resonant with all of the aromatics and flavors of the cup, star jasmine and cocoa, in particular. Notes: This coffee earned the highest rating in a cupping of coffees of the Geisha/Gesha variety of Arabica for Coffee Review's September 2019 tasting report. Produced from the trees of the rare Ethiopia-derived botanical variety Geisha (also spelled Gesha) by the Lamastus family at Elida Estate. With its generally elongated beans and distinctive floral and crisp, often chocolaty cup, the Geisha/Gesha variety continues to distinguish itself as one of the world's most unique coffees. The Green Tip strain is particularly admired. This is a 'natural' or dry-processed version, meaning the beans were dried inside the fruit, encouraging a flavor profile that is sweeter and deeper-toned than the more familiar wet-processed profile.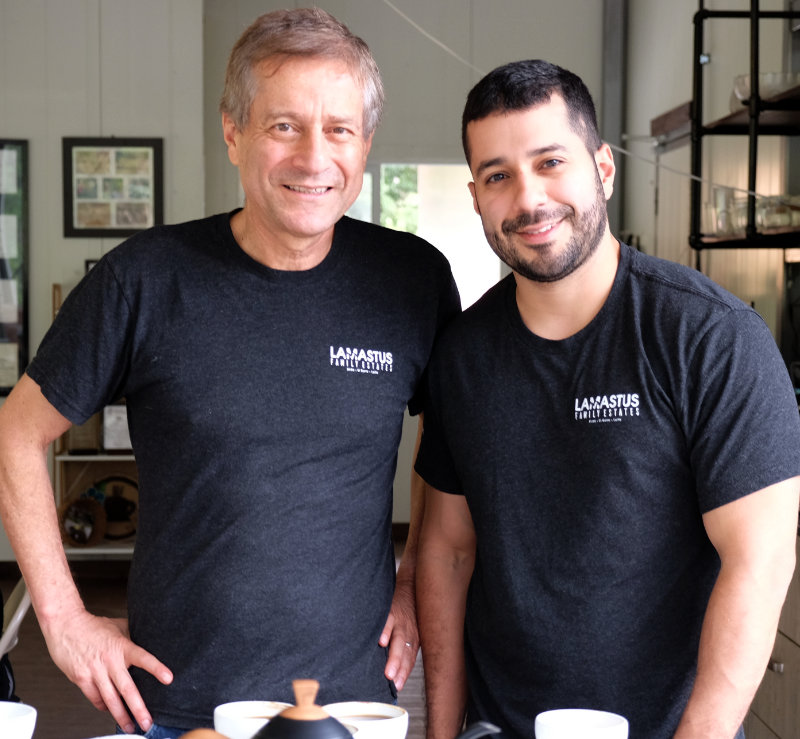 Wilford Lamastus Sr and Jr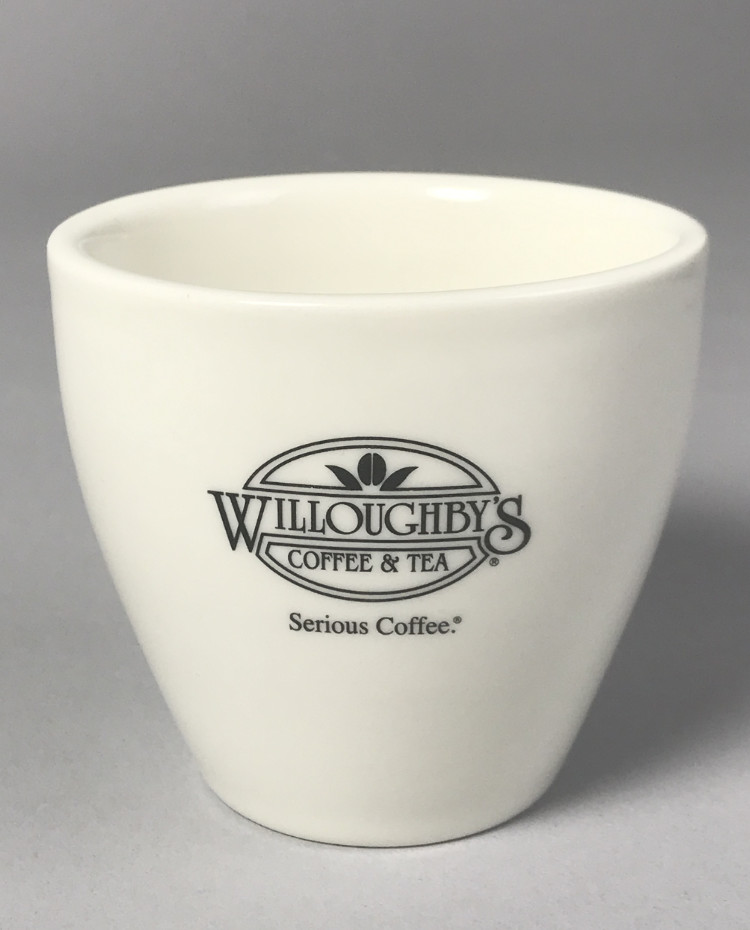 Willoughby's Coffee & Tea logo cupping bowl
This coffee is offered only in whole bean.