About Ecuador Finca Frajares
Arrived late May 2017 in grainpro and a first offering.
Ecuador is still an undiscovered gem in the world of specialty coffee. Once part of Colombia, Ecuador is surrounded by Colombia to its north and east, by Peru to its south and east and the Pacific Ocean to its west. Ecuador, as its name translates, straddles the equator and is also extremely mountainous with rich, volcanic soils. Some of the highest peaks in the Americas are there as well as some of the highest coffee regions on earth, which can only be realized at or very near the equator. Not all coffee grown in Ecuador is at high elevation but those which are have smaller, more concentrated flavors and denser beans.
There are two principal coffee growing regions in Ecuador, Pinchicha in the north, a few hours from the capital Quito, and Loja Province in the South not far from the border with Peru. These two regions duke it out for honors. We have been to and cupped our way through both areas, realizing there is a lot of great coffee to be had. Finca Frajares coffee is grown in the rich northwestern part of the province of Pichincha in Nanegalito, about an hour and a half drive to the northwest from Quito. The farm is located at 1,700 meters and its special climatic conditions give their coffee some surprising flavors and aromas.
Producer: Francisco Restrepo
Farm: Finca Frajares
Location: Pinchicha
Altitude: 1700 meters / 5600 feet
Variety: Typica, Caturra
Fermentation: 18-20 Hours
Drying: Raised Beds
Process: Washed
Cup Characteristics: Very lively, super clean and clear cup. Lemon and green apple acidity. Floral rose petal on the nose. Butterscotch, caramel notes with juicy mouthfeel. Long, dry finish. An elegant cup.
Roasting Notes: Bright, high grown, dense and large beans make for the ability to span multiple roasting darkness levels. We always favor lighter roasts, our personal preference, for exhibiting nuance flavors and brighter acidity. That would make a City+ roast a good choice here. However, if you prefer darker (or lighter) coffee then these beans can handle it.
Ecuador Coffee Facts
Population (2015): 16.5 Million People
Coffee Production (2013): 666,000 bags (60 kg), 60% Arabica
Country bag capacity: 132 pounds
Domestic Consumption: 243,000 bags
Coffee Export: 423,000 bags
Cultivated Area: 200,000 Hectares (80,000 acres)

Harvest: May to September varying by region

Specialty Coffees: Much of the coffee is produced by small producers with less than 10 acres (4 hectares).

Botanical Varietals: Typica, Bourbon, Caturra
Growing Regions: Loja Province in the south; Pinchincha in the north are the principle regions.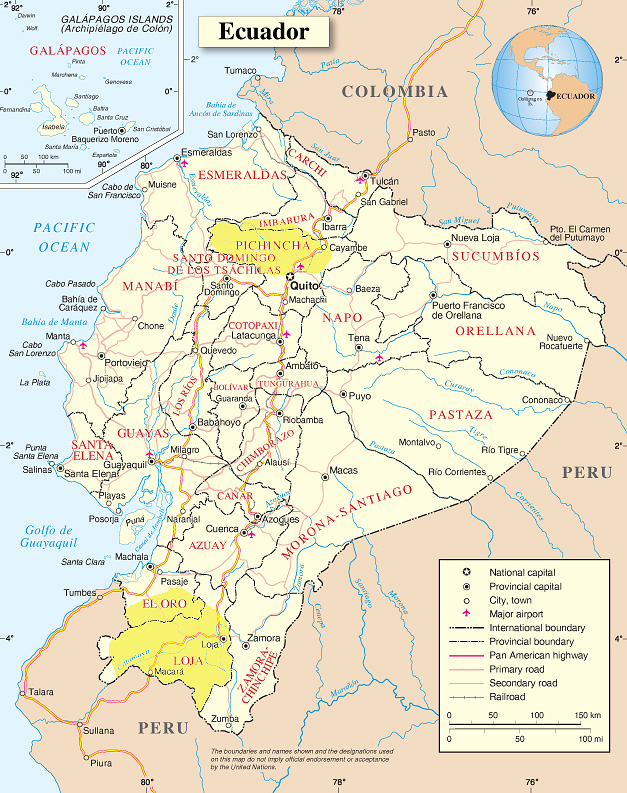 Comments
Ecuador, once part of Colombia, has all the natural attributes to produce superb coffee, notably location on or near the equator, significant elevation and volcanic soils. It is one of a limited number of countries producing both Arabica and Robusta coffee. While production is small Ecuador is poised to become a top quality origin in the near future and some great coffees are already beginning to be available.