About Costa Rica El Conquistador
Arrived December 2019 in grainpro. El Conquistador is a product of the La Minita company and a high grown SHB coffee from Dota in Tarrazu. Earlier this year we offered coffee from Santa Maria de Dota collected and processed at the Coopedota Cooperative. El Conquistador is a very similar preparation and shows a cup profile of the same general nature, bright, chocolatey. This reflects the very high and rugged terrain of this part of Costa Rica.
Coffee is purchased and collected from area smallholder farmers. Processing is washed. This coffee represents a good value and can be used as a single origin, dark roast or blend component. The brightness of the cup will stand up to dark roasting as will the coffee's hard density. As a blend component it will lend brightness and smooth texture while remaining neutral to the flavor of other components.
Producer:
Multiple Smallholder Farms
Country: Costa Rica
Region: Dota Tarrazu
Producers: Area smallholder farms
Elevation: 1,200 to 1,900 meters
Harvest Months: December - February
Varieties: Caturra, Catuai
Processing: Fully Washed, traditional
Cup Characteristics: Tropical fruit, dark chocolate. It has the classic piquant acidity and lively winey flavor expected of the regionís best coffees. El Conquistador is well balanced with notes of lush tropical fruit and bittersweet chocolate, and has a smooth pronounced body.
Roasting Notes: Dense, high grown and durable coffee that can be roasted well throughout the full range of darkness levels. Keep it light to accentuate brightness, sweetness and nuance. Go darker to develop chocolate notes and texture. This coffee is sturdy and bright enough to be a dark roast and still retain flavor and acidity with some individuality.

Costa Rica coffee facts:
Population (2006): 4.1 million People
Coffee Production: 1.7 million bags (60 kg)
Country bag capacity: 150 pounds
Domestic Consumption: 380,000 bags
Coffee Export: 1,320,000 bags
Cultivated Area: 82,500 Hectares (203,775 acres)

Harvest:
September to February

Arabica Introduced: Coffee was first introduced into Costa Rica in 1779 from Cuba. First exportation was in 1820.
Farms: About 32,000, over half are small farms (less than 1 hectare).
Specialty Coffee Regions: Tarrazu, Tres Rios, Central Valley, Pacific Central, South Pacific

Botanical Varietals: Mondo Nuevo, Hibredo/Tico, Villa Sarchi, Geisha, Caturra, Catui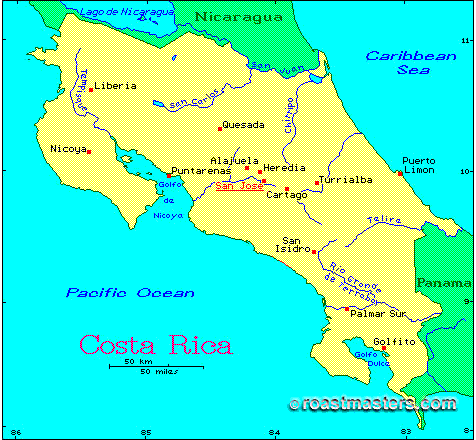 Comments: Coffee is grown in Costa Rica on both the Atlantic and Pacific slopes at altitudes between 1600 and 5400 feet. The highest grade is called Strictly Hard Bean, grown at elevations over 3900 feet. Costa Rica produces some exceptional coffees, renowned for their brilliance, balance and complexity.