About Costa Rica Montañas del Diamante
Latest arrival end of March 2017. This coffee from Costa Rica comes from the Dota Valley located in Tarrazu and is grown at very high elevations between 1750 and 1850 meters above sea level. This particular lot is Red Catuai, (a hybrid of Caturra and Mundo Novo) grown in volcanic soil. Preparation is fully washed and patio dried.
The Montanas del Diamante estate is owned by the Gutierrez family. Their mission is to produce excellent quality coffee while maintaining a friendly ecological, environmental, and social commitment to its producers. The farm owns and operates its own wetmill of the same name. Their facility is high tech yet energy efficient and environmentally forward. The facility prides itself on proper handling of products and conservation methods.
This coffee is very dense and can withstand dark as well as light roasting. SHB designations in Costa Rica refer to coffee grown between 1200 and 1650 meters (about 3900 to 5400 feet) but this coffee is grown much higher, thus it is more concentrated. Use it as an single origin coffee or add it to a blend to provide acidity, balance and nuance.
Cupping Characteristics: Very sweet and bright. Crisp, clean and transparent. Citrusy, orange and tangerine. A versatile coffee that can be light or dark roasted, used as a single origin or blend component. Very balanced.
Roasting Notes: This is a durable, dense bean with a bright cup that can withstand darker roasting as well as being suited to light roasts. On a Behmor, try P1 or P2 to maximize heat intensity.
Costa Rica coffee facts:
Population (2006): 4.1 million People
Coffee Production: 1.7 million bags (60 kg)
Country bag capacity: 150 pounds
Domestic Consumption: 380,000 bags
Coffee Export: 1,320,000 bags
Cultivated Area: 82,500 Hectares (203,775 acres)

Harvest:
September to February

Arabica Introduced: Coffee was first introduced into Costa Rica in 1779 from Cuba. First exportation was in 1820.
Farms: About 32,000, over half are small farms (less than 1 hectare).
Specialty Coffee Regions: Tarrazu, Tres Rios, Central Valley, Pacific Central, South Pacific

Botanical Varietals: Mondo Nuevo, Hibredo/Tico, Villa Sarchi, Geisha, Caturra, Catui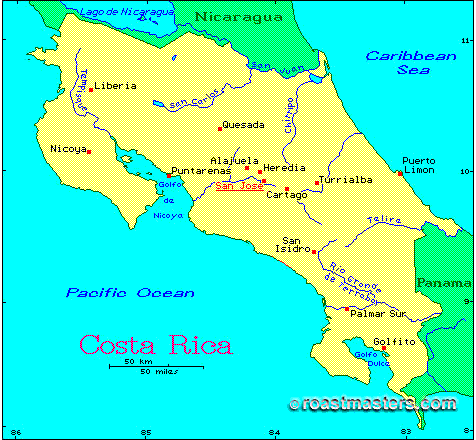 Comments: Coffee is grown in Costa Rica on both the Atlantic and Pacific slopes at altitudes between 1600 and 5400 feet. The highest grade is called Strictly Hard Bean, grown at elevations over 3900 feet. Costa Rica produces some exceptional coffees, renowned for their brilliance, balance and complexity.