About Costa Rica Sumava Geisha Natural ASD
This is a very fairly priced Geisha coffee presently lovely, delicate florals.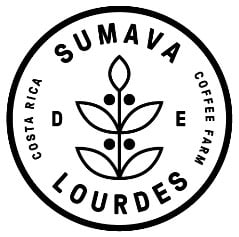 We have an excellent relationship with a person we consider to be Costa Rica's top exporter of specialty coffee and microlots. The exporter has been at the forefront of facilitating small growers to hone their standards which includes full control over the processing of coffee. Over the past few years the exporter, whose partner is an award winning grower, decided to purchase his own coffee operation - Sumava Farm. A few years ago we went to visit our exporter and while cupping coffees at origin in Costa Rica we were wowed by a really impressive natural processed coffee and it turns out it was from his own farm. We weren't surprised to hear that he had won first place at the Cup of Excellence 2016 competition for one of his lots as this is a truly unique and flavorful coffee, the attention to detail and processing really comes through in the cup.
The farm is located in Costa Rica's West Valley Region and in the micro region of Naranjo. There are two plots located on the Sumava Farm, one is called Monte Llano Bonito which is comprised of 9 plots. The other section is 6 plots called Monte Lourdes.The varietals grown on site are Caturra, Pacamara, Geisha, Mokka, and SL28. The farm prides itself on the agronomical practicdes that minimize use of herbicides and pesticides while focusing on using minerals and mountain micro-organisms (MM's) from natural origins instead.
There are a total of 10 workers on the farm that have access to clean drinking water, electricity, new showers, toilets and social security benefits.
This lot is 100% Geisha, an heirloom varietal from Ethiopia that produces a blue-green elongated coffee bean that is especially aromatic and floral. Price Peterson, who owns Hacienda Esmeralda in Panama, experimented by planting it some years ago along with a broader group of varietals. The result was the rediscovery of a great cultivar with extreme fruitiness and floral scents and flavors, but with balance and finesse not seen in other coffees. Coffee farmers in other countries soon followed suit, and the varietal regularly takes home awards in Cup of Excellence competitions held throughout the world.
ASD (Anaerobic Slow Dry) is a relative newcomer to the coffee processing game; coffee is picked from the trees and immediately transfered to an airtight container, where it sits undisturbed for several days. At the right time the bag is opened and the coffee sorted and picked over as it normally is before washing. Unlike traditional natural processes, ASD coffee has an elongated drying time - at the Elida Estate in Panama, ASD coffee is dried for over 40 days, in contrast to the more traditional 10-20 days. This unique processing system creates coffees with previously unseen coffee cherry flavors and intensity. This Sumava Geisha exhibits mild to medium fruit intensity so we believe the ASD treatment was done with a light hand.
Farm: Sumava de Lourdes
Farm Plot: Monte Llano Bonito, "La Rejolla"
Producer: Francisco A. Mena
Region: West Valley
Micro region: Lourdes de Naranjo
Elevation: 1720 meters; 5500-5900 feet
Varietal: Geisha
Processing: Natural, Anaerobic Slow Dry
Cup characteristics: Citrus fruit with lots of floral notes. Lemongrass, tangerine, almond, nougat, bergamot. Sweet, balanced, clean and delicate with lively acidity, especially for an anaerobic slow dried natural.
Roasting notes: Geisha coffees require light treatment in order to preserve floral and fruity flavors so we recommend pulling the roast before second crack. If your roaster has the ability, extend the development time for about 1 1/2 minutes but pull before second crack should you hear the first sound. Natural coffees proceed through the roasting cycle more quickly. They also have more chaff.