About Costa Rica Don Oscar 1800 Tarrazu Micro-Lot
2022 new crop coffee, that arrived in grainpro bags for freshness. This is a direct import coffee.
We have offered a top coffee from the Tarrazu region of Costa Rica for many years. In quite a few of those years we were drawn to coffee from our friend Don Mayo, aka Hector Bonilla Solis. This season we were impressed with another coffee that turned out to be not only from a neighboring farm, but also a relative. Alejandro Solis is a cousin of Hector Bonilla's wife and the two farms are very close to one another. For some years Alejandro processed his coffee at Hector's micro mill but through the encouragement of Alejandro's father - Don Oscar - he purchased and set up his own mill in 2013 to process their own coffee, following a couple of years of contemplation. Don Oscar is no longer living but the mill, named after him for his support, has gone on to produce some exceptional coffee like this one.
The farm, called simply "1800" after its central elevation expressed in meters, has been in existence for four generations. It is operated today by Alejandro and his brothers.
Farm information:
Farm Name

: 1800

Producers

: Brothers Solis Blanco

Coffee Region

: Tarrazu Micro

Region

: San Marcos

Terroir

: Bajo Canet

Varietal

: Red Catuai

Process

: Fully Washed aka White Honey

Altitude

(meters): 1800 / 5,905 feet

Plant Age

(avg.): 10 years

Soil Type

: Rocky, volcanic
Mill information:
Micro Mill Name

: Don Oscar

Representative

: Alejandro Solis B.

Wet Mill Name

: Don Oscar

Dry Mill Name

: The Coffee Factory
The Tarrazu region has extremely mountainous terrain, high elevations and some of the best growing conditions for coffee in Central America. Because the producer is also the owner of the mill, there is total control and continuity between the farm's production and the micro mill's processing. The family has been active in quality coffee growing and production in Tarrazu for four generations.
For fans of washed processed Tarrazu this coffee is a treat. It is sweet, peppery and fruity.
Cup Characteristics
: This wonderful coffee has a nice clean, bright and sophisticated style. Flavors of black raspberry, marshmallow, very sweet but peppery. Texture is earthy. This is classic Costa Rica Tarrazu with complexity and bright notes attributable to high elevations and producer care in growing, harvesting and processing. Refined, elegant, classy coffee. The high elevation at which this coffee is grown makes for concentrated flavors.
Roasting Notes
: This high grown coffee is hard and durable, thus it can withstand higher heat and longer roasting times, doing very well to second crack. But do yourself a favor and pull the coffee before the roast dominates; the more delicate flavors will be revealed.
Costa Rica coffee facts:
Population (2006): 4.1 million People
Coffee Production: 1.7 million bags (60 kg)
Country bag capacity: 150 pounds
Domestic Consumption: 380,000 bags
Coffee Export: 1,320,000 bags
Cultivated Area: 82,500 Hectares (203,775 acres)

Harvest:
September to February

Arabica Introduced: Coffee was first introduced into Costa Rica in 1779 from Cuba. First exportation was in 1820.
Farms: About 32,000, over half are small farms (less than 1 hectare).
Specialty Coffee Regions: Tarrazu, Tres Rios, Central Valley, Pacific Central, South Pacific

Botanical Varietals: Mondo Nuevo, Hibredo/Tico, Villa Sarchi, Geisha, Caturra, Catui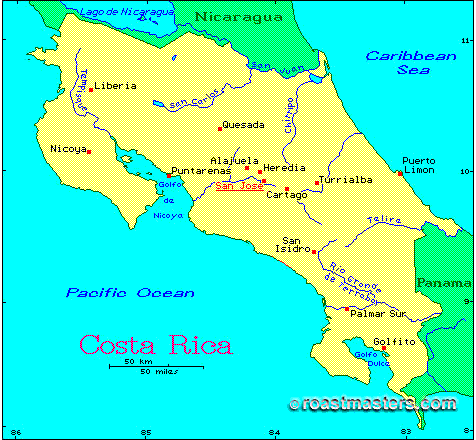 Comments: Coffee is grown in Costa Rica on both the Atlantic and Pacific slopes at altitudes between 1600 and 5400 feet. The highest grade is called Strictly Hard Bean, grown at elevations over 3900 feet. Costa Rica produces some exceptional coffees, renowned for their brilliance, balance and complexity.