About Costa Rica Finca La Ladera del Aguacate Natural
Arrived Mid-August, new crop in Grain-pro. This is our first time offering coffee from Finca La Ladera del Aguacate (literally "avocado hill"), which was processed by the D'Nincho Micromill in Tarrazu.
La Ladera is 100% Catuai, a varietal developed in the mid-twentieth century. Catuai is a cross between the Mondo Novo and Caturra varietals, both of which were created by selective cross-breeding programs. Mondo Novo was the result of combining Bourbon and Typica varietals, and Caturra is a combination of two Red Bourbon mutations.
This coffee is natural processed, also known as dry processed, which involves drying the entire coffee cherry. This process takes a much longer time than washed processing, as many coffees are, and varies depending on humidity, temperature and amount of sunlight. Airflow during drying is key, and the coffee must be frequently turned. When the desired moisture content is achieved, the dried cherries are milled down to the internal seed or bean. The sweet, fruity mucillage of the cherry penetrates the inner beans during this process, leaving a very noticeable fruitiness that can range from mild to extreme and often presents flavors of berries or cherry.
Province: San Jose
Canton: Leon Cortes
District: San Pablo
Altitude: 1500m above sea level
Coffee variety: Catuai
Processing: Natural
Mill: D'Nincho
Cup Characteristics: A mouth coating cup with mild to medium fruit intensity. Flavors of strawberry, honey, brown sugar, guava and peanuts with an almond aroma.
Roasting Notes: Keep in mind that natural process coffees roast a bit quicker than washed. We like this coffee roasted a little lighter, as it has a heavy body on its own, but it's worth experimenting with the darkness of the roast. If roasted more lightly some cinnamon notes are detectable.
Costa Rica coffee facts:
Population (2006): 4.1 million People
Coffee Production: 1.7 million bags (60 kg)
Country bag capacity: 150 pounds
Domestic Consumption: 380,000 bags
Coffee Export: 1,320,000 bags
Cultivated Area: 82,500 Hectares (203,775 acres)

Harvest:
September to February

Arabica Introduced: Coffee was first introduced into Costa Rica in 1779 from Cuba. First exportation was in 1820.
Farms: About 32,000, over half are small farms (less than 1 hectare).
Specialty Coffee Regions: Tarrazu, Tres Rios, Central Valley, Pacific Central, South Pacific

Botanical Varietals: Mondo Nuevo, Hibredo/Tico, Villa Sarchi, Geisha, Caturra, Catui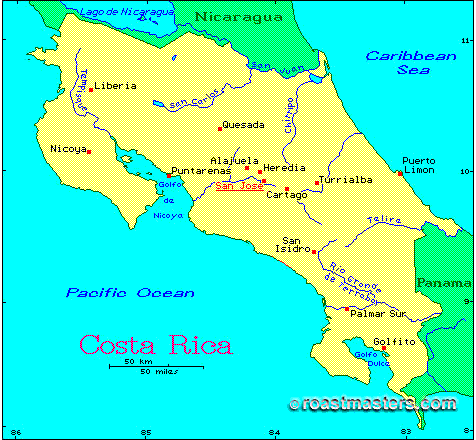 Comments: Coffee is grown in Costa Rica on both the Atlantic and Pacific slopes at altitudes between 1600 and 5400 feet. The highest grade is called Strictly Hard Bean, grown at elevations over 3900 feet. Costa Rica produces some exceptional coffees, renowned for their brilliance, balance and complexity.