About Colombia Luzmila Masabuel Finca El Totumo
Arrived June 2022, new crop, in grainpro.
We offered this coffee in two prior seasons and it developed a number of followers who were disappointed when we ran out. It is back now for this season. A long time friend who imports coffee from Colombia had initially sent us a number of small lots for evaluation which we cupped along with many others arriving this time of year. This coffee made its way through several blind cupping rounds and we decided we would like to have some the small output for our customers and to give recognition to the woman who produced it with the help of her family.
Luzmila, her husband Jhon Elver own and work their very small 4 hectare coffee farm, yet it is larger than the average local farm which has a mere 1.5 hectares. As such their family has more prominence than many of their neighbors. They have been growing coffee for over 27 years, but have been part of local program to improve and promote their coffee for the past 4 years. This year they plan to invest the premiums they are receiving for this coffee in new marquesinas or drying beds, in order to dry more of their coffee right on their property near to their home, rather than in a more remote location where they can share drying with others.
Country: Colombia
Farm: Finca El Totumo
Producer: Luzmila Masabuel
Region: Cauca
Locality: San Jose, Inza
Altitude: 1,900 meters / about 6,300 feet
Varietals: Caturra, Variedad Colombia
Process: Fully Washed, Sun Dried
Cup Characteristics: Aromas of carmel, brown sugar, molasses and mango. Flavors of cassis, bittersweet chocolate, cacao nibs, hazelnut, nectarine. Savory. Clean and well processed.
Roasting Notes: This is a durable bean that can withstand roasting past 2nd crack but the more delicate flavors and acidity are most pronounced when roasted to Full City, terminating the roast prior to any substantial 2nd crack.
Colombia coffee facts:
Main crop seasons vary depending on location. For many the main crop is Sept - December. Some regions have a mid crop as well.
Population: 43.6 Million people
Domestic Consumption: 1.8 Million Bags of 70 Kg. (154 lb.)
Coffee Export: 12.5 Million Bags of 70 Kg. (154 lb.)
Cultivated Area: 1.1 Million Hectares (2.7 Million Acres)
Harvest: Main Crop: October to January (60%)
Fly Crop: April to June (40%)
Note: In Narino, due to its geography, Main and Fly crop seasons are reversed.
Arabica Introduced: From the Carribean through Venezuela
Farms: 300,000

Specialty Coffees:
Supremo basis of a 17 screen size
Excelso basis of a 16/17 screen size
Botanical Varieties:
Bourbon, Typica, Caturra, Maragogype, Variety Colombia (hybrid of Timor and Caturra)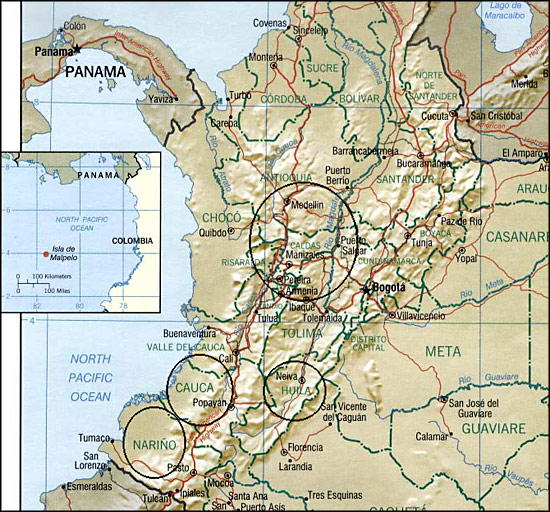 Crop Comments
Colombia is the second largest exporter of Arabica coffee in the world. All coffee grown is Arabica species, and mostly all is grown at high elevation and wet processed. Supremo is the country's highest grade though the highest elevation coffee can be smaller and thus not able to make the size grade although more concentrated. Colombia coffee has a well-earned reputation as having fine body, pleasant acidity and clean flavor. Each region brings a little something different to the final product.