About Colombia Finca El Eden
Finca El Eden produces only 30 bags of coffee per year, but the farm regularly experiments with different cultivars and processes. This lot is comprised of about 80% Castillo and 20% Caturra. Both of these varietals are hybrids with resistance to coffee plant diseases; Castillo was only fully developed in 2005, but quickly became one of the most popular cultivars in Colombia, and Caturra was a natural mutation found at the turn of the last century in Brazil. Three years ago producer Francisco Giraldo planted 1,000 of the Gesha varietal, and the first crop is expected early next year.

A view of the farm and coffee
El Eden farm is in a remote area of Antioquia state - getting there requires a 7-8 hour car ride from Medelllin, then a 2 hour climb on foot or by mule up a steep hill called "El Mareo". The remoteness of the Ituango region, as well as its proximity to Panama (and by default access to the Pacific and Atlantic oceans) makes the area very attractive to the illegal gun and drug trades. Francisco hopes security will improve over time so the land can be worked peacefully. Antioquia is one of the larger coffee growing areas in Colombia, and traditionally sorts and grades its coffee by bean size (like Supremo). Coffees from one farm are often mixed with lots from other farms in the area once sorted, but there are an increasing number of small farms, like El Eden, that are breaking from this traditional cooperative method and producing individual lots that are linked with their origin farm. The importer we work with specializes in working with select area producers who are dedicated to growing better quality coffee through their attention to detail during harvesting and processing.

Coffee drying
Producer Francisco Giraldo grew up on El Eden farm, and took it over after his father passed away. His commitment to coffee was tested in 2009 when Francisco fell victim to a landmine. Lucky to escape with his life, he lost an eye as well as his sense of taste and smell. These days he sees specialty production as a way to improve the quality of life for his family, as well as guarantee that El Eden will produce coffee for generations to come.

Francisco Geraldo with his wife and two daughters

Another view of the farm and surrounding mountains
Country: Colombia
Farm: Finca El Eden
Producer: Francisco Giraldo
Region: Antioquia
Locality: Ituango
Altitude: 1,800 - 1,900 meters, about 6,300 feet
Varietals: Castillo, Caturra
Process: Fully Washed, Sun Dried
Cup Characteristics: Cherry vanilla scents. Very succulent and fleshy mouthfeel like ripe white peach or nectarine. Lemony, sparkling acidity, notes of tangerine.
Roasting Notes: This is a durable bean that can withstand roasting past 2nd crack but the more delicate flavors and acidity are most pronounced when roasted to Full City.
Colombia coffee facts:
Main crop seasons vary depending on location. For many the main crop is Sept - December. Some regions have a mid crop as well.
Population: 43.6 Million people
Domestic Consumption: 1.8 Million Bags of 70 Kg. (154 lb.)
Coffee Export: 12.5 Million Bags of 70 Kg. (154 lb.)
Cultivated Area: 1.1 Million Hectares (2.7 Million Acres)
Harvest: Main Crop: October to January (60%)
Fly Crop: April to June (40%)
Note: In Narino, due to its geography, Main and Fly crop seasons are reversed.
Arabica Introduced: From the Carribean through Venezuela
Farms: 300,000

Specialty Coffees:
Supremo basis of a 17 screen size
Excelso basis of a 16/17 screen size
Botanical Varieties:
Bourbon, Typica, Caturra, Maragogype, Variety Colombia (hybrid of Timor and Caturra)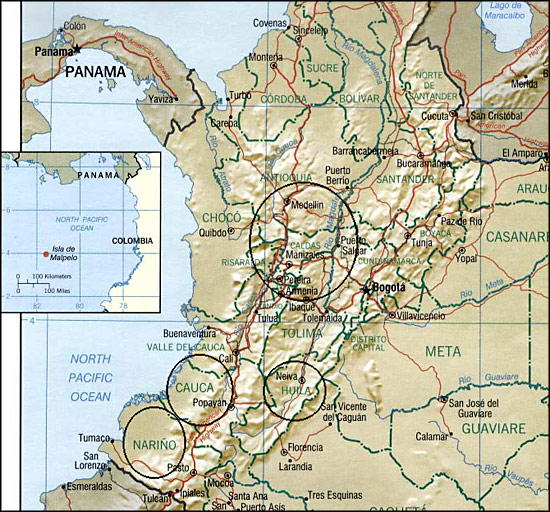 Crop Comments
Colombia is the second largest exporter of Arabica coffee in the world. All coffee grown is Arabica species, and mostly all is grown at high elevation and wet processed. Supremo is the country's highest grade though the highest elevation coffee can be smaller and thus not able to make the size grade although more concentrated. Colombia coffee has a well-earned reputation as having fine body, pleasant acidity and clean flavor. Each region brings a little something different to the final product.