About Colombia Finca Las Murgas Microlot
New crop arrived in late December 2016 and this is our first offering. This very limited microlot comes from the Narino region of Colombia from Finca Las Murgas. In August one of our employees was an international judge at a competition called "Mejor de Narino" hosted by a Colombian coffee exporting company called Inconexus. National judges whittled down 300 coffees to the top 30 and judges from all parts of the world then gathered to evaluate which were the top 10 coffees to be included in a live auction at the end of the competition. The farm name represents a customary celebration distinct to the southern region of Colombia where this coffee is grown. The word "Murgas" refers to a traditional musical performance that occurs as part of the "Carnaval de Negros y Blancos" festival in the nearby town of Pasto.
Farm: Las Murgas
Producer: Wilson Rene Lopez
Origin: Colombia
Region: Narino
Municipality: Medina Espejo
Altitude: 2200
Varietal: Caturra
Processing: Washed and fully sun dried
This coffee is grown at an exceedingly high altitude of 2200 meters, almost as high as is possible in the world of coffee. This is due to the farm's location near the equator, but even there cool nights can occasionally be threatened by frost. The benefits of such high grown coffee lie in the concentration of flavors. Coffee cherries grow smaller at these altitudes as do the beans (or seeds) within. It takes more cherries to make a pound of finished coffee too due to the reduced size. The reward is in the flavor.
The auction took place on the last evening of the event and was attended by all of the producers. This lot of coffee consisted of just 6 bags of coffee and Willoughby's split the lot and received just 3 bags. This coffee ranked 8th place out of the top 20 that were chosen by the international judges. The producer of this coffee is Wilson Rene Lopez who along with his family runs the farm in the slopes of the Medina Espejo region of Narino.
Cup Characteristics: Aroma of caramel and hickory. Flavors of meyer lemon, stone fruit and pineapple. Red apple sweetness and pleasant acidity give way to a silky finish.
Roasting Notes: Due to the high altitude that this coffee is grown at the beans are small and dense. To showcase the flavor profile we recommend pulling before second crack, but the bean is durable enough to withstand a darker roast if desired.
Colombia coffee facts:
Main crop seasons vary depending on location. For many the main crop is Sept - December. Some regions have a mid crop as well.
Population: 43.6 Million people
Domestic Consumption: 1.8 Million Bags of 70 Kg. (154 lb.)
Coffee Export: 12.5 Million Bags of 70 Kg. (154 lb.)
Cultivated Area: 1.1 Million Hectares (2.7 Million Acres)
Harvest: Main Crop: October to January (60%)
Fly Crop: April to June (40%)
Note: In Narino, due to its geography, Main and Fly crop seasons are reversed.
Arabica Introduced: From the Carribean through Venezuela
Farms: 300,000

Specialty Coffees:
Supremo basis of a 17 screen size
Excelso basis of a 16/17 screen size
Botanical Varieties:
Bourbon, Typica, Caturra, Maragogype, Variety Colombia (hybrid of Timor and Caturra)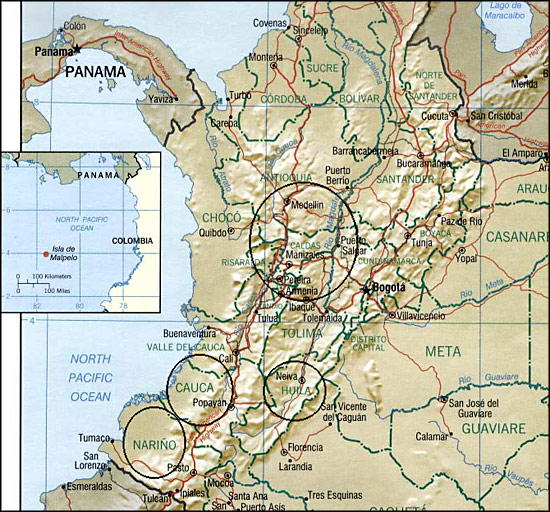 Crop Comments
Colombia is the second largest exporter of Arabica coffee in the world. All coffee grown is Arabica species, and mostly all is grown at high elevation and wet processed. Supremo is the country's highest grade though the highest elevation coffee can be smaller and thus not able to make the size grade although more concentrated. Colombia coffee has a well-earned reputation as having fine body, pleasant acidity and clean flavor. Each region brings a little something different to the final product.